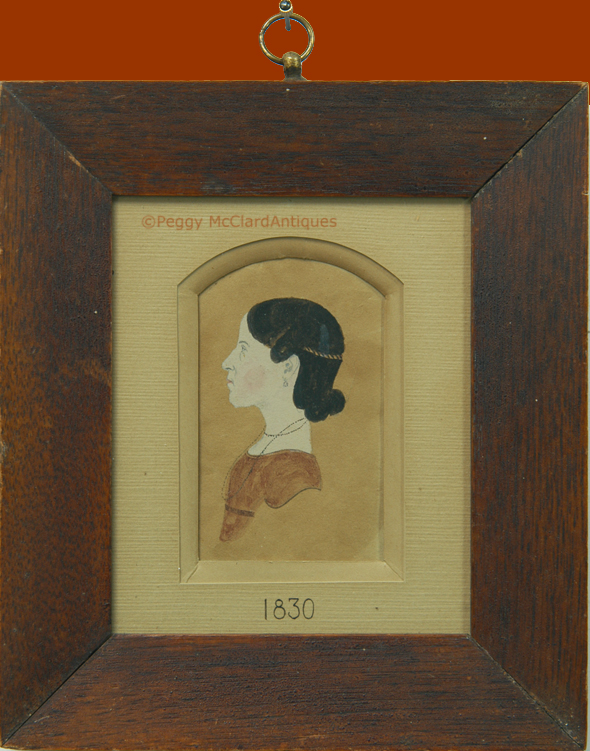 A classic 19th century folk art watercolor portrait miniature attributed to Amos Holbrook. Although Holbrook's style is easily recognizable from the flat white paint he used to accentuate faces and the interesting bust line terminations that he used in his bust-length portraits, nothing is known about his life. We don't even know if he made a living with his painting or did painting for his own pleasure and that of friends and family. His work is certainly scarce enough to think he might have had another profession.
This lovely young girl wears a headband and a curl on each side of her face above the ear. The hair at the back of her head is neck length and curled only at the ends. She wears a double strand necklace over her empire waist dress of a salmon color. A small hoop earring hangs from her earlobe.
She is matted in an interesting 3-dimensional arched biscuit-colored mat. It has "1830" penned in what appears to be iron gall ink (although I believe it to be a modern ink reproduced to that brown faded color of old ink). I would also date her clothing to a bit before 1830--more like 1825. The lovely package is housed in a period flat profile wood frame measuring 7" x 6 1/4".
In 2006, a pair of Holbrooks sold at Northeast Auctions for $12,760. A very nice piece to add to your American folk art collection.
(#5513) $2150.
Reference:
Anderson, Marna A Loving Likeness American Folk Portraits of the Nineteenth Century, Bristol-Myers Squibb Co. (1992) 26.
Payne, Suzanne Rudnick & Michael R., "Images of the American People, Small Portraits from 1820 to 1850", Antiques & Fine Arts Magazine, February 2013.