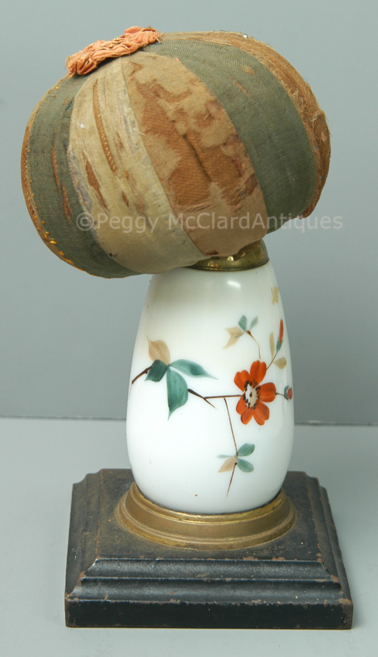 I've always loved the early make-do repaired pieces that show us how precious things were to our ancestors. We are always accused of being a throw-away society (and I agree with that accusation) but the ultimate in green living is to waste not, want not. When something broke, our ancestors fixed it or repurposed it into something usable.
This is another make-do from the collection of the late Robert Thayer. It is a beautiful example of a milk glass fluid lamp with enamel paint decoration of a lovely little red flower with leaves and flower buds. It sits upon a base of brass and iron. Something happened to its top or shade…or maybe the owner just needed something beautiful and tall to hold her pincushion. But a melon shaped pincushion was sewn onto the lamp base. The pincushion is made of sectioned pieces of wool and topped with a ribbon rosette. As you can see, there is some deterioration of the fabric and its position is tippy, but that just makes it more wonderful in my opinion! Nice and tall at 10" high.
I'm not a milk glass person, but I am estimating the period of origin as the last half of the 19th century.
(#5594) $750
Provenance: Collection of the late Robert Thayer
References for Make Do:
Baseman, Andrew, "Past Imperfect: the art of inventive repair", http://andrewbaseman.com/blog/
Naetzker, Donald P., Waste Not Want Not: The Art of the Make-Do, (self published) 1986.