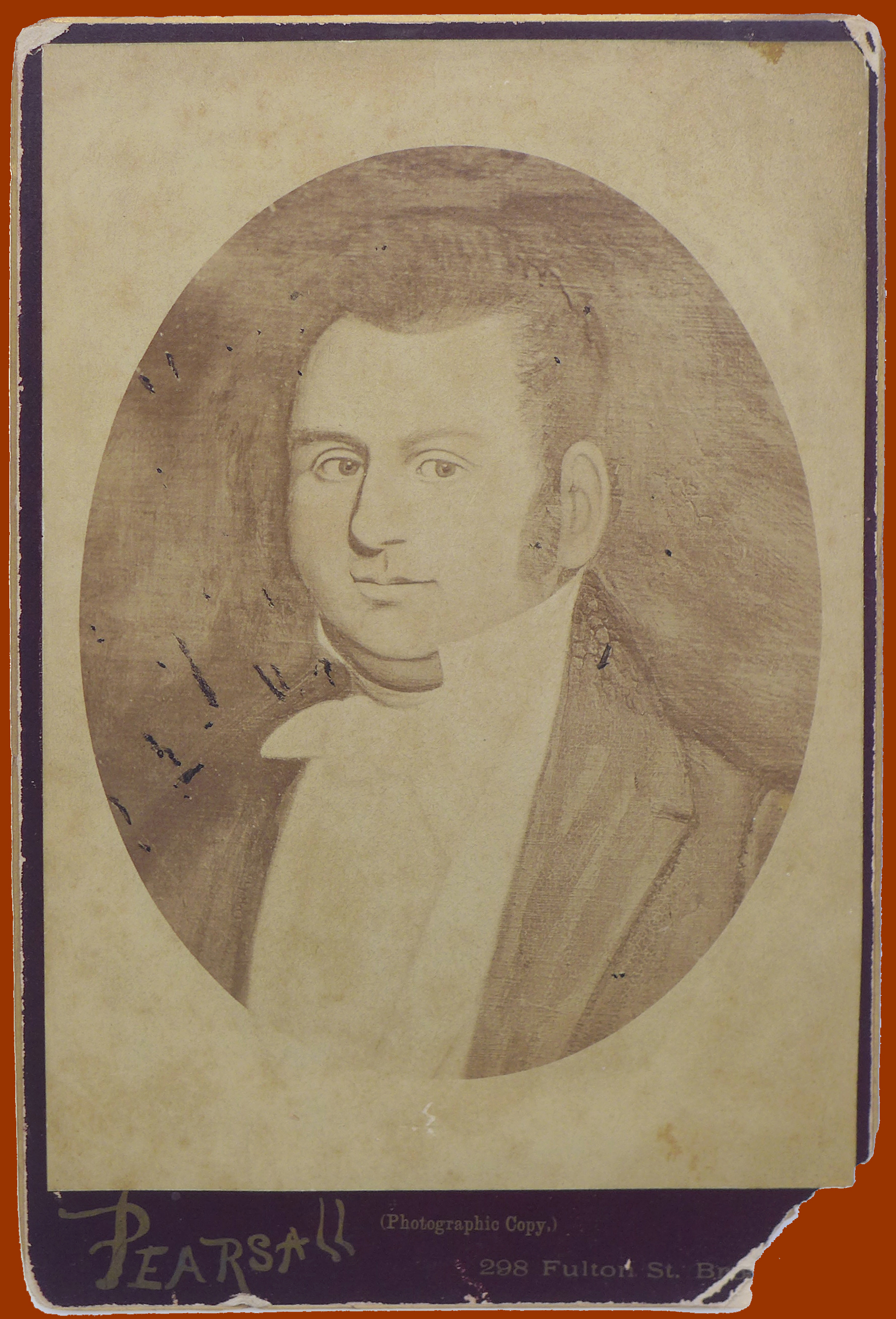 I recently acquired a group of 2nd generation photographic images. These are photos taken of something like a portrait. The portrait is the first generation image and the photo is the second generation of that image. I'm not an expert on antique photographs but I love the idea of a portrait being so important to a descendent that the family decided to have a photograph taken to share with other family members. We know that sometimes silhouettists were asked to cut multiple figures and sometimes portraitists painted second portraits for family members.
The current group are all cabinet cards. Carte de viste (1859-1889) was the first type of photograph made from a negative, which allowed multiple photos to be printed from one sitting. The photograph was printed on thin paper which was then glued to thicker paper or card. Cabinet cards (1866-1903) are basically the same as carte de viste, usually glued to larger card, sometimes with the photographer's trade information below the glued photo and/or on the reverse. Around 1880, the cardboard mount for cabinet cards started having beveled edges, sometimes with a gold or silver color in the bevel.
This is one of the 2nd generation images that make my heart sing. The portrait from which the photo was taken is strongly attributed to Zedekiah Belknap. It is obvious that the portrait had some condition issues when photographed but it was important enough to make family copies. It bears the studio stamp of "G.Frank E.Pearsall/Artist/and/Photographer/203 Fulton St/Brooklyn NY." 4.25"x6.5. The studio stamp is of George Frank E. Pearsall at the studio address he occupied beginning in 1872. Pearsall was a well-respected and successful photographer, inventing a printing method that saved time and produced exact print copies. He later invented two types of cameras which were touted as ground-breaking. He was plaintiff in an important lawsuit in which two customers sat for 17 poses, received and returned the proofs and refused to pay because they did not like the pictures. American photographers found this issue of vital importance to their profession and followed it closely. Pearsall won the case in the grounds that a photographer is intitled to be paid for his service regardless of whether the sitter likes the ultimate result.
The cabinet card has suffered wear to the card backing with a broken & lost bottom corner and wear to the edges. But you get a Belknap for a fraction of the price!
6790 $50