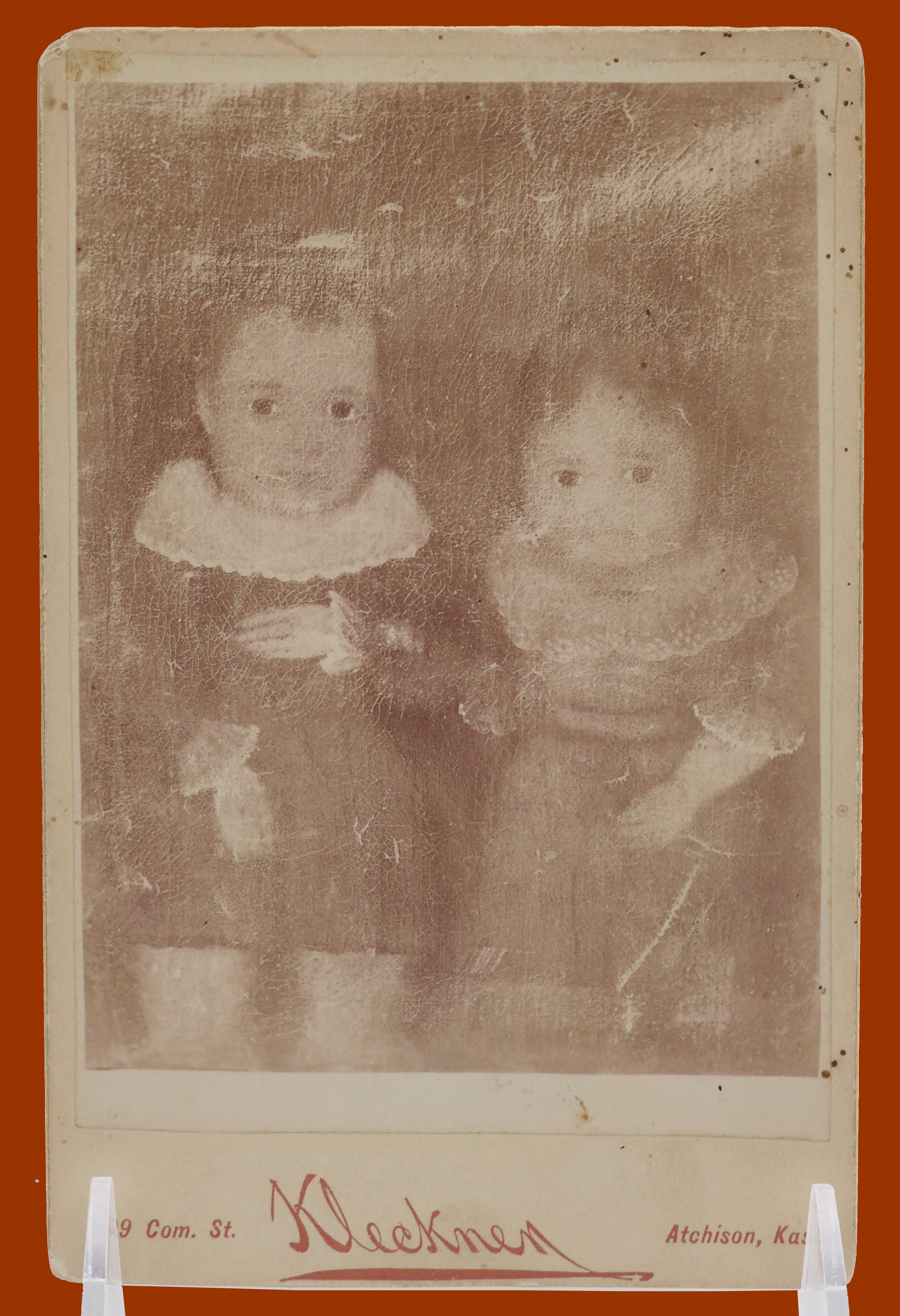 I recently acquired a group of 2nd generation photographic images. These are photos taken of something like a portrait. The portrait is the first generation image and the photo is the second generation of that image. I'm not an expert on antique photographs but I love the idea of a portrait being so important to a descendent that the family decided to have a photograph taken to share with other family members. We know that sometimes silhouettists were asked to cut multiple figures and sometimes portraitists painted second portraits for family members.
The current group are all cabinet cards. Carte de viste (1859-1889) was the first type of photograph made from a negative, which allowed multiple photos to be printed from one sitting. The photograph was printed on thin paper which was then glued to thicker paper or card. Cabinet cards (1866-1903) are basically the same as carte de viste, usually glued to larger card, sometimes with the photographer's trade information below the glued photo and/or on the reverse. Around 1880, the cardboard mount for cabinet cards started having beveled edges, sometimes with a gold or silver color in the bevel.
Imagine having this wonderful folk art portrait descend in your family. The family surely wanted to share the portrait but, unable to do so, they did the next best thing and had the portrait photographed so they could share copies. These was a fabulous portrait of two young children. It is hard to see the children's clothing but the wide turned down neck frills date the portrait to about 1840. The portrait was obviously not in good condition when it was photographed but that just shows how important it was to the family. Lower front bears the studio stamp of Kleckner of "409 Com. St./Atchison, Kas." The story of Moulton Kleckner is interesting. Born in Pennsylvania in 1843, the first known business listing was Bethlehem, PA in 1868 as a photographer. He moved to Osbourne, Kansas, first as a representative for Harper's Weekly Magazine and then opened the first photography studio in sometime before 1880. After two failed partnerships, he moved to Atchinson, KS with his first wife and opened Kleckner Photograph Studio in 1880. While in Atchinson, several photographers are noted as working with Kleckner and at some point the studio was named Conklin(g) & Kleckner. Conklin & Kleckner were widely reported to have been the "artistic" photographers who dressed up Jesse James' corpse and photographed it in "easy graceful position, dressed in a becoming suit of clothes, and the eyes open."
Kleckner moved into the address of this cabinet card in 1882 (apparently without Conklin) and remained at that address until 1892. His first wife died in 1897, opening the door for him to meet and become friends with Rose Rochland who, in 1896, opened Rochland Photograph Studio in Osbourne, KS—BY HERSELF! Kleckner sold the Kleckner studio to an employee, G.H. Snyder and moved back to Osbourne where he formed a partnership with his friend Rose. They named it Rochland-Kleckner Studio and were quite successful until Moulton died. At that time, Rose renamed the business Kleckner Studio and continued running it until 1946. Cabinet card. 4.25"x6.5". Minor wear, light soil. This is quite a cabinet card—2nd generation image of a wonderful folk portrait and a great story of the photographer to boot!
6797 $45 + ship