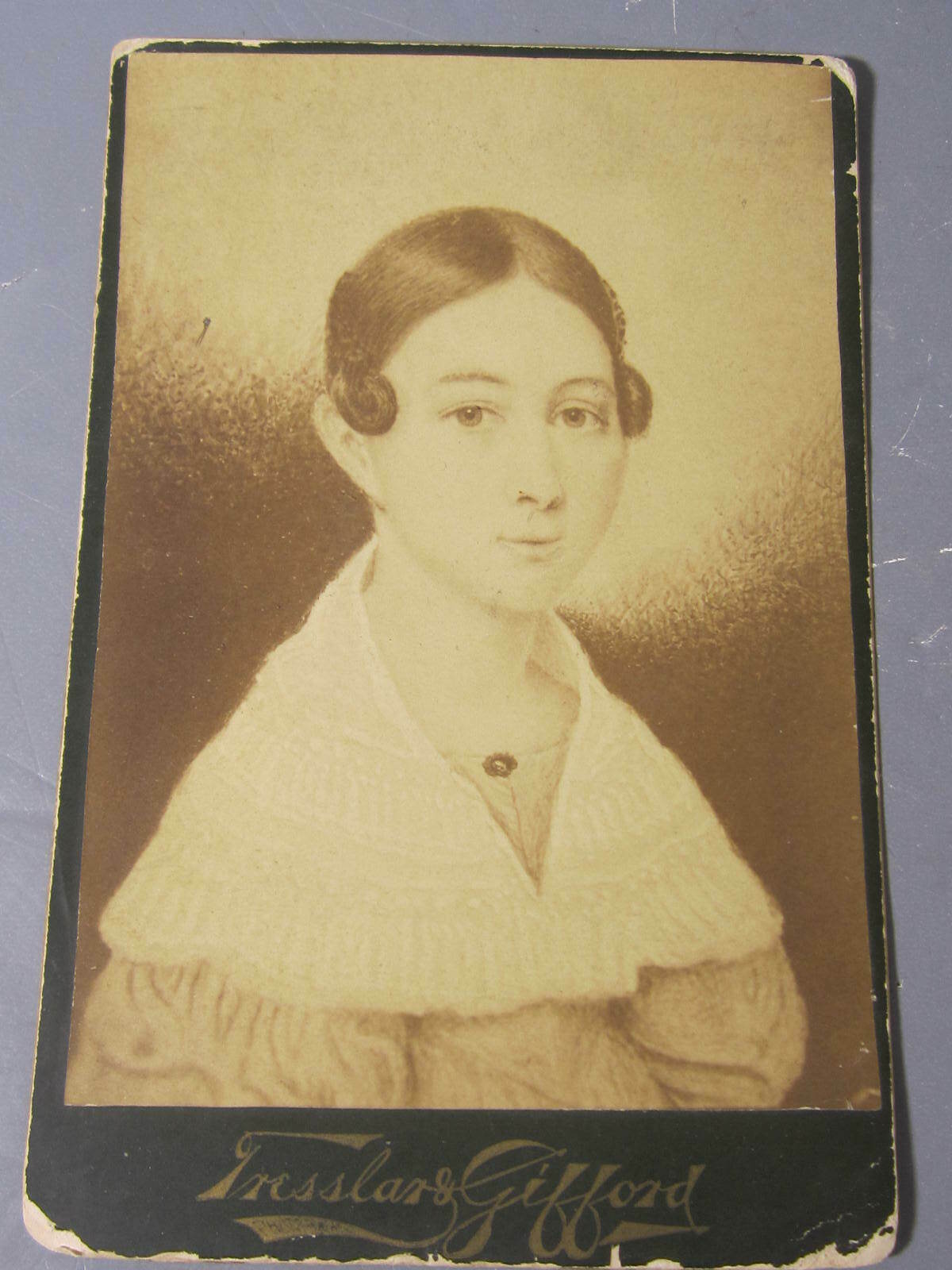 I recently acquired a group of 2nd generation photographic images. These are photos taken of something like a portrait. The portrait is the first generation image and the photo is the second generation of that image. I'm not an expert on antique photographs but I love the idea of a portrait being so important to a descendent that the family decided to have a photograph taken to share with other family members. We know that sometimes silhouettists were asked to cut multiple figures and sometimes portraitists painted second portraits for family members.
The current group are all cabinet cards. Carte de viste (1859-1889) was the first type of photograph made from a negative, which allowed multiple photos to be printed from one sitting. The photograph was printed on thin paper which was then glued to thicker paper or card. Cabinet cards (1866-1903) are basically the same as carte de viste, usually glued to larger card, sometimes with the photographer's trade information below the glued photo and/or on the reverse. Around 1880, the cardboard mount for cabinet cards started having beveled edges, sometimes with a gold or silver color in the bevel.
This is a cabinet card 2nd generation image of a folk portrait of a lovely young lady. The treatment of the background indicates that the original portrait may have been a miniature, possibly on card. She wears a dress with a bodice ending in a point below the waist and "bishop" sleeves that were very full with pleating from the shoulder. Her pelerine covers the top of her dress. Her clothing dates the 1st generation image to circa 1840. A later inscription on the reverse identifies her as "Grand Mother Smith." The studio stamp on the lower front and the reverse of the card is of Tresslar & Gifford. The studio was in Fort Scott, Kansas.
An 1880 advertising card for Tesslar & Gifford said:
THE LEADER. In all large cities, east or west, among all professions, businesses or trades, a leader can be found. Fort Scott is no exception to this rule, as we have leaders in the medical profession, the legal profession, and in every branch of industrial pursuits. That we have an acknowledged leader in photography is therefore not strange. To sustain the reputation of a leader requires close study and a large library, as well as the latest mechanical appliances. Speaking of photography reminds us that we have a leader in the firm of Tresslar & Gifford, of our city….. According to a later interview of Gifford, he and Tesslar were partners for only two years.
Cabinet card. 4.25" x 6.5". Rubbing around edges of card, especially corners and bottom.
6803 $70