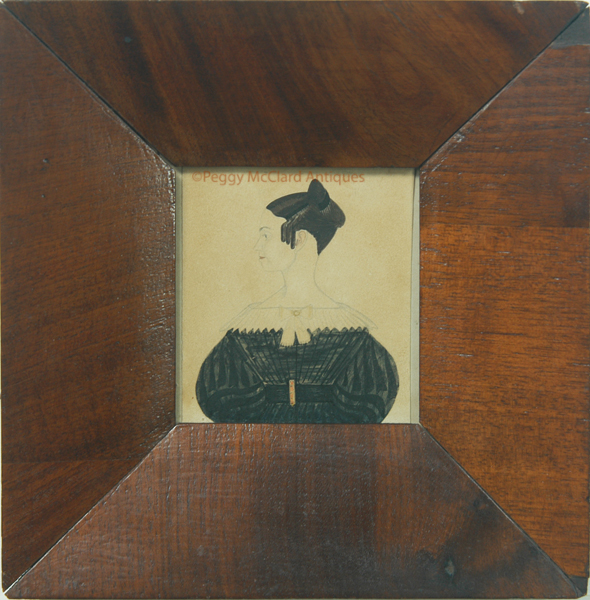 This unsigned American folk watercolor portrait is one Justus DaLee's earliest works, depicting Bathsheba Hosmer in the frontal body pose with a turned head profile. This portrait is without the black painted spandrels that he began to use in 1837. In the most recently published article examining the work by individual members of the talented DaLee Family, these early frontal poses by Justus DaLee used "symmetry and repetition to define the highly stylized costume details, as in bonnet and collar ruffles, lace patterns and costume folds." 1 The costume of this lady certainly fits that definition of using symmetry and repetition which, as the article points out, gives this portrait from the 2nd quarter of the 19th century, a very abstract quality. As with Justus DaLee's portraits, this young lady is outlined in pencil, which is also used to shadow her face. The graphite shading softens the hard lines. The outline is filled with a pale base for skin coloring with a bit darker pink to brighten the cheek, nose and chin. A somewhat darker pink is used for the lips and inner ear. Other facial features, such as eyebrow, eyelashes, and pupils are done with thin lines of dark color which, along with the woman's black dress and hair, give this small watercolor a very abstract feel.
The sitter wears her hair knot low on crown of her head held in place with a large hair comb. Although her hair is painted with a flat black watercolor, the haircombs are detailed with gum arabic highlighting each tooth of the combs. She wears 3 ringlets to the side of her face, also held in place with a smaller comb. Her dress is black with puffy sleeves, a natural waist, black belt with a large buckle is mostly left unpainted with the ornamentation depicted with black and red detailing. Above the straight neckline sits a white muslin collar with a centered bow. The body of her black dress is painted with very quickly and lightly applied horizontal strokes with heavier painted strokes used vertically with gum arabic to add detail and depth to clothing. There is a small amount of crackling in the gum arabic used for hair combs but not (so far as I can see) in the dress detailing.
The wove paper has even, overall toning. It is hinged on top of another, slightly lighter colored period wove paper. The watercolor's paper is slightly smaller than the frame opening on the vertical sides and the lighter colored paper can be seen at the vertical margins. This wonderful DaLee is housed in a period, but not original, veneered frame with a wide flat profile. There is a bit of veneer loss in the upper and lower right corners but the wood underneath has been darkened to camouflage. Framed size 7" x 6 ¾". Sight size 3" x 2 5/8".
On the frame's reverse is printed, in pencil, "MRS. GILMAN LEE DAY / (BATHSHEBA HOSMER C. 1829 [or 8] and "AMBREY". This penciled inscription certainly dates to modern times. I have no way of being sure whether the sitter of this portrait is actually Bathsheba. Because of the placement of the inscription in the middle of two of the frame sticks, I assume that the inscription was written after the frame was resized for this portrait. It is likely, but unsubstantiated, that the original frame had some inscription on the reverse, of that this portrait descended in the family of the sitter with the name descending down with her, probably as oral history. The late 19th century photo of Bathseba on the internet bears a resemblance to the younger sitter in this watercolor. The birthdate of Bathseba and the approximate age of this sitter plus her clothing style all indicate that this could be her. So, here is some history on the supposed sitter:
Bathsheba Hosmer was born November 10, 1808 in Templeton, Massachusetts to Asa and Lucy (Sawyer) Hosmer. Her father's family migrated from England to Plymouth in 1633. On October 18, 1828, Bathsheba married Gilman Lee Day (son of Daniel & Ambrey) in Templeton. Together they raised six children. The 1855 lists Gilman, Bathsheba and four of their children still living in Templeton, with Gilman and their oldest son, George, both listing themselves as farmers. 1870 shows Bathsheba and Gilman living in Templeton with one child, Loray or Lorey, still at home and "Working in Chair Shop". Son George is married with two children and listed as a "Lumber Man". Interestingly, a schedule to the 1860 census for "Products of Industry" lists Gilman as owning a saw mill. Perhaps the census-taker confused Gilman for his son. Gilman died in 1877, still in Templeton. The 1880 census shows Bathsheba, widowed, and living with her daughter, Lucy Ball (Lucy's husband, Hiram Ball, also died in 1877).
To recap this long and windy description, if DaLee painted this portrait in 1828 (as seemingly indicated by the pencil inscription on the frame) this may have been Bathsheba's wedding portrait. She would have been 20—we know both her marriage date and her age from genealogy records. The young lady in the portrait appears to be about 20 years old. The sitter in this portrait bears a resemblance to the much later photograph of Bathsheba. The clothing and hairstyle date the portrait to 1825-1830. It is noteworthy that the earliest portraits by Justus DaLee date to around 1830. I dare say that this portrait may date his work as a portrait artist to a few years earlier than 1830.
A wonderful, very early, portrait by Justus DaLee. Nice addition to any folk art collection.
(#5507) $3500
1 Brownstein, Joan R. & Shushan, Elle, "Side Portrait Painters, Differentiating the DaLee Family Artists", The Magazine Antiques, July-August 2011. Click the link to read the pdf article posted on Elle Shushan's website.
Please see the Folk Portrait Artists page for more information about Justus DaLee & Family .