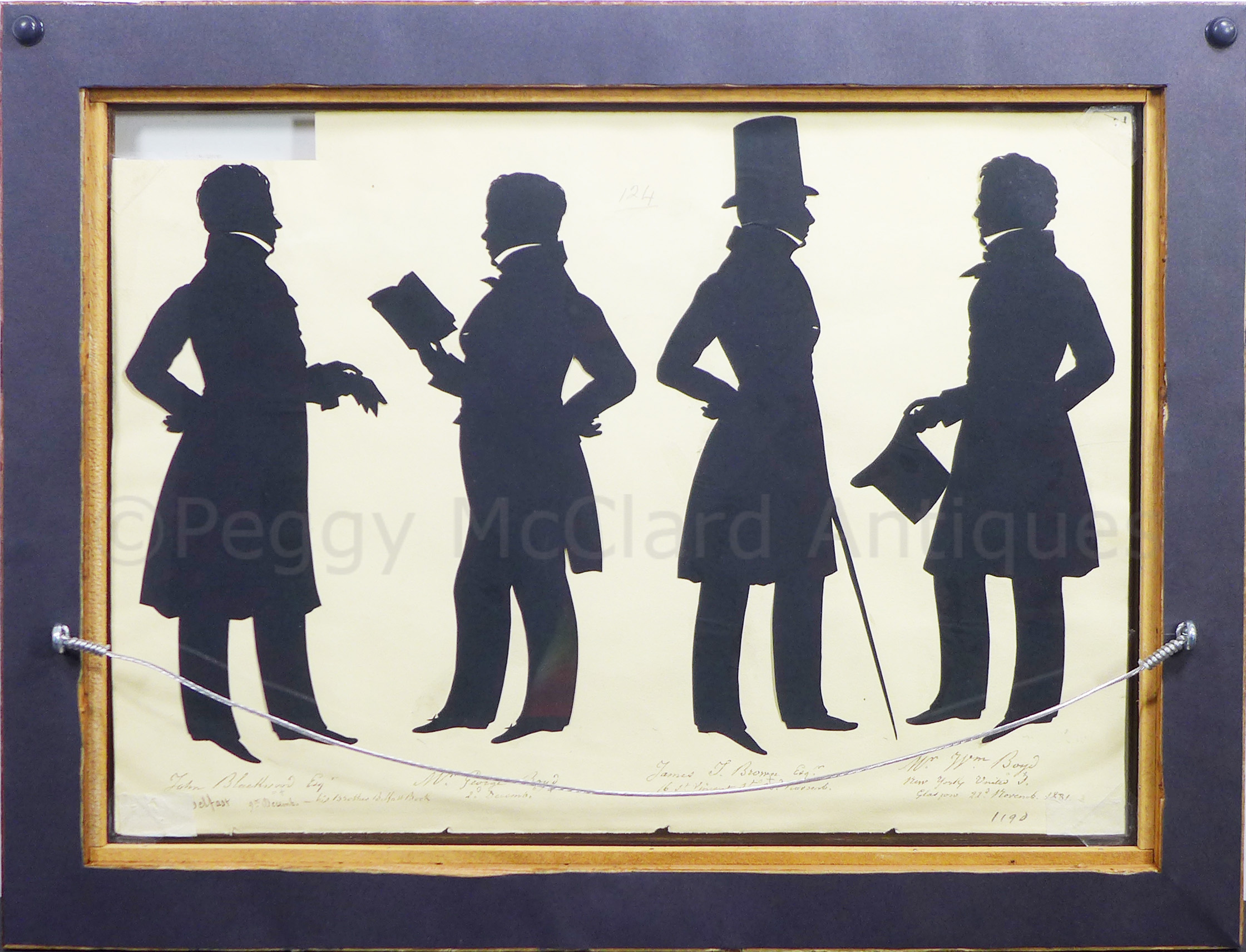 It is rare to find Edouart's original folio paper with the figures still on both sides but here we have one. The silhouette I had framed to the front is "Mr. & Mrs. William Bennet Editor Free Prefs / Glasgow 21st November 1831" and their infant son "Master Richd Bennet". Master Richard lies on his back while holding his "coral bells" rattle in the air. William Bennet was born 1802 in the county of Glencairn, Scotland. He began writing poetry while apprenticing as either a blacksmith and published a volume of poems when only 19 years old. William Bennet owned and edited a "twice a-week Liberal paper" in Glasgow until it closed. He then edited "The Glasgow Constitutional, a sound Conservative." See Fraser's Magazine for Town & Country, Vol. 18, July, 1838 at 80-81. Bennet was the author of a volume of poetry and a book titled Traits and Stories of Scottish Character. He was born William Bennoch but, after leaving the blacksmith trade and entering the literary world, changed his name to Bennet. Post-literary career, Mr. Bennet became a banker. Id. William Bennet is discussed in Jackson at 38, pictured Jackson in the plate opposite 38; and family is noted at 117. Mrs. Jackson says "William Bennet, author, journalist and politician, who was tall and very thin, was the third Glasgow editor [was] mentioned in a clever parody of Dryden's lines on Homer, Dante and Milton :--
Three editors, in three different counties born,
Free Press, Courier, and Herald did adorn.
The first in longitude of form surpassed
The next in latitude; in both the last.
The force of Nature could no further go;
To make a third she joined the other two."

Jackson at 38.
The side of the paper with the Bennets has a missing figure to the far left and a smudge left where Mrs. Jackson removed the figure to mount elsewhere. Mrs. Jackson also cut the bottom inscription of the missing figure away, leaving a missing notch of paper. You can see where the top of the paper attached to the folio on the Bennets' side. Figures are in very good condition with a bit of lifting from the paper. This lifting always delights me because it gives you a bit of shadow and a three-dimensional effect. Mrs. Bennet is cut as one silhouette with her chair and footstool. Mr. Bennet's position with his well-depicted hands is a plus as well as Master Bennet's finely cut coral bells rattle.
On the reverse of this folio page stand four men; John Blackwood Esqr. / 9th Decemb. Belfast / his Brother Belfast Book; Mr. George Boyd / 2d Decemb.; James T. Brown Esqr. / 16, St. Vincent St. 23d Novemb.; Mr. Wm. Boyd / New York United St / Glasgow 22d Novemb. 1831. Blackwood is noted in Jackson at 118; G. Boyd noted at 120; Brown noted at 121; Wm. Boyd noted at 120.
The side with the gentlemen is also in good condition with expected yellowing and the notch of paper loss. They are all in great, classic Edouart positions with added accessories.
Period figured maple frame with glass to front and back. Framed size 17 ½" x 13 ¼".
This is another fabulous shade from the collection of Paula Peyraud. Paula Fentress Peyraud (1947-2008) was an avid collector from a young age. She was a reference librarian at the Chappaqua Public Library and her voracious love of reading prompted her to amass an important collection of books, manuscripts, autographed letters of 18th through the 20th century. As a lover of art and people, she also put together an important collection of paintings, silhouettes, drawings and prints. Luckily, this avid collector lived in her family's substantial house which she filled with her collections—even to the point where she added on to the house for more room to collect. The works of art she collected were of high quality, from the best collections and mostly portraits. She obviously loved characters and the idea of collecting people. Her collection of silhouettes included the best known artists as well as some folk pieces. Luckily for us, Ms. Peyraud kept wonderful records of her collection purchases. All of Ms. Peyraud's documentation will go to the buyer of all of her silhouettes.
#5796 $3250
Provenance: Paula Peyraud Collection; Sotheby Parke Bernet, New York, November 16-18, 1978, Lot 433.
References: Jackson, Mrs. F. Nevil, Ancestors in Silhouette by August Edouart, The Bodley Head, London; John Lane Co., New York, 1921, at 38, plate opposite 38, 117, 118, 120 & 121.
Please see the Silhouettist Bios page for more information about Edouart, including the story of the sunken folios.