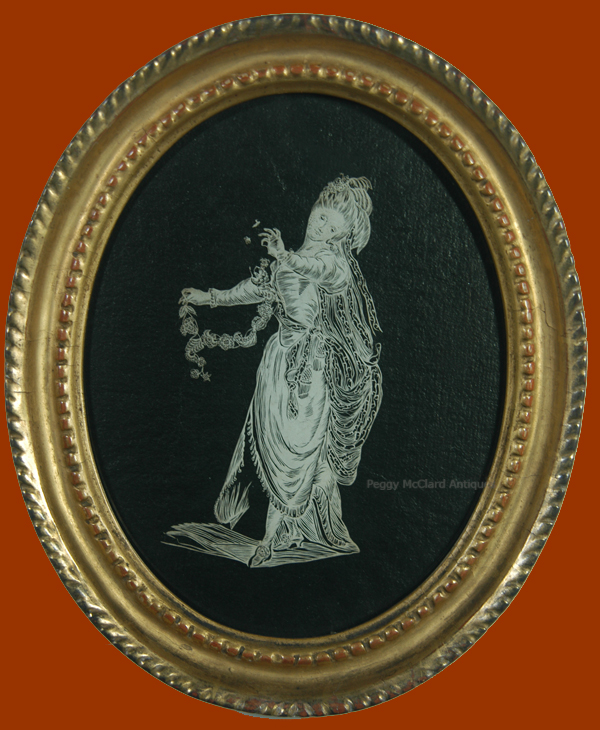 Somehow, Folk Art does not seem the correct category under which to place this elegant and superbly executed scissor-cutting, even though I usually include all Scherenschnitte here. I will also place this incredible piece of art under the Silhouettes page.
Never have I seen a finer scissor-cutting! This 18th century beauty is firmly attributed to Irish-born artist, Nathaniel Bermingham. This incredibly detailed maid was likely inspired by a period image of a classical muse. It appears to have been cut from one single piece of white paper, without any breaks, using slashes on her dress to create soft movement and stippling for a soft finish to her face. The elegance of this piece can only be fully appreciated under magnification, although it is certainly a stunner hanging on the wall. The cutting is loosely laid on the original paper which has been blackened only on one side. There is a break in the long ribbon running down from her hair and another at the top of the garland by her raised hand. It is possible that there may be a tiny loss at the top edge of the flowers in her hair. The cutting is otherwise in remarkably excellent condition. The gilt frame is likely original as it is the exact same frame found on other of Bermingham's works. It has, however, been stunningly regilded with the proper water-gilt method. Framed size is 9" x 7 3/4".
Nathaniel Bermingham (c. 1712 - 1774) was born in Dublin and trained as a herald painter.1 Bermingham was a specialist in paper-cutting, which he used to create coats of arms and similar works. He moved to London before 1744 and advertised in the 1763 Mortimer's London directory as "an improver of a curious art of cutting out portraits and Coats of Arms in Vellum, with the point of a pen-knife." Although his earliest works were uncolored, he later used pastel to color cut profile heads onto a dark background, with the edges of the profiles shaded in pastel to create a seamless portrait. His pastel portraits are noted for their distinctive sharp treatment and the high quality of their finish. His work was sold by Mrs. Laetitia Pilkington in her print shop in London starting in 1744. Bermingham exhibited five pieces at the Society of Artists in 1774.2 These included a "Portrait of the Duke of Gloucester cut in paper in an entirely new manner," three "Heads after Raphael," and "A Cock." Bermingham's address while exhibiting at the Society of Artists was "At Mr. Kelly's, the Cane Shop, near Temple Bar." Mrs. Pilkington describes him as "a most ugly, squinting, mean-looking fellow, whose good clothes made his awkwardness but the more conspicuous, ... his mind was portrayed in his countenance, where impudence and ignorance seemed to vie for pre-eminence." She mentions "Dr. Swift's head engraved on vellum, not in size much larger than a small locket," and his "fine mantlings, cut, in which he could quickly insert the arms." ("Memoirs of Mrs. Laetitia Pilkington, written by Herself," Dublin, 1776; vol. ii, p. 171.)3 The Metropolitan Museum of Art in New York includes a cut portrait by Bermingham, which they have cataloged as being of Jonathan Swift (see note in references below). The Victoria & Albert Museum includes a scissor-cutting by Bermingham in its collection. In 2009, Christie's Auctions, London sold a heraldic cutting by Bermingham for £20,000 which, at the exchange rate at the time of the auction, translated to $30,160.
This is a stunning piece of mid-18th century art, in remarkable condition, by a rarely found artist. It is out of my collection.
(#5029) POR
1 A "herald painter" painted heraldic devices and coats of arms. However, the Heraldy Society says that the period term "herald painters" could include coach-painters and that many herald painters were gifted in areas such as calligraphy, illuminating and limning. "Heraldy as an Art", The Herald Society; online at http://www.theheraldrysociety.com/articles/heraldry_as_art/the_herald_painter.htm
2 Jeffares, Neil, "Nathaniel Bermingham", Dictionary of pastellists before 1800, London, 2006; online edition [http://www.pastellists.com/Articles/Bermingham.pdf], access/update July 24, 2012.
3 Strickland, Walter G., Dictionary of Irish Artists, 1913, online at http://www.libraryireland.com/irishartists/nathaniel-bermingham.php
References and other works by Bermingham:
Gorry Gallery, Portrait of Mrs. Farmer, "An Exhibition of 18th, 19th and 20th Century Irish Paintings, March 2-12, 2005.
Christie's London, The Arms of John Boyle, 5th Earl of Cork and Orrery (1707-1762), Sale 7813, Lot 53, May 7, 2009.
The Metropolitan Museum of Art New York, Portrait of Jonathan Swift, cat. 50.602.135 (oddly the portrait illustrated by the Met as Jonathan Swift is illustrated in McKechnie as being a portrait of Judge Jeffreys, First Baron Jeffreys of Wem).
Victoria & Albert Museum of London, Britannia mourning Fredrick, Prince of Wales, cat. W.37-1932.
Jeffares, Neil, "Nathaniel Bermingham", Dictionary of pastellists before 1800, London, 2006.
McKechnie, Sue, British Silhouette Artists and their Work: 1760-1860, (Sotheby Park Bernet Publications, 1978) 190-91, 288 at plate 295.
Strickland, Walter G., Dictionary of Irish Artists, 1913.