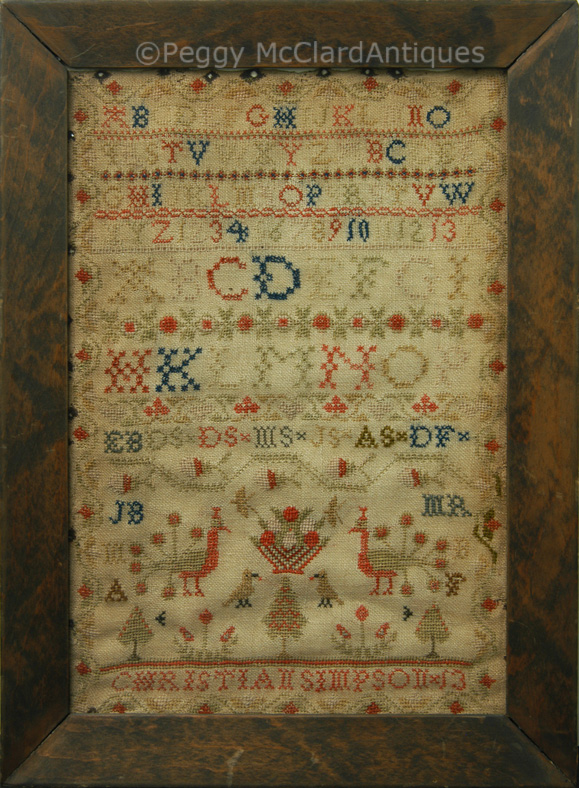 Beautiful Scottish sampler of Miss Christian Simpson. It is silk thread on loosely woven linen in green, red, blue, gold, and black (or dark brown). Christian used a variety of stitches in her sampler, including cross-stitch, Queen (or perhaps a buttonhole stitch) and some type of running stitch. She included three alphabets, all caps for all three. The first two, smaller alphabets run together on the third line. The first is missing "P". Both small alphabets are missing "U". The larger alphabet goes only through "P" and Christian transposed "I" and "H". All very charming mistakes for a young schoolgirl learning handiwork. Christian used wonderful motifs including a pair of peafowl, a pair of smaller birds with fruit in their beaks, a basket of fruit or flowers with two butterflies fluttering above, trees, flowers, and nice borders around the edges and between the components of the sampler. The bottom row of the sampler is signed "CHRISTIAN SIMPSON * 13". Assuming 13 was her age, the sampler is circa 1847 because Scottish census records show that she was born about 1834.
Note that between the alphabets and decorative motifs, Christen stitched the initials of her parents and siblings "EB DS DS MS JS AS DF". Christian's father James David Simpson married her mother Euphemia Blelach in 1831. Christian Simpson's siblings were David Simpson, Marion Simpson, James Simpson, and Andrew Simpson. I'm not sure who the final "DF" is. In the panel of decorative motifs, Christian included initials "JB" and "MR". Below "JB" is "M" over "A". Still father down is "MR" is "B" over F". Christian's grandparents were James Bleloch (or Blelach) and Marion Rae, hence the "JB" and "MR". The other letters will probably remain a mystery to me.
The condition of the sampler is very good. In the photos, there appear to be brown stains around holes along all edges of the sampler. Actually, this is either black or brown thread worked in buttonhole stitch, which intentionally pulls the fabric threads apart to look like a hole. The white ragboard behind the conservation mounted sampler is showing through as white. The sampler is framed in a period, flat profile frame that has been refinished with a brown stain. The framed size is 20" x 14 ½". Nice bubbly glass remains on the front. The back of the frame is covered with brown paper which has a modern inscription with the family history:

Miss Christian Simpson (Circa 1840s Scotland)
daughter of James David Simpson and Euphemia Blelach
who married in 1831 (Euphemia born 1804 in Hasleyshaw (died 1879 in Cadgerford (or Cadgerfond)
granddaughter of:
Marion Rae, b. 1777, and
James Bleloch born 1771 in Gartgreenie
Christian Simpson's siblings:
David Simpson
Marion Simpson,
James Simpson,
Andrew Simpson
(Note: Agnes Blelach Carmichael was 1st cousin to Miss Christian Simpson.
An older notation is glued onto this and covered with plastic says:
Agnes Blelach Carmichael
Nuifarm [?] March 1912
My Cousin's daughter
She died January 1912
The above was found behind Sampler when reframed in January 1974.
This is a very nice 19th century sampler at a very reasonable price. Circa 1847.
(#5496) &nbspSold