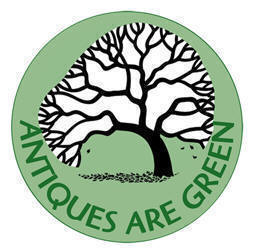 Peggy has been collecting, buying, and selling antiques for more than 40 years. Peggy's passion for American decorative arts has been educating and influencing Randy for more than 30 years. After a successful business career, Randy moved from the back office to be more directly involved in the day-to-day activities of the business. As a result, we changed the name from Peggy McClard Antiques to McClard Segotta Antiques. Peggy carefully researches almost every item that passes through our care to provide our clients with as much information as possible, including artist biographies, sitter genealogical information, and references to books and museum collections that will help you understand and appreciate the artwork and collectibles you may find interesting. Peggy retired from the practice of law to devote her time and energy in being the best antiques consultant she can be. Peggy and Randy look for every opportunity to increase their knowledge and both graduated from the Winterthur Institute. Peggy provides consultation to major auction houses and museums regarding antique silhouettes and folk art, and she has given educational lectures to museum docents, antiques study groups, dealer associations, appraisers, and other groups from Texas to Maine. She has been interviewed and quoted in numerous magazines distributed nationally in the U.S. and the U.K., trade journals, books, major auction house catalogs, and online educational websites. Peggy co-authored an article about one of her favorite silhouettists with two scholar-friends. That article was published in The Magazine Antiques. Peggy started business in a brick & mortar shop in Houston, Texas and exhibited at respected antiques shows starting in the 1980s. Peggy designed and built this website in 2004 and has updated and grown it to its present incarnation. One of Randy's areas of responsibility is the operation and maintenance of this website and the supporting infrastructure and technologies.
We fully guarantee our inventory to be as represented. We promise to keep this website filled with fresh inventory at affordable prices. We will always have items to help you build a new collection or add to an established collection. We buy the best items we can and offer them to you at affordable prices. And we are always here to share our expertise to help you update and enjoy your collection to the greatest extent possible. You will always find the largest collection of authentic antique silhouettes for sale and the best educational information about period silhouettes here!
We remove prices from item listings once you commit to the purchase and remove photos of them within 30 days of completing the sale. We believe your privacy is more important than publicizing those items we have sold in the past. From time to time, we will use our copyrighted photos of items for educational purposes but never to promote the fact that we sold something you now own. If you would like to have the photo of an item you purchased removed prior to our regular website update, please let us know. It is important for you to know, however, that we retain the copyright to all images and may use those images in later publications.
Publications and Interviews

Smith, Greg, "Upload & Sell Out: Scheduled Dealer Website Updates Drive Sales", Antiques and the Arts Weekly, September 1, 2020.

Payne, Suzanne Rudnick, Payne, Michael & McClard, Peggy, "Shadows and scissors", The Magazine Antiques, January 2018.

Payne, Suzanne Rudnick & Payne, Michael, "Images of the American People: Small Portraits from 1820 to 1850", Antiques & Fine Art Magazine, Winter-Spring 2013, 226-233.

Page, Melinda, "What to Collect Now: Silhouettes", Country Living Magazine, June 2014, 39-42.

Kenney, Al, "Micro-Targeted Marketing, The Art of Marketing", Maine Antique Digest, April 2014, 11-B (pdf attached by permission of Maine Antique Digest).

Viator, Jane, "Picture Perfect", Antiques Roadshow Insider, April 2011 (pdf attached by permission of Antiques Roadshow Insider). Great article about theorem painting.

Lefko, Linda Carter, "The Art of Grisaille Painting", Early American Life, March 2011. 10-21.

Rutherford, Emma, "Profiles of a New World -- the Portrait Silhouette in North America", America in Britain, Volume XLVIII, 2010 (pdf attached by permission of The American Museum in Bath).

"Through The Looking Glass", Portland Monthly, November 2010.

Viator, Jane, "Shadows From The Past", Antiques Roadshow Insider, November 2010 (pdf attached by permission of Antiques Roadshow Insider).

McClard, Peggy, "Antique Tokens of Love & Friendship", Houston-Antiques.com, September 2009.

Rutherford, Emma, Silhouette: The Art of the Shadow. Rizzoli, New York, 2009. Images taken by Peggy McClard Antiques and of McClard Collection silhouettes in Chapter "Profiles of the New World" pages 183-222.

LeFever, Gregory, "Side by Side, Faces in Black and White", Early American Life Magazine, June 2009.

McClard, Peggy, "Antique Silhouettes", Houston-Antiques.com, March 2009.

Cloutier, Anne Marie, "Something About Silhouettes", Country Living Magazine, January 2009 (online article at CountryLiving.com). This article features old and new silhouettes. Please see frame 5 of the online article for part of my collection and inventory.

Payne, Suzanne Rudnick and Payne, Michael R., "Six Choices for the Sitter, James H. Gillespie (1793-after 1849)", Antiques & Fine Art, 200 (Summer/Autumn 2008) (online article at antiquesandfineart.com).

"Top 10 Collectibles for 2008", Country Home Magazine, July/August 2008.

"Let's Go Antiquing - What To Collect Now: Watercolor Folk Portraits", CountryHome.com, February 2008.

Anderson, David, "Dallas Texas, Ralph Willard's Tower Antique Show", Maine Antique Digest, May 2007, 36B-38B (pdf, copyright by Maine Antique Digest).

Contact Peggy & Randy for More Antique Information

Please contact us for more detailed photos, condition reports, shipping information, and return policy. Or just tell us what you like to collect so we can be on the look-out for items you may find of interest. Peggy and Randy hope you will keep us in mind when you are ready to purchase something fun (like an antique silhouette or antique portrait....or some other type of early folk art)!

Peggy and Randy are always interested in buying single items or full collections of items of the same type and quality you find here. We do not provide monetary appraisals because we believe there is a conflict of interest when a dealer who might be interested in buying a piece for profit tells someone else what the piece is "worth". Certified appraisers are qualified to give you a monetary appraisal. Antique dealers may be qualified to provide an appraisal but it is our position that dealers should conflict out of giving others a monetary appraisal.

Peggy and Randy are available for lectures and guidance in building your collection. We are also available for consultation with museums, auction houses and appraisers.
&nbsp
Please note we do not accept money orders, including U.S. Postal Service money orders due to an increasing number of fraudulent money orders in circulation. Banks routinely hold funds from money orders 45 days or more.
Please click here for our liberal Return Policy.