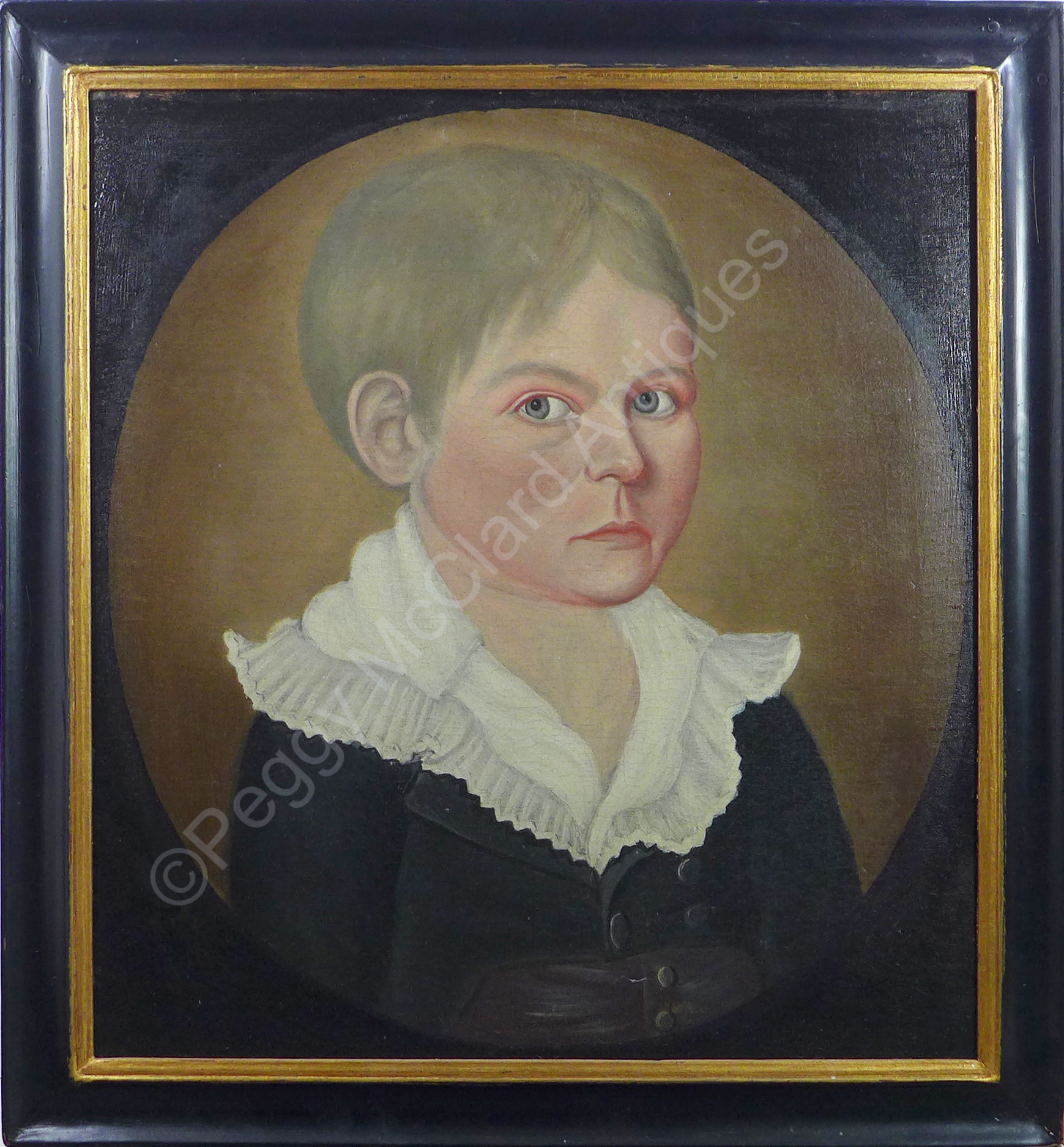 William Jennys and his father Richard were two of our country's earliest portraitists. They are known for their skillful depictions of the faces of their early New England sitters. William, especially, had the ability to portray the soul and character of his sitters on a canvas.
This charming, mischievous-looking young boy is a wonderful example of William Jennys' more naïve portraits. Compared to "Lady with a White Headress" which I'm also listing today, you can see that the boy's face is less sculptural than the woman. Both use the strong delineation of color at the jaw line—the Jennys' portraits depict faces with strong rosy tones which abruptly end at the jawline. Below the jaw the skin tones generally tend toward more yellow tones.
Surely this young boy's character is bared in this portrait. He stares directly at the viewer in a rather confrontational manner. One imagines that he rebelled against sitting for his portrait and wanted to be gone and back at play. His eyes are large an unusual grey color and his short hair is parted in the center and sandy-blond. He wears a skeleton suit with a wide white collar trimmed in lace. Skeleton suits were popular for young boys from about 1790 until 1820.
The oil on canvas is painted within a painted oval portal with black spandrels. The canvas measures 30 ½" x 25". It has been lined with a replaced stretcher and has minimal inpainting. The period gilt frame is not original and measures 34 ½" x 29 ¼". Both portraits being offered separately are from the well-known folk art collection of Ralph and Susanne Katz. Circa 1800.
#5882 POR
Provenance: Collection of Ralph & Suzanne Katz
References:
Jones, William Bright. "The Portraits of Richard & William Jennys and the Story of their Wayfaring Lives." Ed. Peter Benes. Painting and Portrait Making in the American Northeast. N.p.: Boston U, 1994. 64-97. Print. The Dublin Seminar for New England Folklife Annual Proceedings 1994.
Payne, Michael R. , Ph.D., and Suzanne Rudnick Payne, Ph.D. "The New "Delineating Pencil" Silhouettes by William Jennys." Antiques & Fine Art, Jan. 2011: 320-27.
Please see the Folk Portrait Artists page for more information about Richard & William Jennys