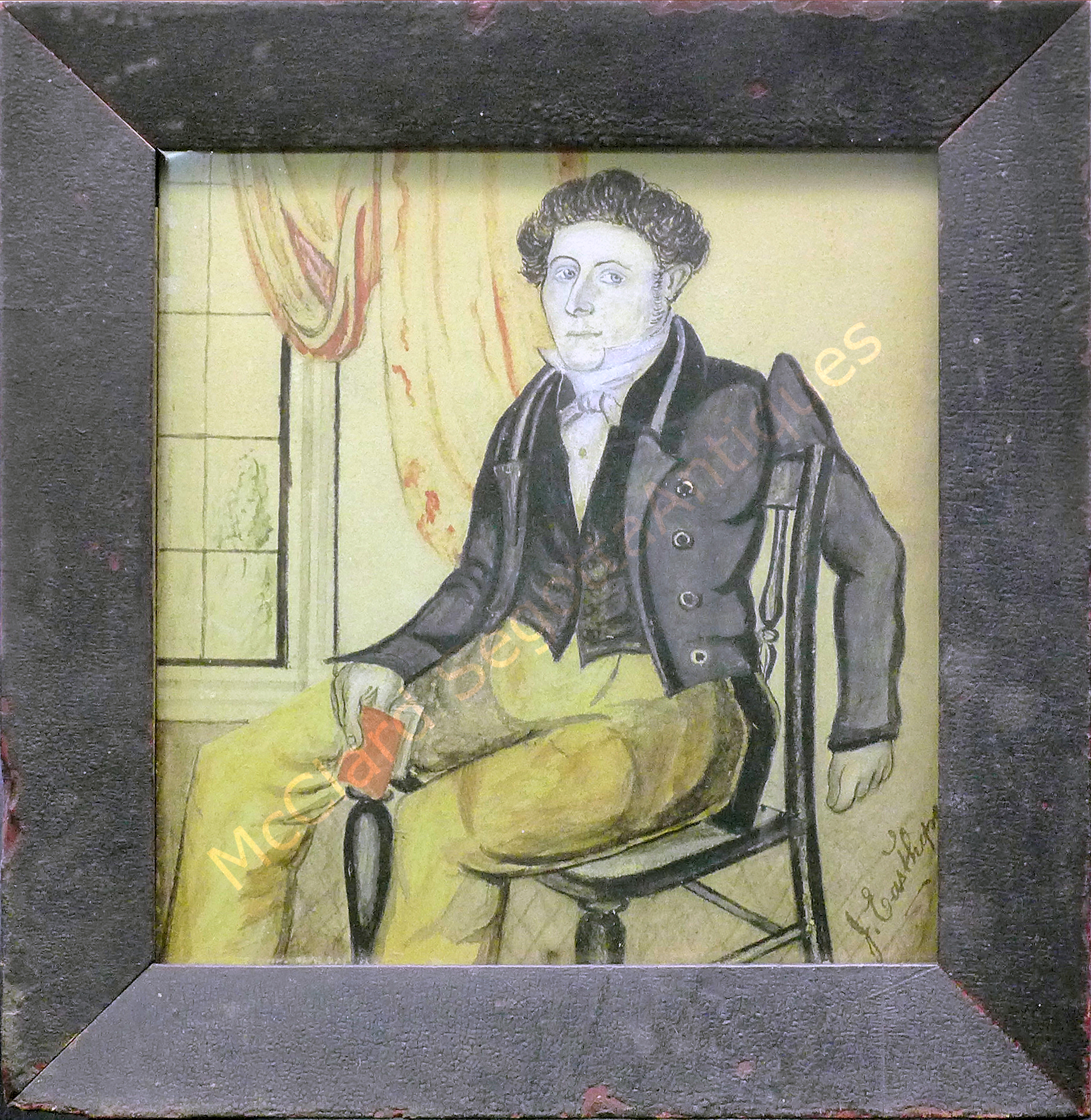 Offered is a wonderfully folky watercolor portrait of a man seated in a home-like seating, before a window, on a wooden spindle backed chair. The gent holds a red book symbolizing his education as he gazes directly at the viewer. A quickly painted drape is pulled high and away from the window where it seems to be held by a tie-back above the gent's head. The sitter wears a tail-coat with the sleeves gathered at the shoulder and then tight and long enough to cover his shirt sleeves. His black vest is single-breasted and his white cravat is tied in the front and wraps around his high shirt collar. His hair is hair is combed up and back, giving it height and helping his narrow whiskers frame his face. The lower right corner of the painting bears a signature "J. Easthope."
We have been unable to find information about the artist, but we think there are a lot of similarities to the anonymous artist, "The Reading Artist" with the a few important differences including that this sitter looks directly at the viewer but the works by The Reading Artist never looked at the viewer. Another difference is that, like a number of American folk portrait artists, this artist utilized white paint on the face of the sitter. Easthope also added a bit more modeling in the face, making his portraits a bit less folky (although, this portrait is really folky). Beyond those differences, we see a formulistic setting that is very similar to The Reading Artist's work—sitting indoors with a window behind, a wood chair showing parts of 3 legs, the top rail and part of the spindles, holding an object (some but not all of the Reading Artist's held a book or flowers), geometric design used in the wall behind the sitter (most of the Reading Artist's interiors also included a decorated floor). Both artists used similar brush strokes, especially evident in the rounded strokes used to show texture and folds in the gent's pants. The differences are enough that we definitely feel that J. Easthope is not by the Reading Artist. But the similarities imply that the two artists knew of each other's work—perhaps they were pupil and teacher. Perhaps we are one step closer to identifying the Reading Artist by association.
This wonderful bit of American School folk art is housed in a period painted frame with nice dry surface. Framed size is 7 ½" x 7 ¼" with a sight size of 5" x 5 ½". Circa 1835.
#6991 $1750