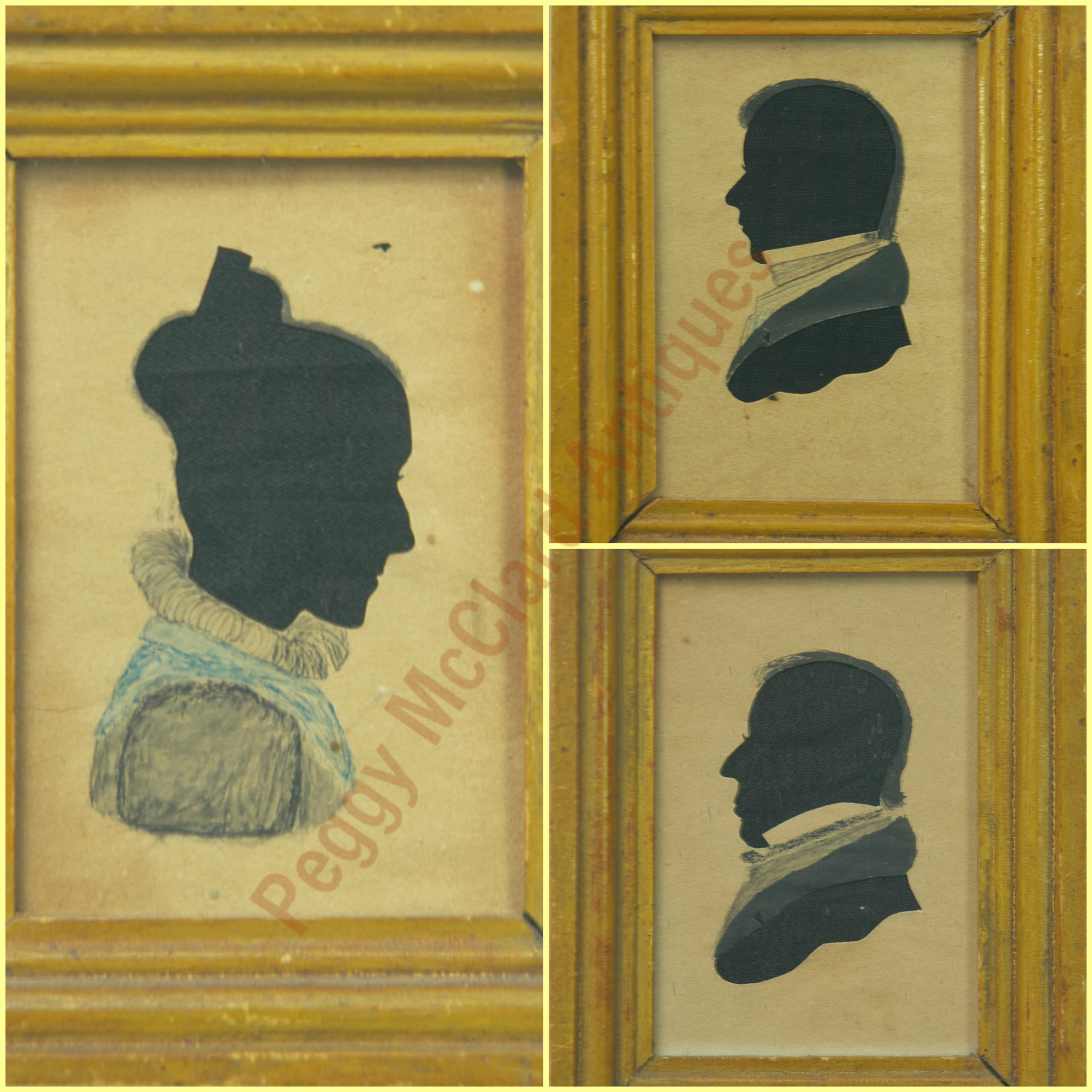 Offered is a trio of family American folk silhouettes, by an Anonymous artist with great creativity. Unusual blue embellishment in woman's neckerchief and young man's pinstriped waistcoat. None of these very unusual and desirable hollow cut silhouettes is perfect but all are worthy of any collection of Americana or silhouettes. The paper of all three is toned. The older of the two gentleman has a few scattered stains but none terribly noticeable. He is framed behind really wonderful bubbly, wavy glass. The woman has a few small brown stains, a tear behind her shoulder to the edge of the paper at about 8 o'clock (see the detailed photo with the arrows) and a bit of paper loss about half-way between the top of her head and the frame at about 1 o'clock (you can see the black fabric behind the paper loss). The younger man has a very few stains and a bit of paper loss at the bust line (see the photo just above the "M" of my watermark).
In my opinion, things that make this family really special include the use of blue in the woman's neckerchief and to add stripes to the younger gent's waistcoat; the detailed drawing of the woman's ruffed collar; the perfect little upturned cut eyelashes; the older man's painted hair with the slight curl at the collar; the painted hair of the younger gent which seems to disappear into the back of his jacket (and cover part of his collar); the wavy bust line termination for both gents; and (as always) the woman's wonderful Apollo knot at the top of her head held by the big haircomb.
They reside in period frames that have been painted with mustard over red to look like worn gilt. Framed sizes are 3 ½" x 4 5/8" not counting the folky thread hanging loops. They all sit behind exceptional wavy early blown glass (I've highlighted a big bubble in one of the close up photos of the woman. Circa 1825, likely New England.
#5698 $2500/trio
Provenance: Private Virginia Collection