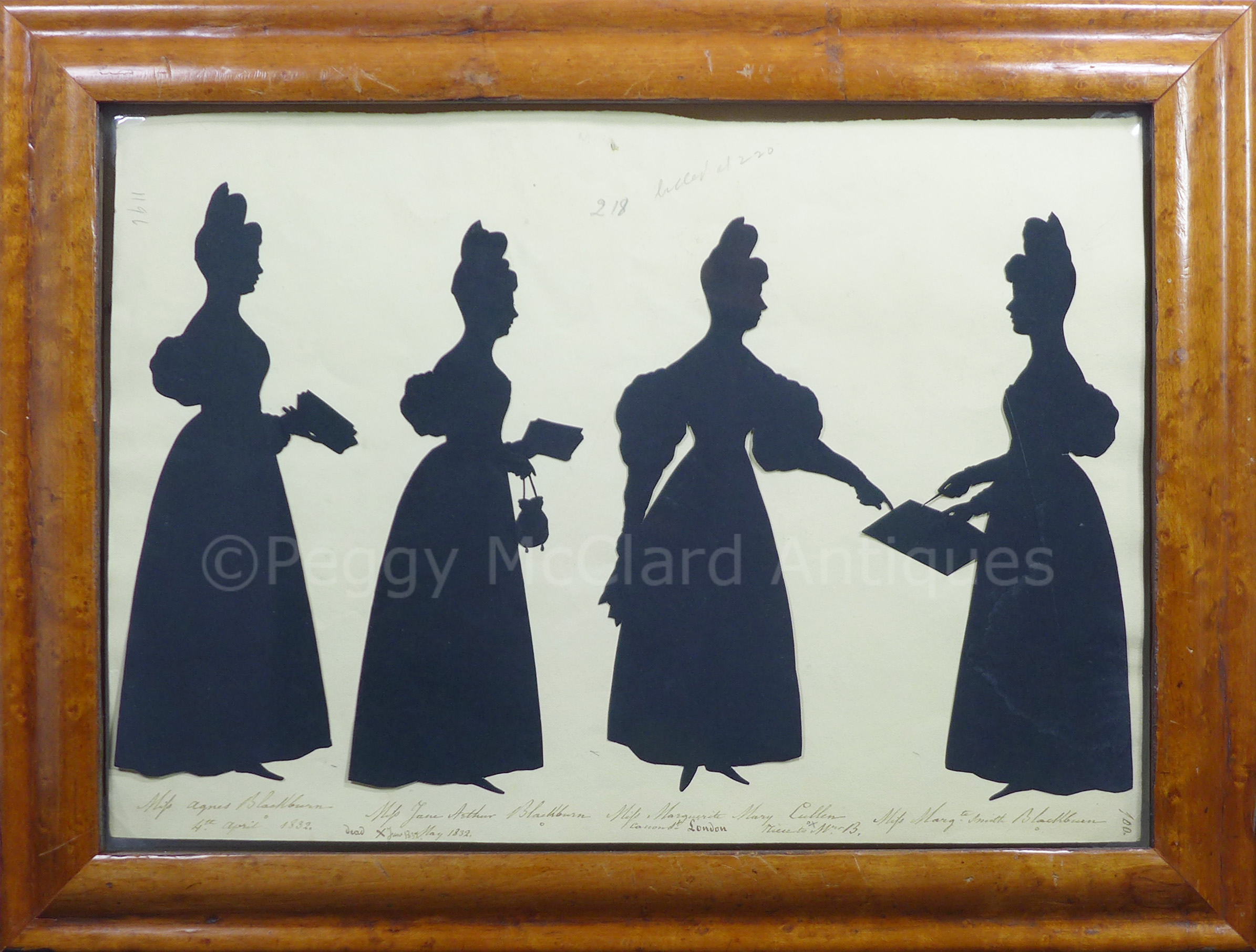 This is one of Edouart's original folio page, rescued from the bottom of Guernsey Bay and cataloged and archived by Mrs. F. Nevil Jackson. All are noted in her book Ancestors in Silhouette by August Edouart. Edouart identifies the figures from left to right by inscriptions at the bottom of the page as:<.p>
Mifs Agnes Blackburn/ 4th April 1832 Mifs Jane Arthur Blackburn / Dead X June 1832 May 1832 Mifs Marguerite Mary Cullen / cousin London niece to Mr. B. Mifs Margte Smith Blackburn
Blackburn sisters noted in Jackson at 118. Cullen noted at 127.
This original page bears Edouart's page number, "100" in lower right corner and some pencil notes by Mrs. Jackson. The reverse has names but no silhouettes. These were probably removed by Mrs. Jackson and placed on 20th century paper with keyholes cut in back. Because these are on the original folio paper, you can't see Edouart's inscription on the backs of the figures, but you have his page numbers, the uncut original paper and Mrs. Jackson's notations. Original pages are more rare and desirable than those removed and placed on 20th century paper. The sisters' high Apollo knot hairstyles and the accessories such as the reticule with tassels and the paper and pen held by Margaret Smith Blackburn add to the desirability of this silihouettes.
The silhouette figures are in good condition except for a slight white saltwater mark on the figure on far right. Housed in a period maple frame with glass to front and back. Framed size 17 ¼" x 13 ⅛".
This is another fabulous shade from the collection of Paula Peyraud. Paula Fentress Peyraud (1947-2008) was an avid collector from a young age. She was a reference librarian at the Chappaqua Public Library and her voracious love of reading prompted her to amass an important collection of books, manuscripts, autographed letters of 18th through the 20th century. As a lover of art and people, she also put together an important collection of paintings, silhouettes, drawings and prints. Luckily, this avid collector lived in her family's substantial house which she filled with her collections—even to the point where she added on to the house for more room to collect. The works of art she collected were of high quality, from the best collections and mostly portraits. She obviously loved characters and the idea of collecting people. Her collection of silhouettes included the best known artists as well as some folk pieces. Luckily for us, Ms. Peyraud kept wonderful records of her collection purchases. All of Ms. Peyraud's documentation will go to the buyer of all of her silhouettes.
#5804 $2250
Provenance: Paula Peyraud Collection; Sotheby Parke Bernet, New York, November 16-18, 1978.
Reference: Jackson, Mrs. F. Nevil, Ancestors in Silhouette by August Edouart, The Bodley Head, London; John Lane Co., New York, 1921, at 118 & 127.
Please see the Silhouettist Bios page for more information about Edouart, including the story of the sunken folios.