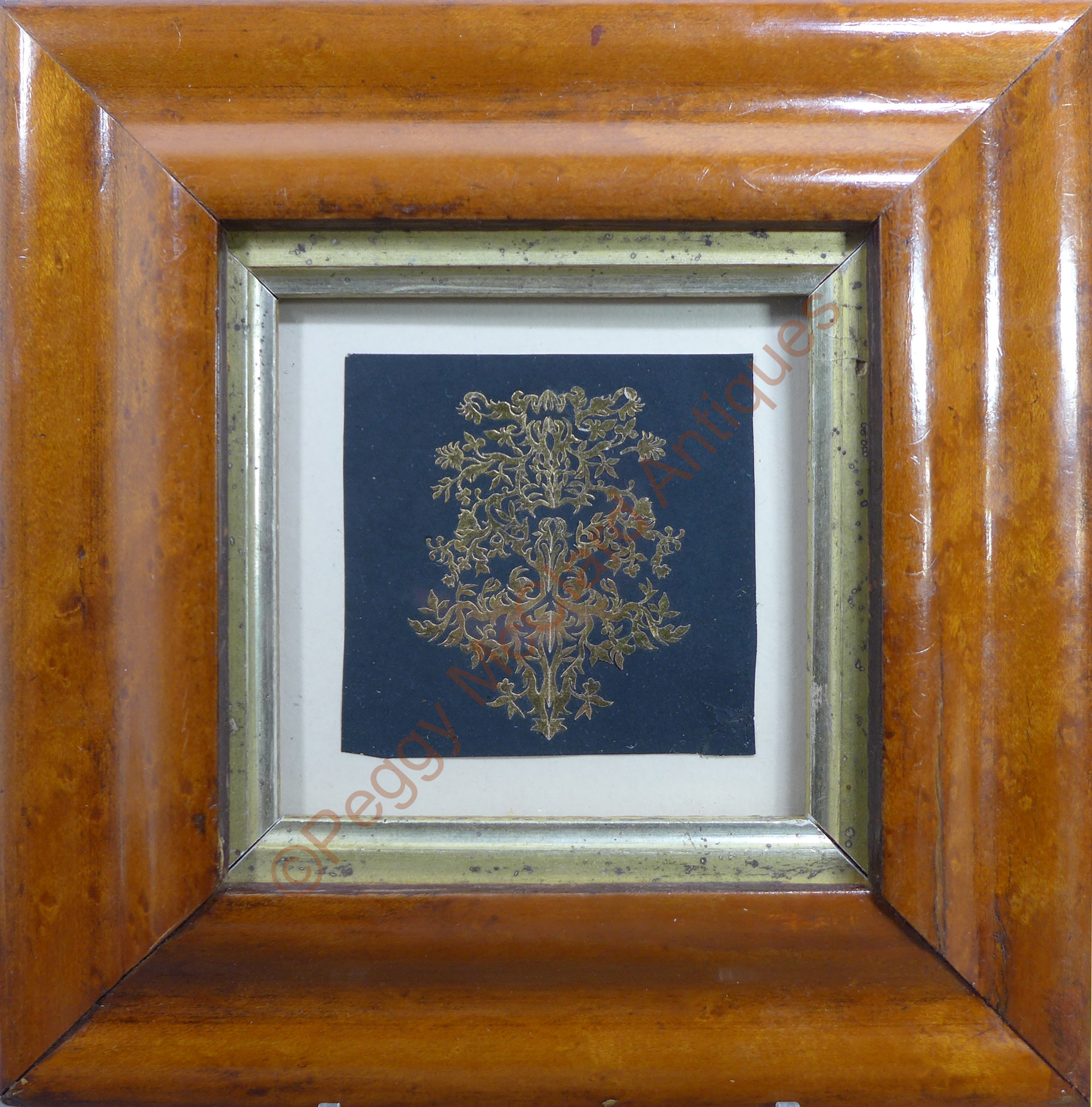 If you follow my website or have seen any of my talks, you probably know that Augustin Edouart was meticulous about his silhouette art. He prided himself (and rightfully so) for cutting the most lifelike of figures. He kept duplicates of each of his silhouettes in folios. In 1849, Edouart left America on a ship named Oneida bound for the British Isles. He took all his possessions with him. Oneida sank in the Guernsey Bay. Luckily, everyone survived but Edouart's precious silhouettes, the work of a lifetime, sank to the bottom of the bay. A few were rescued and, when Edouart left Guernsey for Calais, France where he would live the rest of his life, he left all the recovered duplicate folios with the family who cared for him in Guernsey. The duplicates that Edouart left with the Lukis family eventually made their way to Mrs. F. Nevil Jackson who cataloged them and restored them from their waterlogged condition. Mrs. Jackson sold the duplicates in groups and singles and they come onto the market with enough regularity to keep the many collectors of Edouart happy.
That, in a nutshell, is the story of the duplicates. However, a new and exciting discovery recently surfaced from a Parisian bookseller: Edouart's personal folio of "Scraps" in a book labeled "Animaux". This is the most Edouart exciting discovery in a century! Mrs. Jackson discovered the duplicate folios in the first decade of the 20th century. It appears that Edouart took this scrapbook with him to Calais. It was filled with figures of dogs, horses, toys, mythical characters, floral sprays, and on and on. It looks like Edouart used the book to keep practice figures of unusual forms that he might have been commissioned to add to conversation silhouettes as well as figures that he cut for his own amusement and for his traveling exhibition. Animaux was a treasure trove of incredible pieces. I have been so lucky to acquire more than 200 figures removed from this book. In the coming months, I will be offering these mind-boggling cuttings for sale. They will always be lightly mounted on acid-free materials and framed in period frames. The reverse of the mountings will always be stamped with a specially made stamp for items from this book and also with my collection stamp. The reason for my insistence on mounting and stamping is because these figures are so unusual (although distinctly from Edouart's hand) that I want to help future generations authenticate them because they can be traced back to me.
This scissor-cutting (aka Scherenschnitte) by Edouart is one of the most mind-boggling pieces of the Animaux book. While I long ago realized that Edouart was a Wizard with Scissors, I had no idea that he ever practiced the art of Scherenschnitte! He obviously created this tiny, terribly intricate cutting on gold paper for his own amusement. He glued it onto a square of the blackened paper that he used for his profiles and pasted that black paper into his book. It is so intricately cut and the black paper on which he laid it is only 2 ¼" square! Framed in a period maple frame that measures 6 ¼" square and has a sight size of 3" square. The cutting is in excellent condition, the blackened paper has a repaired tear to the lower right corner. This is the only one of these that I have gotten….I don't know that there is another in the book. Grab it while you can! This small but mighty piece is circa 1826-1845.
#6185 $1550
References:
Edouart, Augustin, A Treatise on Silhouette Likenesses, Longman & Co., Paternoster-Row; and J. Bolster, Patrick-Street, Cork, 1835.
Jackson, Mrs. E. Nevill, Silhouettes A History and Dictionary of Artists, Dover Publications, Inc., New York, 1981 (published as an unabridged republication of Jackson's Silhouette: Notes and Dictionary, Methuen & Co. Ltd, 1938), at 98-99.
Please see the Silhouettist Bios page for more information about Edouart.
Please see Scherenschnitte, The Art of Papercutting for more information on this wonderful form of folk art.