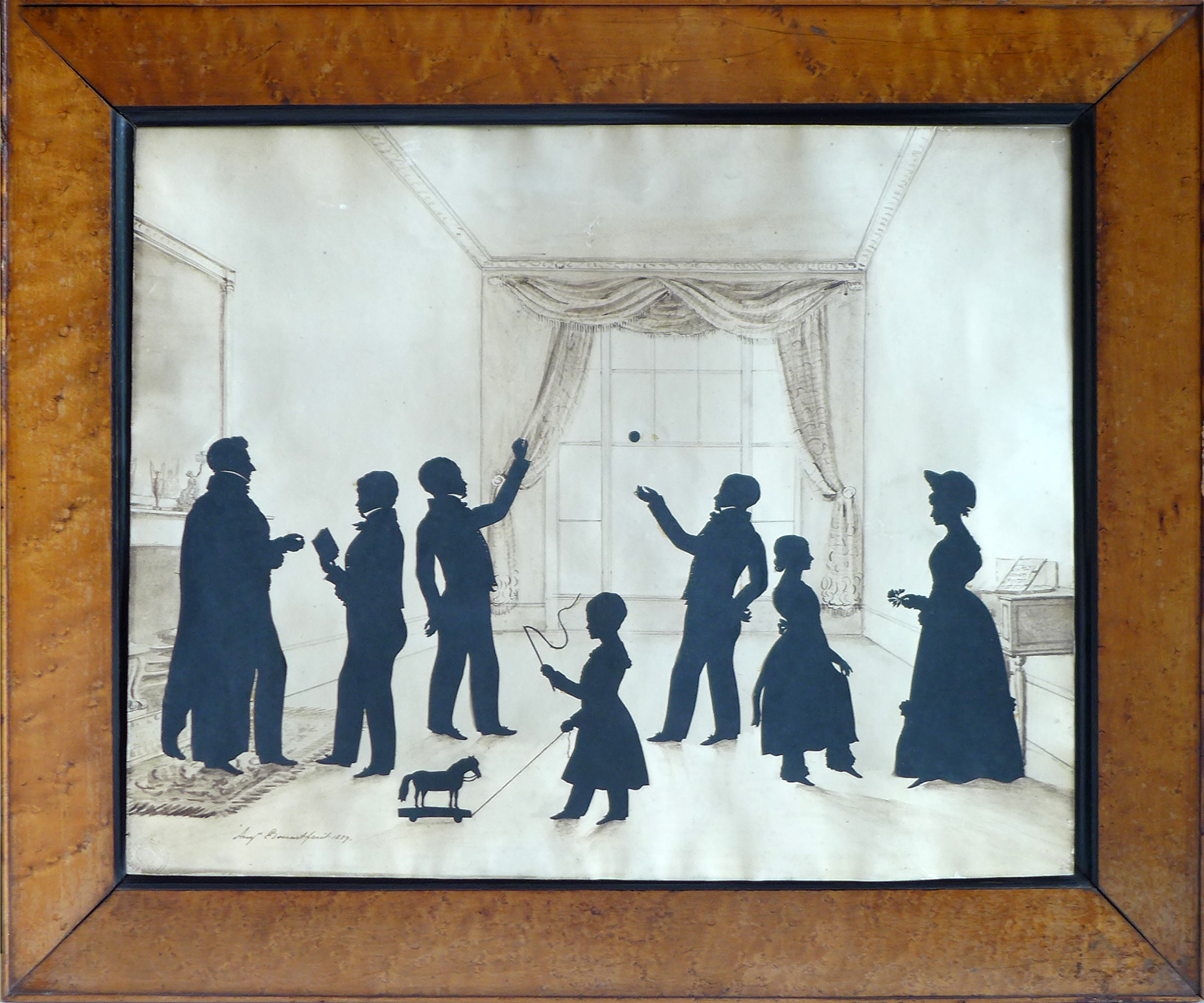 Peggy always get excited when she can offer a large conversation silhouette by Edouart. This is really one of his better pieces. Cut in 1829 when he was doing some of his best work — having cut silhouettes long enough to have mastered his craft but not so long as to being jaded. He spent part of 1829 in Edinburg, Scotland where he cut many scholars of University of Edinburgh and the gentleman in robes on the far left may well be from that institution. We love viewing the action taking place. The Professor seems in a lively discussion with a young man holding a book. Two boys toss a ball in the middle of the piece. In the foreground a young boy pulls his toy horse while snapping his whip above the horse. On the far right a young girl seems to show a dance step to her mother or older sister who holds a posy of flowers. Everyone is engaged in activity.
These figures demonstrate the importance Edouart placed on hands. We don't think any 19th century silhouettist cut better hands than Edouart. Look at how each hand tells something about the person or the action. The scholar emphasizes his conversation with his hand. The two boys throwing the ball . . . the boy on left tossing the ball and the boy on right catching it. The boys both resting their other wrists on their hips. The girl gracefully holding her dress. Edouart put his expected details into the cut figures. The boys all have cut-out button holes and all males have cut away collars. The woman has a beautifully detailed hat and flounces in her dress. Edouart usually commissioned his watercolor backgrounds and this is a great one with the decorative items on the mantle, the fireplace register, the patterns in the drapery and rug, the spinet and sheet music. Yet, with all of the detail, Edouart's commissioned artist left enough open space to let the figures dominate the finished piece.
The 27 ¾" x 23 ¼" figured maple frame is period and may be original — Edouart had maple frames made with canted profiles ending with a thin ledge at the outer edge. This frame had a ledge but it is rounded which may have been required for such a large frame. The gilt liner has been painted black. There is some insect damage on a couple of the frame edges but you see it only by looking directly at the sides of the frame. The two side sticks show a bit of rubbing on the ledge that finishes the edging. The silhouette has a few rubbed spots in the ceiling. If you would like to see more detailed photos, please email Peggy. Really, however, the apologies are tiny compared to the beauty of this great silhouette.
#6821 POR
Please see the Silhouettist Bios page for more information about Edouart.