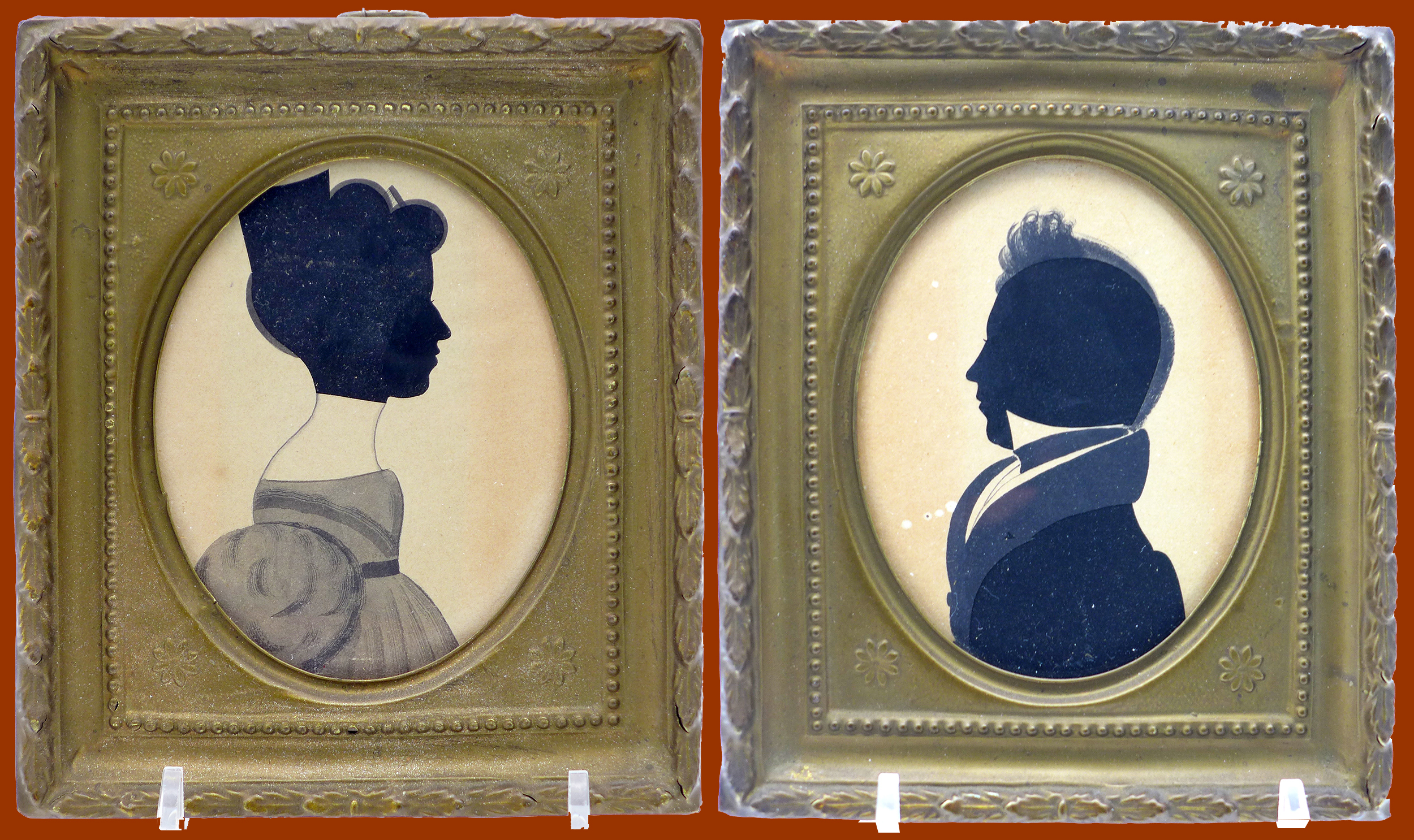 Offered is a really wonderful example of American folk silhouettes. The heads are cut very well with distinctive facial features and tiny cut eyelashes—many of the folk silhouettists did not cut so well and relied on the creativity of their wild and crazy painted bodies alone. This silhouettist was very competent and added his own painted flair without overdoing it.
We favor American folk silhouettes in which heads are hollow cut and bodies might be painted, block printed, a lithograph that has been cut and pasted, or any number of inventive techniques. From 1800 to the 1830s Americans wanted hollow-cut silhouettes in which head and bust were cut away from the paper. One can spot differences in the cuttings so well that we can attribute many to specific artists. However, in the 1830s a group of mostly anonymous artists began to create work that would stand out from the crowd. The head would still be traced with a physiognotrace so that clients were convinced that the likeness was exact but below the head, the artist could exercise creativity in creating the upper body. This is where our love of silhouettes mostly lies.
The woman wears a grey dress with a sash at her natural waist and puffed & stuffed sleeves. She has a long graceful neck that starts in the cut area and continues into the uncut area with merely an outline leading to the top of her dress. Despite being left white (unpainted), it does not appear that the artist was depicting a white neck cover but providing a transition that allows the sitter's neck to be rather Audrey Hepburn-esque. The lady wears a tall hair comb to hold her Apollo knot. In front of the cut away comb are two large rolls of hair that are both cut and accented with black watercolor. Between the two hair rolls this artist has painted in a smaller hair comb. This small comb is quite distinctive — we've not seen this on other profiles.
The gent wears a very smart coat with rolled collar which has a notch cut where collar becomes the lapel. His uncut shirt collar stands high on his cheek and the artist simply and competently drew his waistcoat and painted his black stock. His shoulder and arm are cut away. The painted enhancement of his hair adds so much to the silhouette.
This pair will grace any collection. They come to you in period stamped brass over wood frames that measure 5 1/4 " x 4 ¼". There are a few insignificant light spots on the background of the man and both have expected toning to the paper. Otherwise, they are very clean silhouettes and are anxious to be hung on your wall. Circa 1830, American and probably New England.
6850 Sold