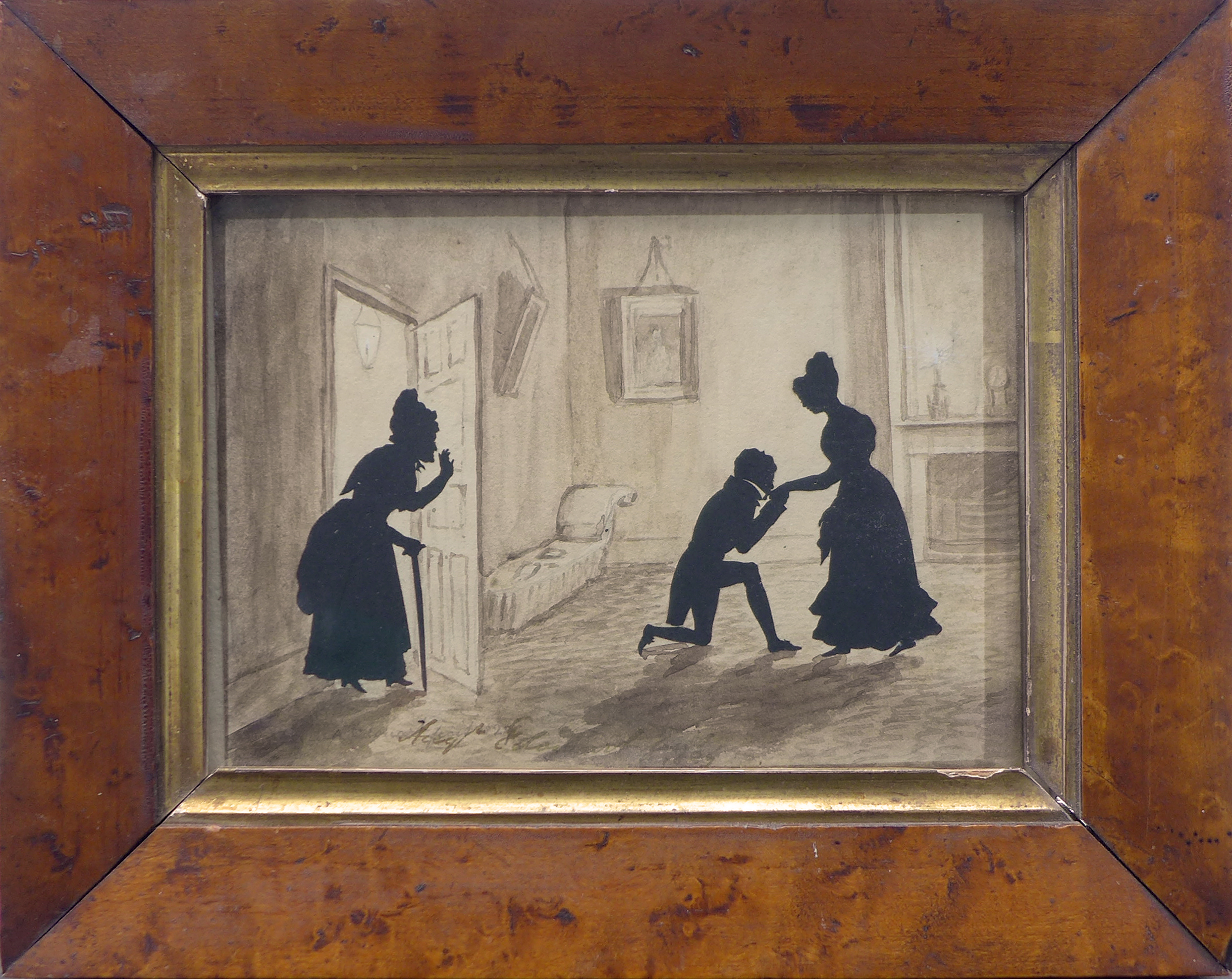 This tiny conversation silhouette is unlike the pieces we usually associate with Edouart. That is because we seldom have an opportunity to see and purchase one of the pieces that he included in his traveling exhibition. In 1833, Edouart set up a traveling exhibition of 45 of his best, sometimes odd, and humorous silhouettes. He carried the exhibition to the United States when he arrived here in 1839 and added to it as he desired. This tiny silhouette was likely cut and added to the exhibition in 1839 while in America. There is a chance it was cut in Glasgow or Belfast as he moved towards the US—but he probably was not adding to his exhibition while making rushed visits in Ireland on the way here. This tiny silhouette is much like the unusual pieces found in his personal scrapbook "Animaux". In fact, his practice figures for this conversation silhouette are in "Animaux".
If you know Edouart, you may know the story of the loss of his duplicate folios being lost in a shipwreck, found with a family who cared for Edouart half a century later and used to launch interest and research into his life. If you aren't familiar, we invite you to read the short bio of Edouart on our Just for Funpage (see link below). The short bio includes the recent discovery of "Animaux" which Edouart seems to have recovered from the salvage of the ship and took with him to France.
This is a fabulous silhouette for an advanced collector (your friends will not have anything like it) or anyone who enjoys Edouart's humor which lives in this piece. It is a period but not original figured maple veneer frame with a gilt liner. It once lived in a frame that covered more of the piece which is why you see 2 darkened edges. This frame is more in keeping with how Edouart would have framed it. The frame has a couple of rubs to the finish of the left-hand stick which you can see in the photo. As with most photos, the apology is greatly accentuated. It is barely noticeable in person. Framed size is 9 ½" x 7 ½" with a sight size of 6 ¼" x 4 ½".
#6820 $3500
Please see the Silhouettist Bios page for more information about Edouart.