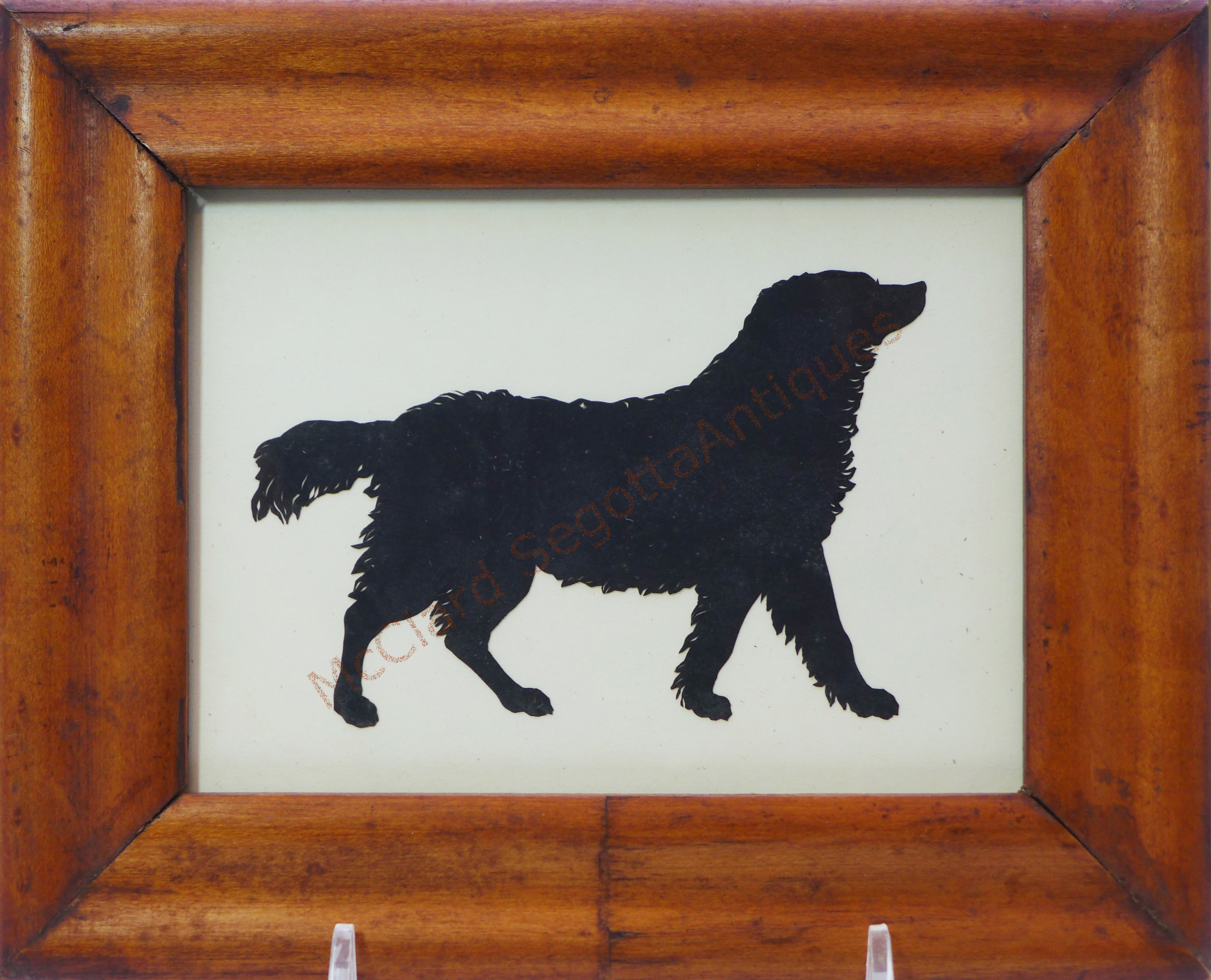 If you follow my website or have seen any of my talks, you probably know that Augustin Edouart was meticulous about his silhouette art. He prided himself (and rightfully so) for cutting the most lifelike of figures. He kept duplicates of each of his silhouettes in folios. In 1849, Edouart left America on a ship named Oneida bound for the British Isles. He took all his possessions with him. Oneida sank in the Guernsey Bay. Luckily, everyone survived but Edouart's precious silhouettes, the work of a lifetime, sank to the bottom of the bay. A few were rescued and, when Edouart left Guernsey for Calais, France, where he would live the rest of his life, he left all the recovered duplicate folios with the family who cared for him in Guernsey. The duplicates that Edouart left with the Lukis family eventually made their way to Mrs. F. Nevil Jackson who cataloged them and restored them from their waterlogged condition. Mrs. Jackson sold the duplicates in groups and singles and they come onto the market with enough regularity to keep the many collectors of Edouart happy.
That, in a nutshell, is the story of the duplicates. However, in recent years, a new and exciting discovery surfaced from a Parisian bookseller: Edouart's personal folio of "Scraps" in a book labeled "Animaux". This is the most Edouart exciting discovery in a century! Mrs. Jackson discovered the duplicate folios in the first decade of the 20th century. It appears that Edouart took this scrapbook with him to Calais. It was filled with figures of dogs, horses, toys, mythical characters, floral sprays, and on and on. It appears that Edouart used the book to keep practice figures of unusual forms that he might have been commissioned to add to conversation silhouettes as well as figures that he cut for his own amusement and for his traveling exhibition. Animaux was a treasure trove of incredible pieces. I have been so lucky to acquire more than 200 figures removed from this book. I will be offering these mind-boggling silhouettes for sale. They will always be lightly mounted on acid-free materials and, in the tradition of Edouart, framed in period maple frames. The reverse of the mountings will always be stamped with a specially made stamp for items from this book and also with my collection stamp. The reason for my insistence on mounting and stamping is because these figures are so unusual (although distinctly from Edouart's hand) that I want to help future generations authenticate them because they can be traced back to me.
Offered is "Jack" a retriever of some sort. I first thought curly coated retriever because the hair atop his head appears to be flat and not curly at all but the rest of his body is curly. Modern curly-coated retrievers have short wavy hair on their bodies, tails and legs, but Jack here has long wavy or curly hair everywhere except the top of his head. A little research into the background of retrievers shows that a St. John's Water Dog is important to the background of all retrievers. This dog had a long-wavy coat while still having a short flat coat atop the head. As the curly-coated retriever bred down from St. John's Water Dog, I'm going to continue believing Jack is an early curly-coated retriever.
Occasionally, Edouart doodled on the back of his figures, giving a sketchy outline, sometimes including inner details. Jack's figure is one of the few figures with doodling. Like the duplicate figures that Edouart kept in his folios, Edouart recorded the dog's identification. He wrote "Jack / of Edward Eyre / 7th of April 1829.." I have no doubt that Edouart cut a profile of Edward Eyre. Unfortunately, Mr. Eyre was not in the folios in the possession and recorded by Mrs. F. Nevil Jackson. We can only hope that he someday surfaces.
Realize that Edouart began his career as a silhouettist in 1826. This means that Jack was cut early in Edouart's career. We can imagine that he was keen on honing his skill with different breeds of dogs—he seems to have had a fondness for cutting dog profiles. It is therefore quite interesting that he added a small piece of paper to the reverse of Jack's head. You can't see any part of this paper addition from the front so I am at a loss for the purpose of this bit of paper. I have lightly glued Jack onto the acid-free paper that I always use. He can be removed if needed, but I am enclosing a photograph of the reverse with the framed silhouette. This trusty, companionable canine is framed in a period maple frame that measures 8 ½" x 7. The figure measures 4 ¾" long x 3 ¼" tall. Dated 1829.
#5898 Sale Pending
References:
Edouart, Augustin, A Treatise on Silhouette Likenesses, Longman & Co., Paternoster-Row; and J. Bolster, Patrick-Street, Cork, 1835.
Jackson, Mrs. E. Nevill, Silhouettes A History and Dictionary of Artists, Dover Publications, Inc., New York, 1981 (published as an unabridged republication of Jackson's Silhouette: Notes and Dictionary, Methuen & Co. Ltd, 1938), at 98-99.
Image of St. John's Water Dog from https://retrieverman.net/2008/07/15/golden-retriever-history-ii-the-wavy-coated-retriever/comment-page-1/
Please see the Silhouettist Bios page for more information about Edouart.