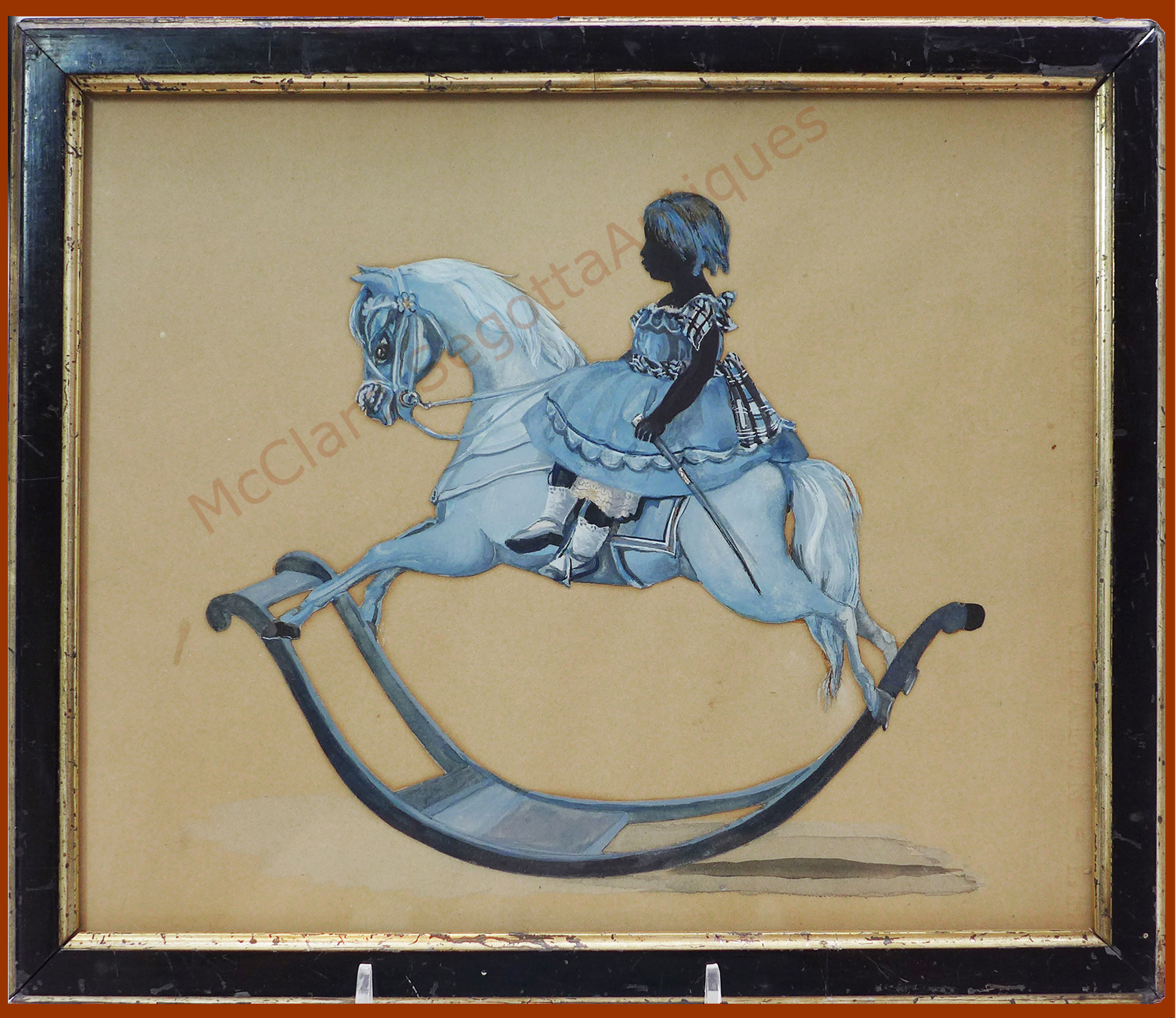 Recently we sold a fully painted silhouette of two siblings, one perched upon a chair talking to her astounded older sister. This fun silhouette is by the same artist although this silhouette is cut and paste. This young girl sits side-saddle in her blue dress with plaid sash and plaid bows at the top of her shoulders. Plaid fabric was popular in Great Britain during the 1840s to about 1860. I love that her drawers or underpants hang below the skirt on only the leg closest to the viewer. The fact that the underpants, probably made of muslin, are slightly less white than her stockings which were likely a knit fabric. The lace on the drawers and on the stockings is distinctly different and add a wonderful detail to the silhouette. The little girl's left foot is in the stirrup and she holds a riding crop in her left hand. The horse is a paler shade of blue than the dress.
This rocking horse is dressed to the nines—so much so that I consulted a friend and horsewoman for help in naming all of the tack! Besides the side saddle, this little stead has a crupper which goes from saddle back to and around the tail to keep the saddle from sliding forward. A martingale (from my research, I think this is a German or running martingale) runs from the bridle to the saddle girth so that a horse cannot raise or throw its head up high. The bridle is adorned with flowers and either a fleece shadow roll or fringe. This is quite a set-up for a hobby horse! This little girl's parents must have been horse-people and had it made custom for her. Or, the artist was an enthusiastic horse-person and imagined this great set up.
The silhouette is framed in a period frame that is ebonized in the center with gilded inside and outside quarter-round curves. Framed size is 12 1/2" x 10 1/2", sight is 10 7/8" x just under 9". The silhouette is in excellent condition except for strong toning to the background paper. The frame has some edge loss as you can see in the photos. The last photo has arrows pointing to frame edge losses. The frame displays well as is. Circa 1840.
#6899 Sold