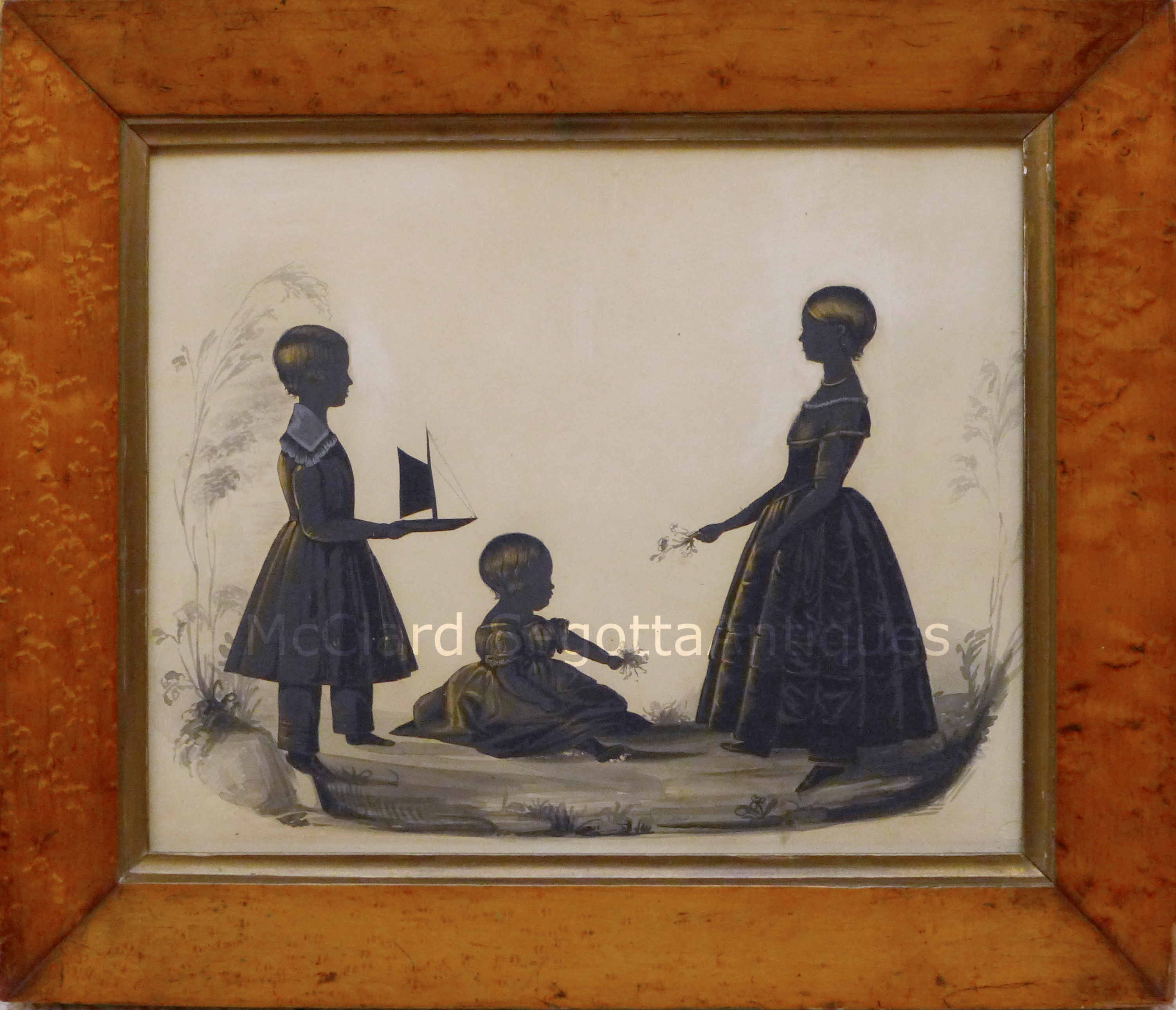 This scarce conversation silhouette between children brings together the children of Johann Jakeb Weitbrecht (1802-1852) and Martha Edwards Higgs Weitbrecht (1808-1888). Johann was born and educated in Germany from where he travelled to India as a missionary. In India, he met and married Martha. Johann eventually anglicized his name to John James. Without a doubt, live was full of disease in India during the 19th century. The couple had five sons and 3 daughters—four who died early. John James, himself died of cholera in 1852 at the age of 50.
This stunning cut & paste silhouette with exquisite embellishment of gold, white and gum arabic depicts three of the couple's children. Frederic stands to the left in a tunic with a tasseled belt holding a cut-out toy sailing ship. Older sister Emily stands to the right in a tiered dress and pantaloons holding flowers. Baby, John Henry Martyn, is seated on the grass clutching a posy of flowers. Poor Frederic died at just fourteen years old. Emily and John Henry survived into adulthood. Emily married Theodor Christlieb and had a daughter. John Henry graduated from Oxford in 1862 and was later became a lawyer.
The reverse side of the silhouette card has the artist's stencil stamp – HERVÉ / Artist / 172 OXFORD ST. I seems that Charles Hervé II was a bit of a Renaissance man who did it all. He was a professional fruit-grower and professor of music. As a silhouette artist he invented a of a mechanical device for drawing the outline of silhouettes which he named Prosopographus, the Automaton Artist. He exhibited this device around the country as a great curiosity. A contemporary handbill claimed that it could produce more perfect resemblances than any living artist [could] possibly execute while an advertisement in The Examiner (1826) claimed that to 'witness this extraordinary performance, but One Shilling is required from each visitor … from Tea till Dusk'.
The silhouette is housed in the likely original bird's eye maple veneer frame with a gilt slip. The silhouette is in good condition with expected toning to the background card. Someone attempted to clean the background, possibly with an eraser. This ill-judged attempt resulted in a bit of surface rubbing around the girl's head and the elder boy's face. The only other minor flaw to mention is a small area of paint loss around the baby's foot. None of these flaws are all that apparent though when the silhouette is hanging and viewed within its frame. 13⅝ x 15⅞" framed size. Circa 1840.
#6898 Sold
Please see the Silhouettist Bios page for more information about Charles Samuel Hervé II.