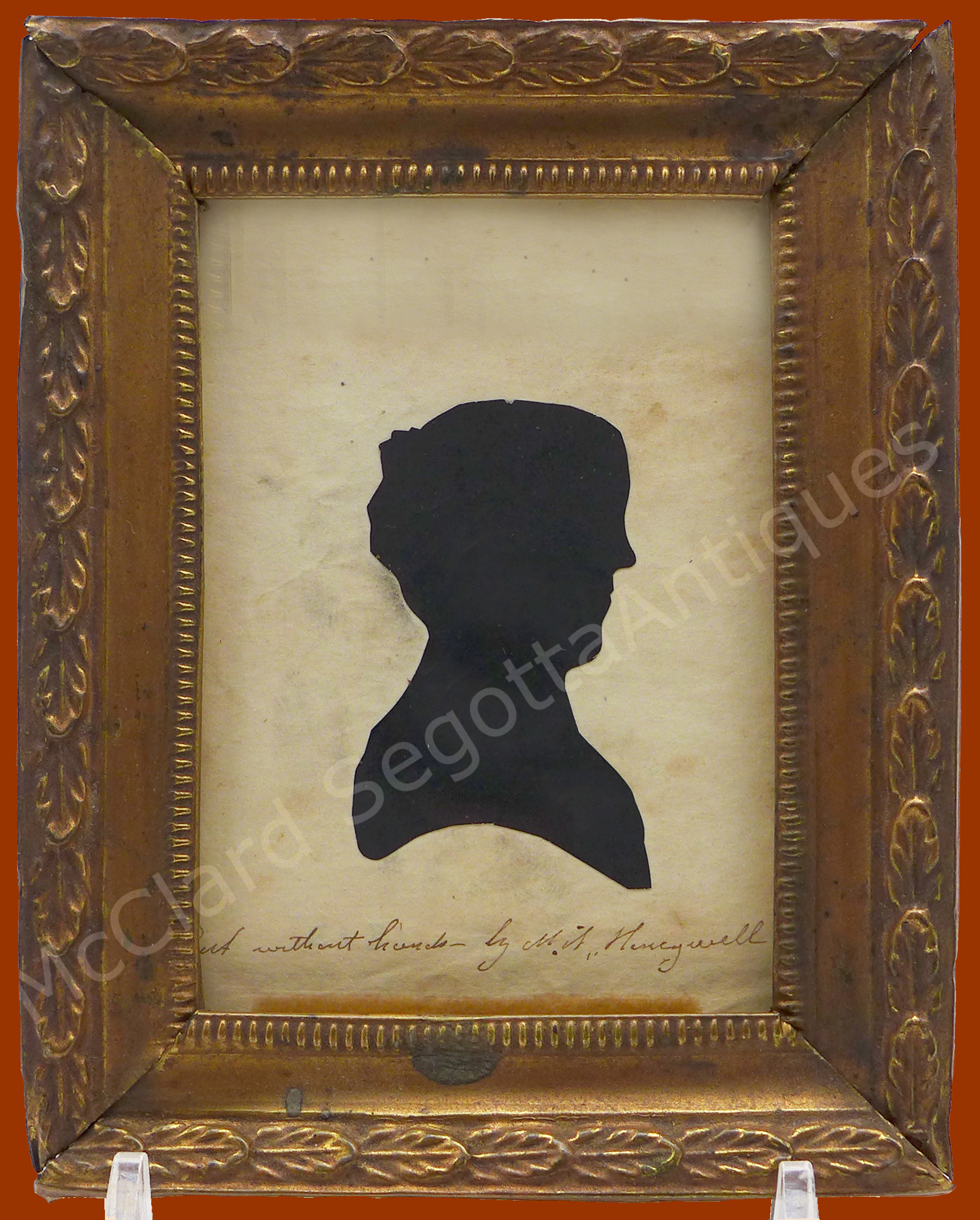 Martha Ann Honeywell was a child prodigy artist. While her silhouettes are more naïve, even a bit clumsy, than some of the collected 19th century silhouettists, part of the charm of Miss Honeywell's work is the triumph of human imagination, determination, and creativity. Miss Honeywell was born around 1787 in Lempster, New Hampshire with only the first joints of both arms, and one foot with only three toes. The first broadsides announcing her profession of profile cutting appear in 1806 and they continue until 1848. The signature on Miss Honeywell's cut & paste silhouettes proclaims either "Cut without hands by M.A. Honeywell" or "Cut with the Mouth by M. A. Honeywell".
Honeywell traveled along the Eastern shore board of America and to Europe with great fanfare cutting her silhouettes, Scherenschnitte paper cuttings, creating needlework and tiny writing. Granted that there was somewhat of a Barnum & Bailey atmosphere to her stops, it is noteworthy that Honeywell solely managed her own business affairs (including scheduling performance space, hotel accommodations, travel, procuring supplies—you name it, she did it herself). She made personal appearances in which she cut silhouettes with scissors in her mouth while people ogled at her sitting atop a specially made table that put her on display to work her art. Miss Honeywell did quite well financially. It has been suggested that Honeywell's art was as much "visual art" in which her performance was the art (we believe that her art is more correctly labeled "performance art").
Besides her cut & paste silhouettes, Honeywell created Scherenschnitte (paper-cutting and pricking), needlework and wrote miniscule verse that requires magnification to read. In this listing we offer one of her hard-to-find silhouettes, purportedly cut in 1815 (per later pencil inscription on the reverse which also says it was cut in Bridgeton). This little lady is a bit smaller than most silhouettes of that period and it is important to note that Honeywell cut her silhouettes of slightly different sizes; this being one of the smallest we have seen. It bears her trademark bust termination line of a single upward curve that is a bit higher in the back than front. There seems to be a little nibble at the very top of the lady's head. Martha's signature is very clear, "Cut without hands by M.A. Honeywell". This silhouette was likely found saved in a book (probably a Bible) which is why it is still quite clean. Honeywell tended to use very inexpensive paper to lay her silhouettes upon and the paper is easily damaged by sunlight or wood frame backs. This one has very little toning so it must have not seen much sun or wood. There is a bit of tape residue at the bottom edge. The tape is gone but its acidic adhesive left a scar. This little lady looks great in this stamped brass over wood that is a bit smaller than the brass frames we usually see, and it has an unusual rectangular aperture instead of the standard oval. The silhouette fits it perfectly and is backed by acid-free ragboard. Framed size is 3 ¾" x 4 ¾" with sight size of 3" x 4". And, you will want to display it with the very rare Honeywell Scherenschnitte from the Folk Art page. (See link below.)
#3476 $975
Please see the Silhouettist Bios page for more information about Martha Ann Honeywell.
Please also see the very rare Honeywell Scherenschnitte currently in inventory on the Folk Art page.