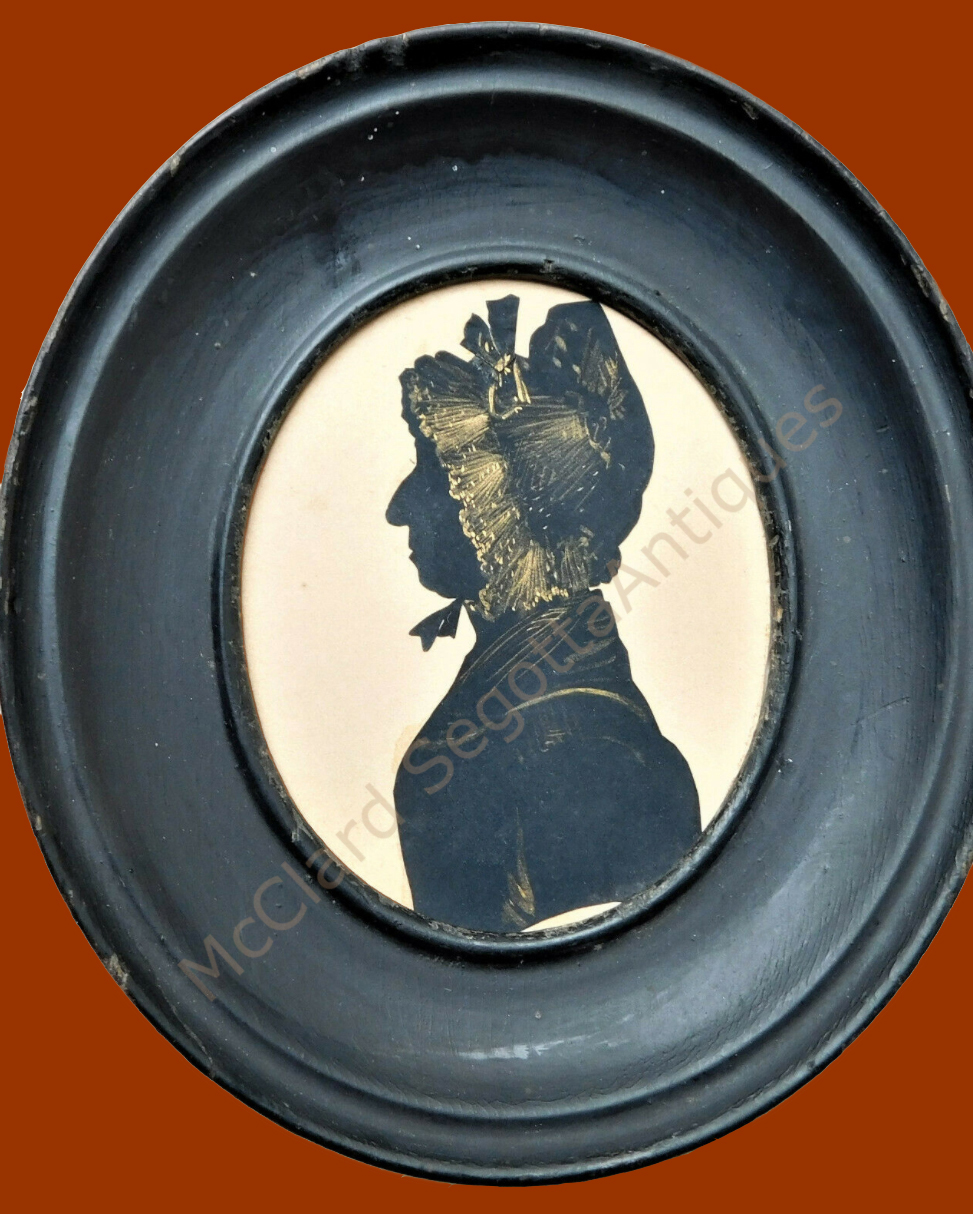 This little cut & paste silhouette with gilt embellishment bears the trade label of E. Whittle, a rarely-found artist. This particular silhouette came from the collection of Sue McKechnie, the author of what silhouette collectors consider "The Bible" of silhouettes and is illustrated in that book. You can find her in McKechnie's British Silhouette Artists and their Work 1760 to 1860, as plate 623 on page 347. The artist's trade stamp for "E Whittle" on the reverse or the card. McKechnie called this particular stamp "Trade Label No. 2". Although faded, the label reads "Mr. E. Whittle / Artist". It is interesting that Whittle never referred to himself as a profilist.
Whittle is known to have done fine gold embellishment showing the details of clothing, such as the fine dots that indicate the delicacy of this lady's babet cap. This lady is dated circa 1833 which means that Whittle cut her in Britain. He worked in the U.S. in the 1840s.
Although McKechnie does not show the frame for this silhouette in her book, she does note that it was a papier mâché frame. Someone obviously changed frames since McKechnie had the silhouette. Luckily, the owner who changed frames kept McKechnie's collection label which would have been adhered to the back of the frame. Currently the collection label is not adhered to the frame and will be sent along with the piece to the buyer. Framed size is framed 4" x 4.5", sight size is 2 ¼" x 2 5/8".
#7000 $350
Provenance: Collection of Sue McKechnie
Published: British Silhouette Artists and their Work 1760 to 1860, Sotheby Parke Bernet, 1978. Plate 623 on 347.