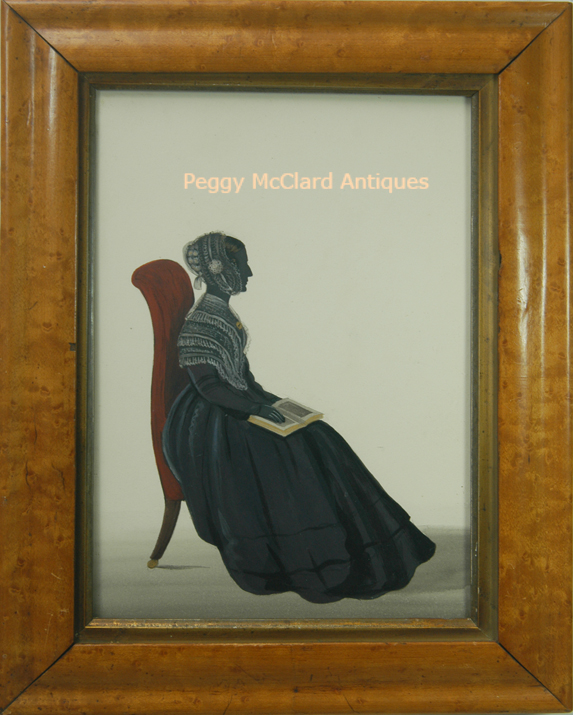 Here are a lovely pair of painted ladies! Probably mother and daughter, they are fully painted (not cut), with wonderful detail and color. Both are painted with a dark grey body color. Their hair is painted in black with gold details. The woman on the left sits in a red upholstered chair with an open book in her lap. The chair has a graceful curve to the back that is echoed in the back leg. Mom wears a lace cap that comes under her chin and is decorated with a flower on a ribbon. Her pelerine is long, with wonderful lace details in Chinese white. It is clasped with a gold broach. Her dress has a full, long skirt that is flounced with two tiers. The fabric is a dark aubergine color, highlighted with black, grey & white.
The young lady, on the right, wears her hair in a plaited knot, low on the back of her head. Daughter wears three tight curls on each side, the lowest one covering the top of her ear. She holds a closed book with a leather cover that is just a touch darker than her dress, and gilded edges to the pages. Her pelerine is shorter than the older woman's, also made of beautifully detailed, translucent lace. and is clasped with a broach that appears to be gold with a stone center. Her dress is of a lighter, richer aubergine color and the artist has beautifully depicted the pattern of the fabric with black circles, and other touches of black, grey & red. It might be a damask fabric. She sits in a Sheraton period wood chair with a gracefully curved back and back leg.
The silhouettes are housed in matching period bird's eye maple frames with gilt liners. Condition of the silhouettes is excellent. The frames and liners have a few expected bumps but are in very good condition. Framed size is 13 1/4" x 10 1/4".
The use of color and the lack of gum arabic suggests the work of George Angelo Crowhurst (active 1827 - at least 1844). However, I don't feel confident enough to call this an attribution. Circa 1840.
Please email if you'd like to see larger format photos. These photos don't really do justice to these lovely silhouettes and the silhouettist's depiction of the fabrics and lace.
(#5292) $3950/pair