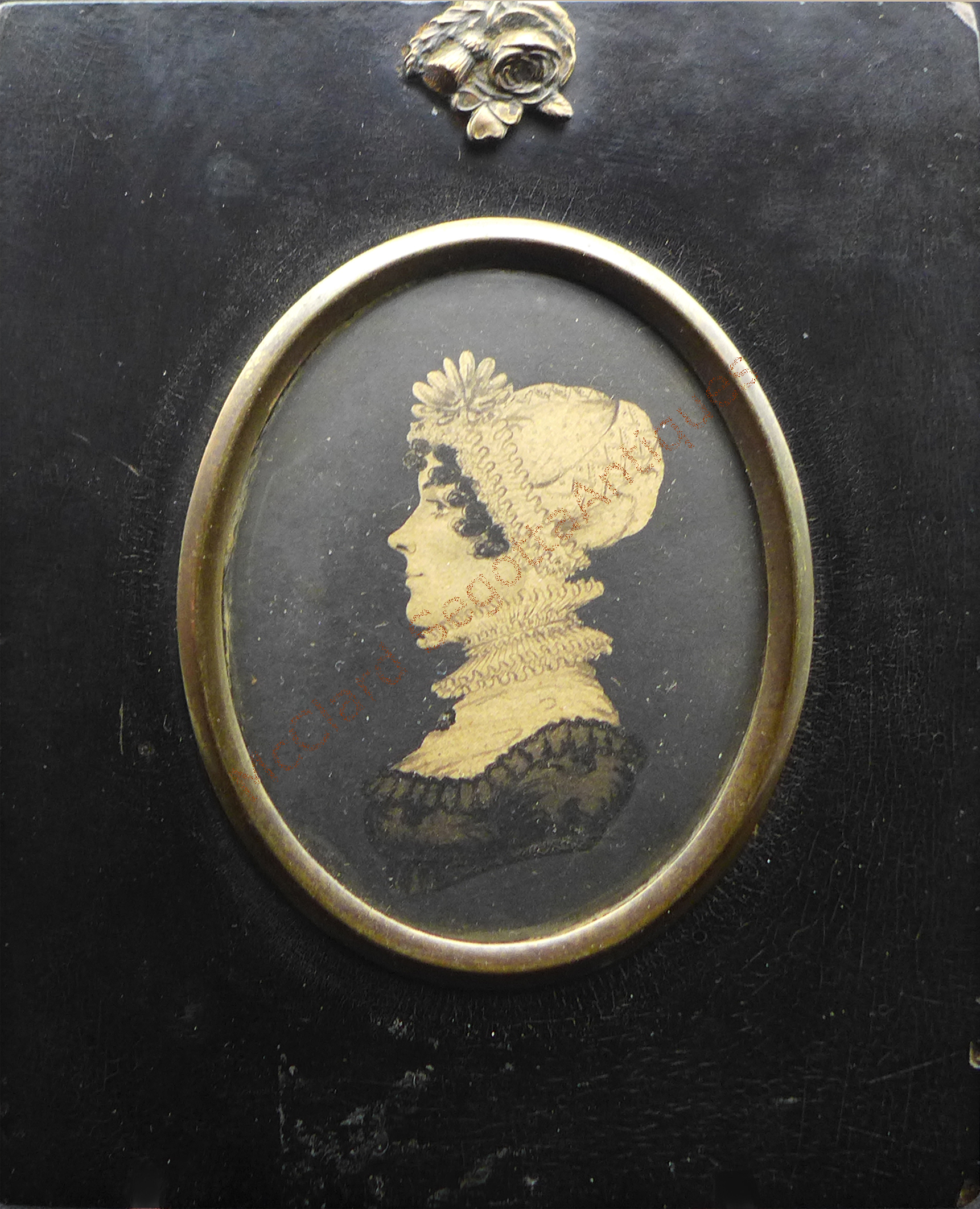 This pretty lady is firmly attributed to James H. Gillespie even though the trade label that was almost certainly pasted to the frame back when she was drawn and painted. Gillespie worked in five styles which he offered to sitters. Please see our Silhouettist Bios page to see all five of his styles and a link to an article by Michael & Suzanne Rudnick Payne about Gillespie. The link to our Bios page is at the end of this listing.
This lady represents Gillespie's "Style 3" in which he modeled the sitter's profile with pencil, ink and grey watercolor wash and contrasted it against a grey-black background that he painstakingly painted without brushstrokes. His very careful work is beautifully represented in this monochromatic profile. Gillespie started his career in England as early as 1810 and migrated to North America in the 1820s. He took great care to create the perfect likeness. He was extremely popular as he worked his way from New Brunswick (where he entered the US) down the eastern coast as far as Pennsylvania.
The lady's ruffed neck and bonnet are outstanding. Gillespie depicted the lace with dots and squiggly lines. Her facial features are stunning a slightly upturned nose, full eyelashes above a well-drawn iris, a slight smile on her lips and a touch of grey to show the rosiness of her cheeks. Under her bonnet, her face is framed by tight curls of dark hair.
The profile is in excellent condition. The papier mâché frame has some rough places on the front that you can see in the photo between about 6 and 7 o'clock. The frame corners have some knocks and the flat surface of the frame has a tiny bit of craquelure. Framed size is 4.25" x 5.25". We hoped that there might be a trade label hiding within the frame so we did pull the profile out. No trade label was found but a cut-out from a 20th century postcard and a piece of a handbill were tucked in the back. We protected the profile card with some mylar and put the postcard and handbill remnants back where we found them. The white specks you see in the photos is dust which is hard to completely rid the frame of—the tiniest speck stands out in photos because of the dark background. You won't notice the specks when displayed. Circa 1820.
#7191 Sale Pending
Please see the Silhouettist Bios page for more information about James H. Gillespie.
Payne, Suzanne Rudnick and Payne, Michael R., "Six Choices for the Sitter, James H. Gillespie (1793-after 1849), Antiques & Fine Art, 200 (Summer/Autumn 2008) (online article at incollect.com).