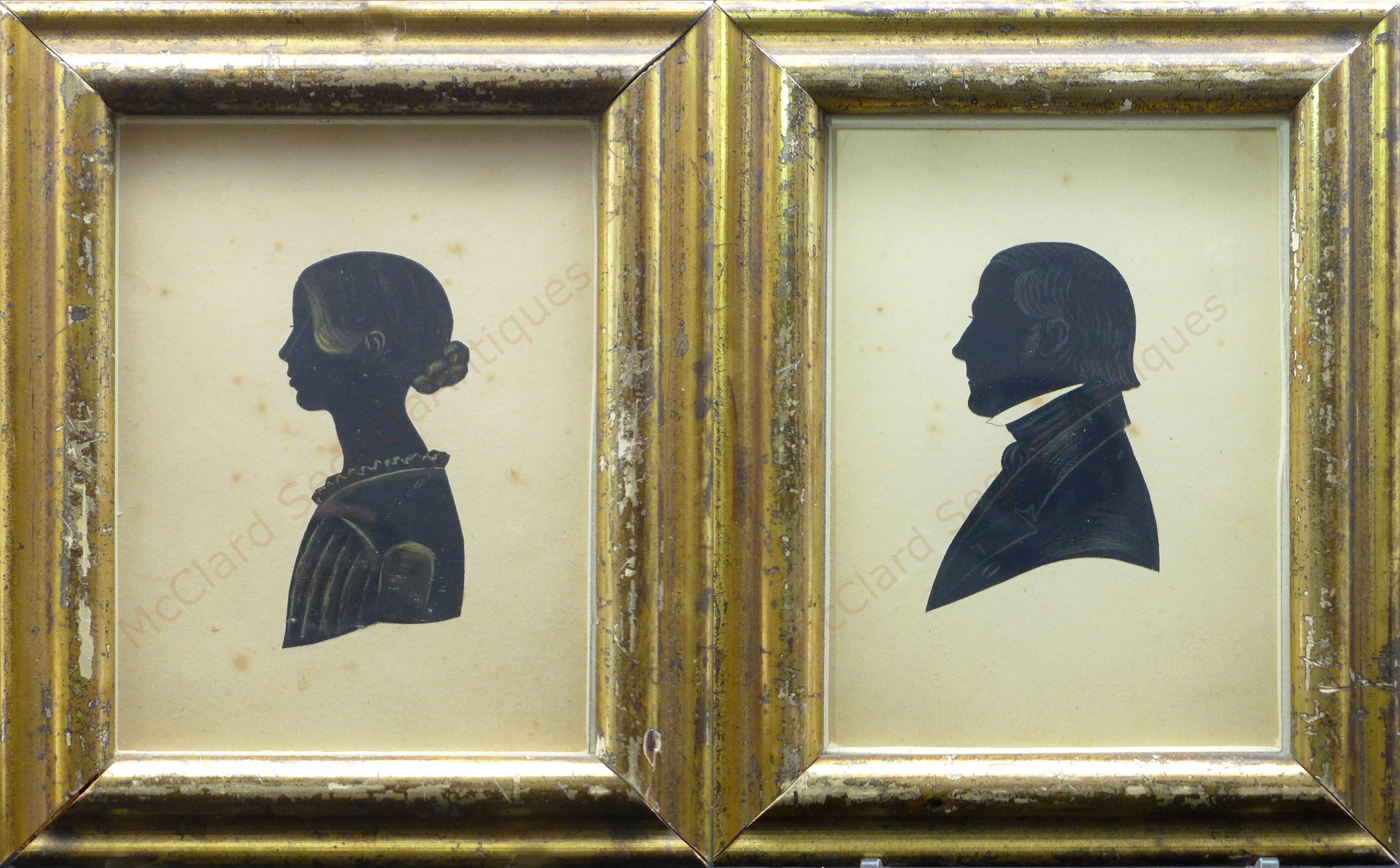 Very little is know about the 19th century silhouettist Rufus K. Cummings except that he worked in Boston in the 1840s. He is one of the few American silhouettists who made cut & paste with gilt embellishment during the 19th century. The back of one of his silhouettes identified him as "Rufus K. Cummings, 60 ½ Court Street, Boston Mass. Room No 8 upstairs. We have not seen that trade stamp but these silhouettes bear the trade stamp "By R. K. Cummings/Profilist." It is interesting that Cummings has never (yet) been found to have referred to himself as a Silhouette Artist, Silhouettist or any designation except profilist. We are left wondering if Mr. Cummings might have also done full-color profiles. Unlike most known American silhouettists of the 19th century, Cummings cut out silhouettes of blackened paper and beautifully but subtly embellished them with gold or white. In our decades of silhouette collecting and study, we have seen only five Cummings silhouettes including this pair. These are a rarity in 19th century American silhouettes. The pair also includes one profile with white embellishments (father) and one with gold (daughter).
This lovely pair is identified on the reverse as father and daughter who are identified by later writing on the reverse as John Tyler and his daughter. This inscription is in pencil but is definitely written in modern times because it is written on mat board which has been glued to the frame backing to use as a window so one can see Cummings stamp and what may be earlier (possibly contemporaneous) writing that says, "Fitchburg/ June 30th /1843. Cummings is only known to have worked in Boston and Fitchburg is about 40 miles from Boston.
The modern script identifying the man as John Tyler also says "James R. Polk, President." It is not clear what is meant by using both names but Tyler was our 10th President and Polk was our 11th. Tyler succeeded Wm Harrison in 1841 when Harrison died one month into office. Tyler was the first to rise from VP to POTUS without an election. He held office longer than anyone who was not elected. Tyler is considered by many historians as one of the worst Presidents. His cabinet resigned and the Whigs often referred to him as "His Accidency." Prior to his Vice-Presidency, Tyler was in the Virginia state legislature, a US Senator and Virginia's governor. As President, the only noteworthy things that Tyler is recognized for is the annexation of Texas, the attempt of his party to impeach him and, after leaving the office of President, his vote for Virginia to succeed from the Union and finally, his election to the Confederate Congress.
The back of the woman's frame says John Tyler's Daughter. He had 5 daughters by his 1st wife who could have been this sitter. He had more children with second wife but if the pencil date is believed, the silhouettes were taken between the death of his 1st wife and his marriage to his 2nd wife. He had total of 15 children.
The pair are framed in beautifully worn period gilt frames measuring 4.5" x 5.75." The silhouette cards have mild toning and some foxing. There is a light scratch on the daughter starting at her nose and going upward diagonally. Assuming the penciled inscriptions are correct, these silhouettes were taken while Tyler was serving as President.
PROVENANCE: Collection of L. Delmar and Susan Burrows Swan, Wilmington, Delaware. Susan Burrows Swan was a long-time curator at Winterthur Museum. She authored and co-authored several books and wrote many articles on needlework.
Inv. #6982 SOLD