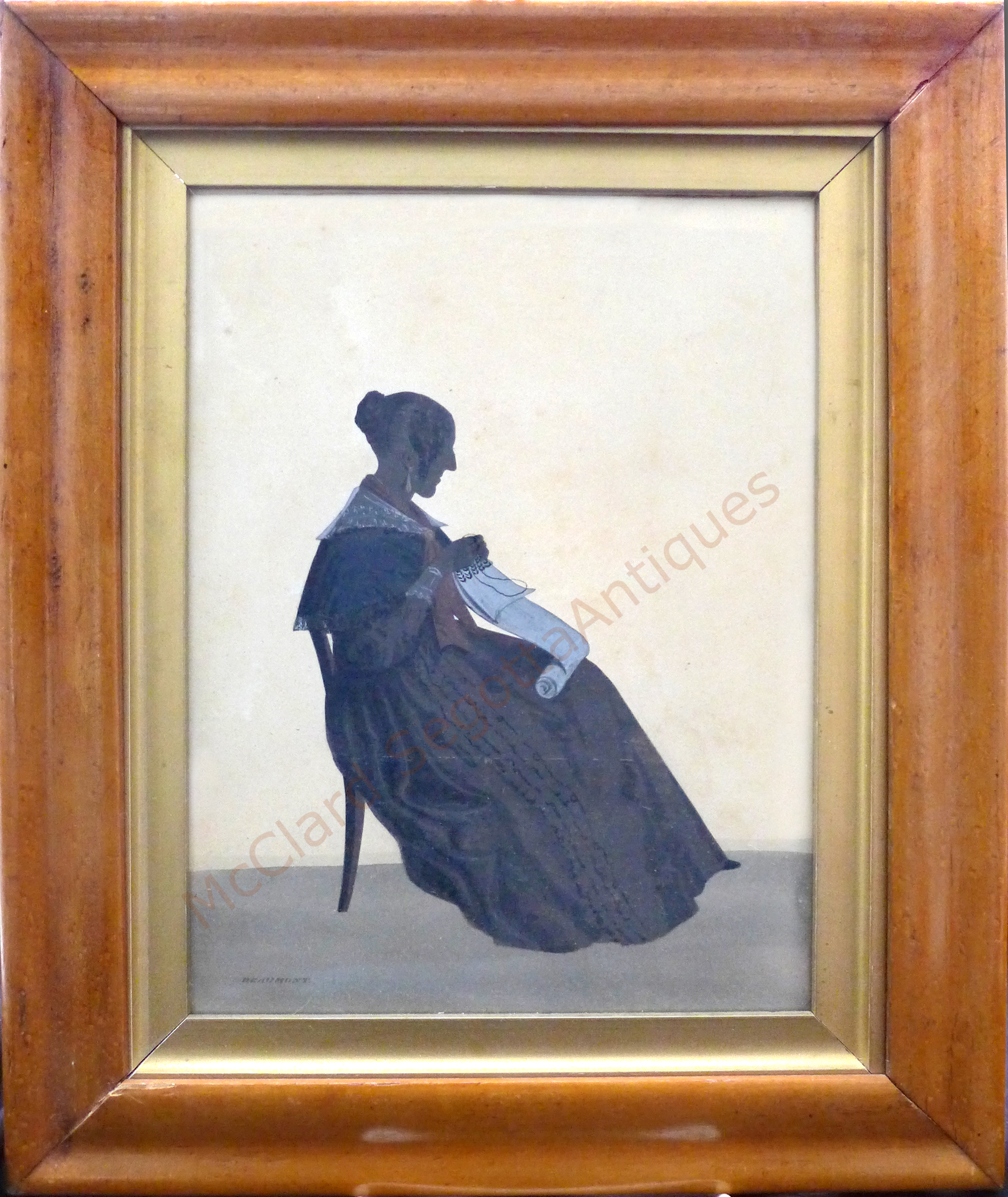 William Beaumont's work is highly sought-after and highly unusual because of his use of colored paper and added color embellishments. Early in his career, he did use black with gold embellishment but later he changed to using sepia or dark brown paper from which he cut elegant and graceful women which he accented with subtle but highly unusual touches of color. He used watercolor a bit darker than the paper color for added details that other artists fill in with gum arabic. Since gum arabic tends to crackle and flake, Beaumont's silhouettes seldom have this condition problem.
Beaumont cut men as well as women, but it is his women that are the most highly sought. This lovely lady is engaged in needlework on what appears to be a long, narrow piece of fabric. She wears long gold drop earrings and a brooch which holds her red scarf and white lace turned-down collar. Her larger black pelisse is tinted with blue and edged with dainty black painted lace. In this silhouette you see the skill with which he subtly introduced color while letting the actual cutting shine. Also true to Beaumont's style, you must run your finger over the edge to know that the silhouette is cut-out instead of fully painted. His signature "BEAUMONT" is clearly seen in the lower left. The lady resides in a period (but not original) maple veneer frame with a gold slip. Framed size is 11 1/4" x 13 1/4". Condition is very good but for a small, light moisture stain at the right edge at 4 o'clock (see photos) and some toning to card. Label on back of frame might be original to frame but it is not original to silhouette. This silhouette was published in a recent article by Early American Life magazine to illustrate the article "Words from a Love Story" documenting the relationship between a young couple through their letters to one another. A copy of the December 2021 issue with the article will be included with the sale. Circa 1840.
#7021 $1250
Please see the Silhouettist Bios page for more information about William Beaumont.