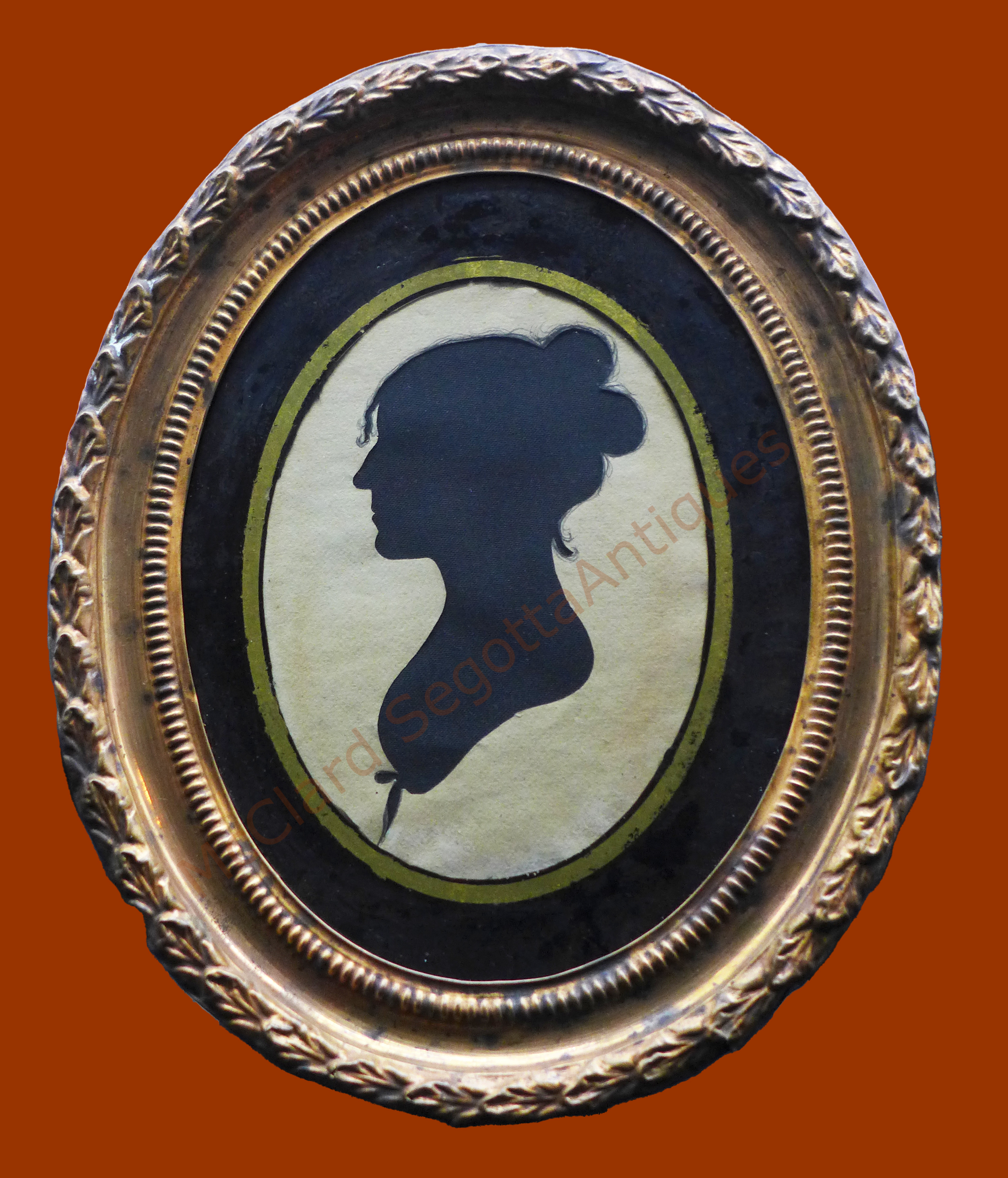 Here's another silhouette from the Campanelli Collection. This lovely lady is an American hollow cut with ink embellishment outside of the figure to detail her hair. She resides in a period oval brass frame behind a verre églomisé glass mat. The Campanellis attributed this silhouette to the Museum of Charles Willson Peale. Peale had three Museums in Philadelphia, New York, and Baltimore. The silhouettists included his some of his sons and former slave Moses Williams. The Peale artists did use this rounded bust termination but so did some other artists. But the Peale artists seldom embellished the outer edges with ink embellishment and seldom cut such lovely locks of hair at the forehead and nape of the neck. We believe this could be from the Peale Museum—if it is, we believe it was cut by Moses Williams, C.W. Peale's former slave who Peale emancipated and gave management of the silhouette cutting business. The silhouette-cutting at the Peale silhouettes were done quickly and without much embellishment because they were a premium used to entice people into the museum. There are some special silhouettes done by Moses Williams where he obviously took his time to make them special. These were usually Peale family members or important Philadelphians.
We don't know who this lady is, and we don't feel like we can attribute it to the Museums with any certainty. She is certainly wonderful, definitely American, circa 1810 and with a great frame and glass mat. There is an expected toning to the paper and it looks like the paper may have been cleaned just a bit. The wonderful period oval stamped-brass-over-wood frame has a lovely, tarnished patina. The verre églomisé glass mat looks like it has had some restoration (most period églomisé has losses due to sticking on the glass). The framed size is 5 ½" x 6 ¾". The Campanelli label says, "Hollow cut with ink embellished hair and original eglomise glass. American, attributed to Peale's Museum according to bust line termination. Circa 1810. Conservation framed."
#7281 $295
Provenance: Collection of Marty & the late Dan Campanelli
Please see the Silhouettist Bios page for more information about Charles Willson Peale & Moses Williams.