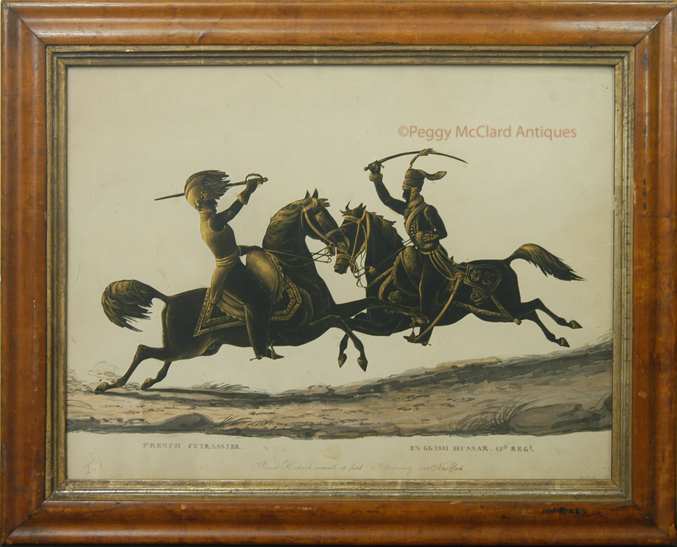 The third of the equine silhouettes that I'm listing today is the only hand-signed silhouette that I've seen by Master William James Hubard and it is certainly one of the best. And, realize, Hubard was only 17 years old and had been cutting silhouettes professionally for about 2 years when this silhouette was cut. This is was likely cut as an exhibition piece for his Gallery of Cuttings. It would have surely impressed visitors and those thinking of commisioning their own profiles.
This is also one of the most magnificent military silhouette I've ever beheld. On the left, a French Cuirassier and, on the right, an English Hussar, 15th Regiment: swords raised, horses charging, locked in battle. The gilding is amazingly detailed, including the riders' uniforms and the horses' tack. Each horse and its soldier is cut as one silhouette and then the horses are overlapped at their heads and front legs. I believe the English Hussar is a Lancer (although that is certainly not my area). The Cuirassier wears an armored breastplate and his helmet has what appears (in other drawings) to be a plume of horsehair—here the hair flies forward, either by wind or force. Both of these cavalry members are from the Napoleonic Wars. Below each soldier, the identification is penned in block shadowed letters that, at first glance, appear to be printed. Between and slightly below the two identifications is the signature "James Hubard invenit et fecit 10th February 1825 New York". (We know from Hubard's letters that he went by his middle name, James.) All words are in period ink although the signature and date are more lightly written than the rest. Possibly, Hubard's manager, Mr. Smith, had a hand in parts of the writing other than the signature and date. The silhouettes are laid onto a watercolor ground of two different colors, grey and a very light rose that offers the hue of dirt. In each lower corner are two modern penciled letter/number combinations, likely collection notations. The lower right corner says "I-1" and the lower left says "S[or 5]94-A". The lower left collection notation is mostly covered by the frame. The condition is very good with a few very light minor stains throughout the background. The top and bottom left corners have chipped away and there is a paper chip on the right edge at about 3:30 and some roughness to the bottom edge. All of these areas of paper loss are completely covered by the frame. In a period maple frame with gilt liner which has some veneer loss, especially in the corners. The loss is not very noticeable as the wood underneath has been stained to a very similar color. These are extremely minor apologies considering the quality and rarity of the silhouette. Framed size is 17 ½" x 21 ½".
(#5381) Sold
Please see the Silhouettist Bios page for more information about Master William James Hubard.