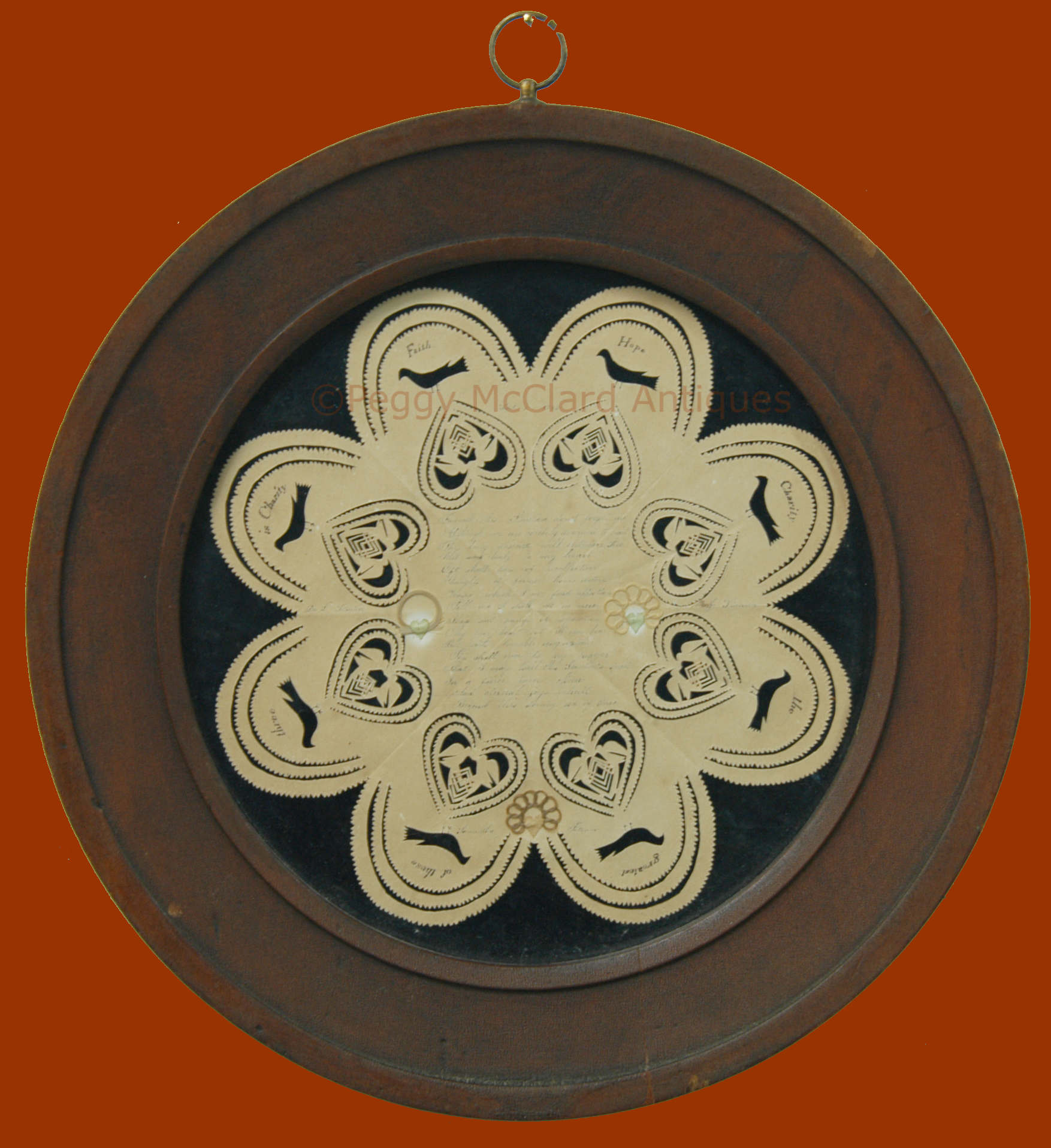 This is a truly exceptional Scherenschnitte from the collection of a folk art collector, scholar and friend. Howard Fertig and I never met in person but we communicated often to share information about our shared interest in folk art, especially silhouettes. This American School scissor-cutting was in his collection and was exhibited at "Ordinary Folks, Extraordinary Art", Macculloch Hall Historical Museum in Morristown, New Jersey from August 2001 to January 2002.
The Scherenschnitte was created by folding the paper numerous times so that the cut design was made in eight sections with scalloped edges. Each of the eight sections has a sawtooth border, two sawtooth inner scalloped designs, a bird and then a double cut heart with an inner pair of birds over a woven paper design. The cutting is very precise and the paper remains in very good condition with just a bit of bending in some of the woven areas. Handwritten in each outer scallop are single words (in two cases there are two words) that form the inscription "Faith Hope Charity the greatest of these three is Charity". The center of the paper bears a written poem that reads
Farewell Mrs Stanton donot forget me
Although we are widely doomed to part
Thy long absence will entwine thee
Still more closely to my heart
Oft shall tears of recollection
Thoughts of former hours restore
Hours which I in fond affection
Tell me I shall see no more
These sad prongs of separation
My poor heart but ill can bear
But with humble resignation
This shall ever be my prayer
That I may hail Mrs Stanton's spirit
In a fairer purer time
And eternal joys inherit
Beyond this stormy sea of time
The center of the cutting also includes three perfectly preserved and curled hair clippings held by tiny cut hearts of colored paper. Next to each hair clipping is the name of the owner of hair, on the left is "Dr. L. Stanton", on the right is "J. Stanton" (with a later written "Mrs" in iron gall ink) and in the lower middle "Samantha Putnam". The piece is dated "Sept 7 1842". Interestingly, the inscriptions are in different inks, the outermost appearing to be India ink or black watercolor, the poem and names being in blue ink (which was available but more expensive than the usual iron gall ink) and the one, later written "Mrs." written in iron gall ink.

Condition is wonderful with expected all over toning. The cutting is mounted onto shiny black paper that we used to call "flint paper". I don't know if that term is still used. It was often used for backing 19th century hollow cut silhouettes. The frame, which is likely original, is a round hardwood from with an untouched varnish surface that has fine craquelere throughout. The frame is backed with a cut piece of tin and includes Fertig's provenance, including the exhibit that included it. Fertig's receipt from his purchase of the piece from Gary and Martha Ludlow in 1987 is included in the purchase.

#5709 $2750

p align="center"> Please see Scherenschnitte, The Art of Papercutting for more information on this wonderful form of folk art.