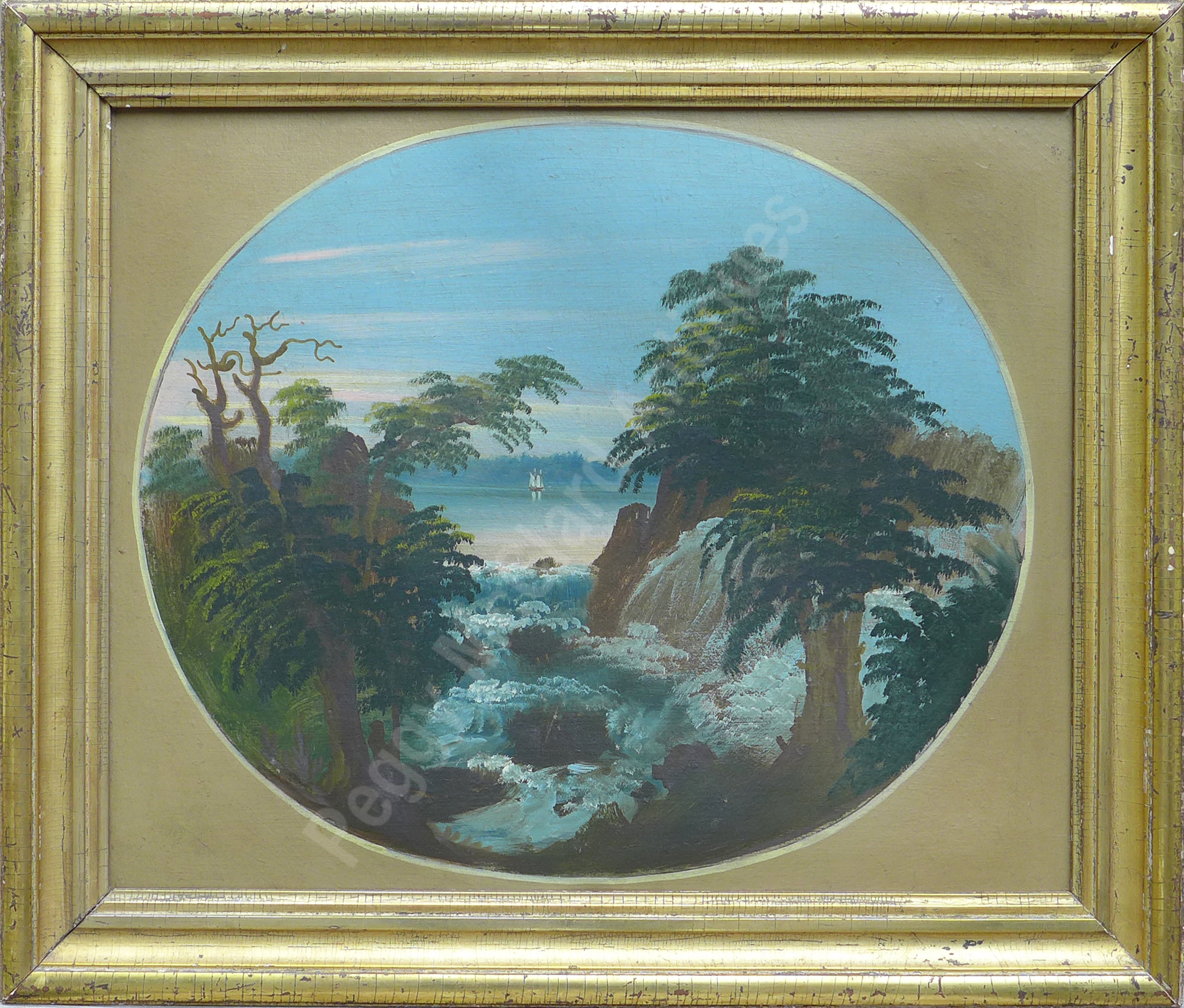 William Matthew Prior is well known for his portraiture, both naïve and academic. He was an excellent businessman who learned early to give his clientele what they wanted and needed. He was fully capable of rendering detailed, academic portraits for those who wanted to pay for such work as well as what he called his "flat pictures" for a fraction of the price. Prior advertised "Persons wishing for a flat picture can have a likeness without shade or shadow at one-quarter price." As America's love of portraiture began to become displaced by the much-less expensive photography, Prior began to paint other types of paintings such as fanciful landscapes, reverse on glass paintings of political figures, and fanciful paintings after lithographic works. All of the types of paintings produced by Prior are well-collected and desirable. His landscape work rarely comes on the market. One such landscape, signed and dated 1851 (like this one) and inscribed on the stretcher "The House That Jack Built" sold at Skinner Inc in 2007 for $24,675.
I am pleased to offer one of Prior's whimsical landscapes in his "flat" style. It is painted on homemade paperboard, glued to a wooden stretcher and housed in what is probably the original gilt frame which measures 27" x 23". Prior painted this scene within an oval portal, outlined in a pale ochre with camel-colored painted spandrels. The scene is of a waterfall coming off a smooth lake on which a double-masted sailboat glides in the background. The palette is limited but vibrant.
On the glorious reverse of the painting, Prior identified this scene as "Dead River Falls Me" He dated it 1851 (same date as "The House That Jack Built") and signed it "W.M.Prior" in the lower right. In the lower left of the reverse, Prior priced the painting "$ _ _ 2.50". The reverse of one of the frame sticks bears an original label, "No. 38 / 2 ½" which must have been how he labeled his stock frames.
The painting is in marvelous condition but for a bit of a vertical wave…..not very noticeable. It has been off the market for at least 10 years. I have researched "Dead River Falls" in Maine and I have found "The Grand Falls of The Dead River" which is likely the same falls by an earlier, common name. You can see some photos of the falls at https://www.northcountryrivers.com/maine-hikes-and-scenic-walks.htm.
This is a wonderfully rare piece of American folk art by a coveted painter. Here's your chance….don't lose it!
#5841 POR
References:
Little, Nina Fletcher. "William M. Prior, Traveling Artist." Portrait Painting in America: The Nineteenth Century. Ed. Ellen Miles. First ed. New York City: Universe, 1977. 123. Illustrated with Prior's landscape "View off Mattapoisett, Mass."
"Artist and Visionary: William Matthew Prior Revealed", American Folk Art Museum, highlights from exhibition of Jan. 23 – May 16, 2013. Web. 19 Apr. 2017. . Prior landscape included in the exhibition.
Skinner, Inc., William Matthew Prior (American, 1806-1873) "The House that Jack Built", Manor by the Sea. | Sale Number 2365, Lot Number 107 | Skinner Auctioneers. N.p., n.d. Web. 19 Apr. 2017. . "The House That Jack Built", sold in 2007 for $24,675, including buyer's premium.