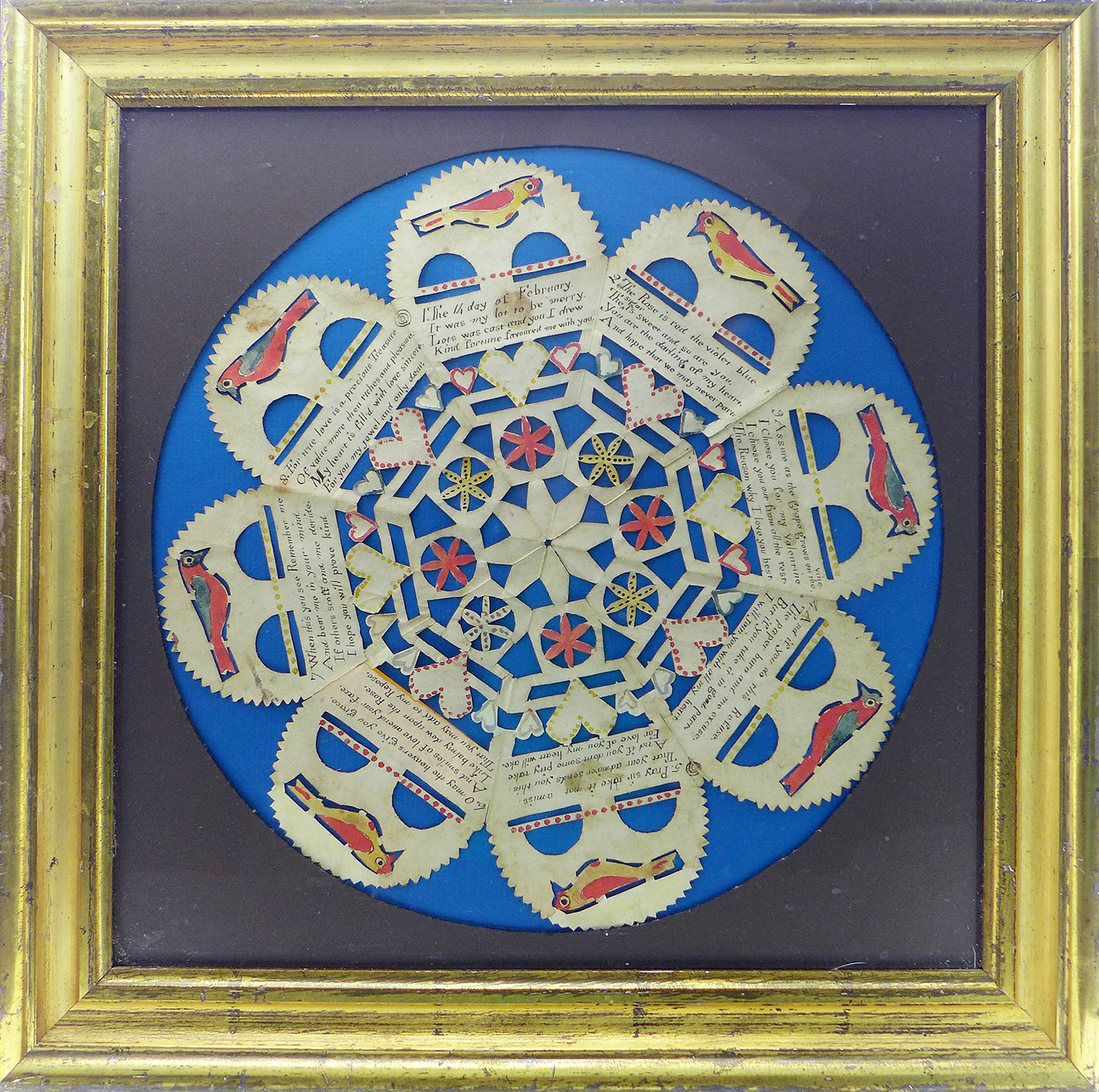 Mary Magdalene Stoody was born to George Stoody Sr (1774-1845) & Ann Barbara Shuster (1777-1837) in Pennsylvania on July 23, 1804 and died in Ohio, December 10, 1879. Oddly, she had a sister named Mary Margaret Stoody. Both lived to adulthood. It must have been confusing having two Marys in the house. Perhaps that is why Mary Magdalene wrote her first and middle name as one name. We have been unable to find whether Mary Magdalene married, but we hope she married whoever she cut, painted and wrote this fabulous Valentine for when she was 23 years old.

This Valentine displays classic American Pennsylvania or Ohio scissor-cutting in that the paper was folded and cut so that duplicate sections were created. Marymagdalene was very successful in cutting the intricate center design, painting the motifs and writing her beautiful poem which seems to be partially taken from a children's nursery rhyme and mostly of her own creative writing. We are lucky that Marymagdalene signed the back of her Valentine and dated it 1827. The Scherenschnitte is beautifully framed in a circle of acid-free modern card and a period gilt frame. Framed size is 18 1/2" square. The paper size of the Valentine is 13" diameter. Ragboard covers the back with the exception of a keyhole cut so you can see her signature. Condition is very good for something that probably spent most of its 193 year life folded and stuck in a book. But there are a few stains and several breaks in the paper which are not very noticeable.

Each scallop of the cutting is numbered to help follow the poem:


1. The 14 day of February.
It was my lot to be merry.
Lots was cast and you I drew
Kind fortune favored me with you.

2. The Rose is red the violet blue.
The sugar is sweet and so are you.
You are the darling of my heart.
And hope that we may never part.

3. Assume as grape grows on the vine.
I choose you for my Valentine.
I choose you from all the rest.
The Reason why I love you best.

4. And if you do this Refuse.
The paper burn and me excuse.
But if you take it in good part.
I will join you with all my heart.

5. Pray sir take it not amiss.
That your admirer sends you this.
And if you don't some pity take
For love of you my heart will ake [sic].

6. O may the heavens give you grace.
And smiles of love attend attend your face.
Like balmy dew upon the Rose.
That you may add to my Repose.

7. When this you see Remember me
And bear me in your mind
If others scoff and me deride.
I hope you will prove kind

8. For true love is a precious Treasure
Of value more than riches and pleasure.
My heart is filled with love sincere
For you my jewel and only dear.

I have been unable to find the source for the entire poem. We have all hear the 2nd stanza ("Roses are red….") which is often credited to Sir Edmund Spenser's 1590 epic poem The Faire Queen, an epic poem which tested Elizabethan virtues. The 2nd "Roses are red…." Stanza became part of popular culture and was expanded in 1784 when Joseph Ritson published a volume of Children's nursery rhymes, including:

THE VALENTINE.
The rose is red, the violet's blue,
The honey's sweet, and so are you.
Thou art my love, and I am thine;
I drew thee to my Valentine:
The lot was cast, and then I drew,
And fortune said it should be you.

It appears that Marymagdalene rearranged Ritson's short poem and then added more creative stanzas of her own. I have not found sources for stanzas 3 – 8.

It is a very rare to have a 19th century amateur scissor-cutting artist sign and date her work. In this piece, we have the rarity of the signature, the beauty of the work, and the creativity of the poet.

#6812 Sold

Please see Scherenschnitte, The Art of Papercutting for more information on this wonderful form of folk art.