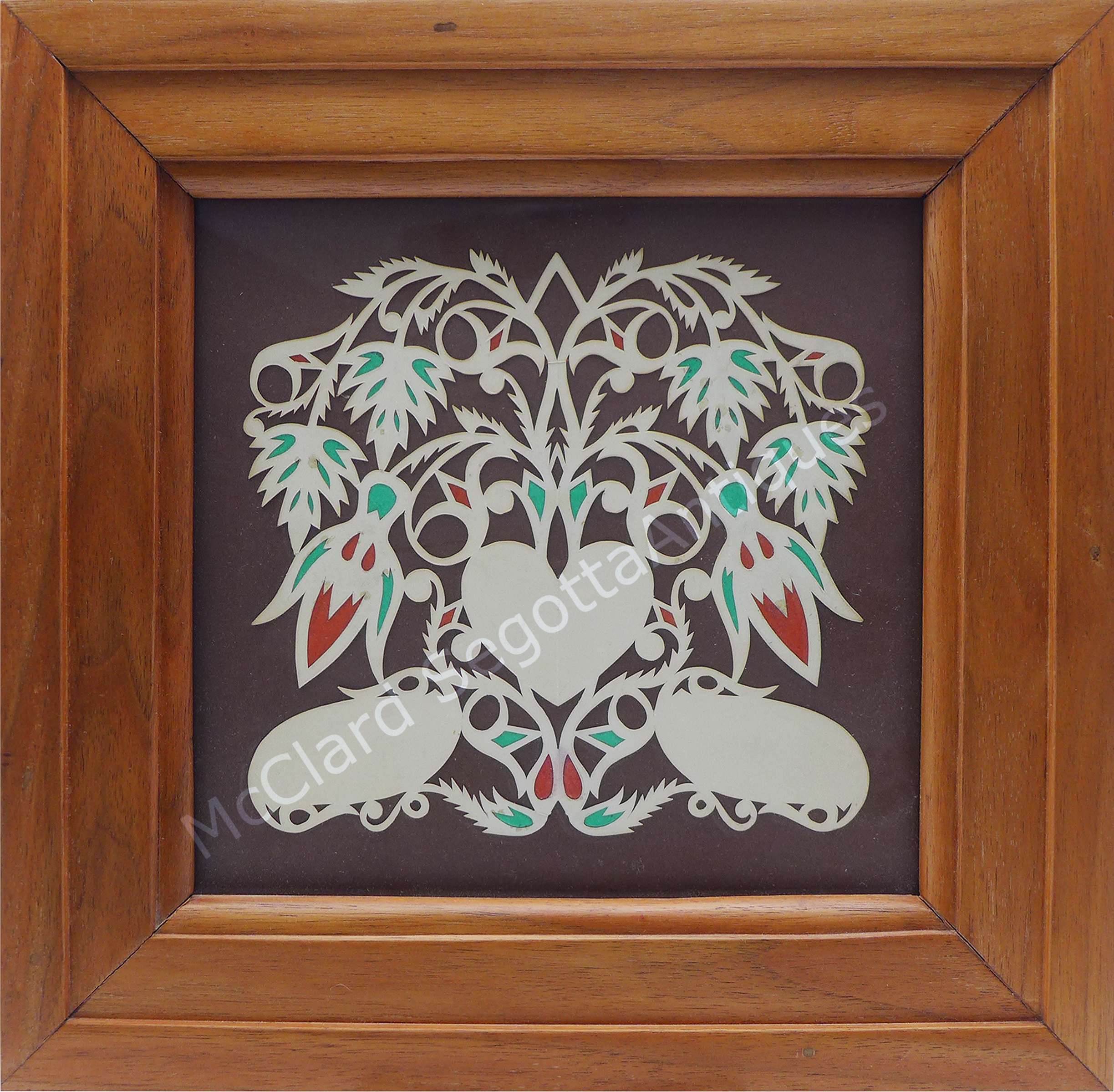 This is an American Scherenschnitte (a/k/a scissor-cutting) by one of the few named 19th century paper-cutting artists. Most Scherenschnitte that we find from the 19th century and before were cut by anonymous artists, and the majority of the early American pieces were from Pennsylvania and Ohio. John Brown Walker (1815-1908) was an itinerant artist who cut fancy paper designs in the rural areas of Pennsylvania, northeastern Ohio, Indiana, and Michigan between the years of about 1880 to 1907. Little was known about him until the early 1960s when a family collection of about 100 pieces came to light in Burton, Ohio. The collection of Helen Hotchkiss Coats and her sister, Hilda Hotchkiss Hosmer, represents works that Walker created for three generations of the Phillips-Hotchkiss family. The collection includes stencils, valentine-like gifts, patterns, an elaborately cut Independent Order of Odd Fellows record made for the sisters' grandfather, letters and greetings decorated with elaborate cut-work or penciled decorations. Helen Coats discovered that other residents near Burton also owned Walker cuttings and that the Henry Ford Museum and Greenfield Village in Dearborn Michigan owned examples. Walker's letters included in the collection tell the only story of John Brown Walker that we know. Despite his itinerancy, Walker developed and continued close relationships with the families who commissioned his work, sending them notes that often included his artwork and discussed family members, crops, pets and important events. His relationships with the families often lasted decades.
His cutwork ranged in size from 3" x 5" to large family records reaching 22" x 28". His stylized designs were elaborately cut by knife and contain his favorite elements in different compositions. He is known for his jagged edged maple leaves, fuchsia flowers, other three and five-petaled flowers, cuffed hands on which he pasted complicated and delicately-cut hearts. He also used birds, a few horses and deer, keys, jagged stems and a brush & ball terminal that is considered one of his trademarks. He often cut his designs from thick white paper and used glazed and colored, or gilded paper behind certain elements to make them appear more three-dimensional. He laid the white paper upon dark papers, usually black or very dark blue. However, some of his pieces were cut from a dark paper which was laid upon light backgrounds. As was the tradition of the Pennsylvania German cutters, he did not use different designs to distinguish his Valentine, Christmas, or New Year's greetings by holiday. This cutting includes his trademark fuchsia flowers, compound leaves, heart center medallion, two banners with curled flourishes and other sweeping curved elements. Green and red paper shows through openings cut from white paper to color flowers and leaves. The black background is a later replacement and before the piece was framed with this black paper, the reverse of one of the banners was photographed to show Walker's inked trade stamp "J.B. Walker, / --FLORAL CUT,-- / Paper Artist." The photograph of the stamp is in an open enveloped glued to the paper backing the frame. The cutting resides in a modern, stylistically appropriate frame measuring 12 1/4" x 11 5/8", with a sight size of 8" x 7 1/2". The cutting measures 6 5/8" x 6 1/2". Circa 1880-1900.
#6389 $850
Please see Scherenschnitte, The Art of Papercutting for more information on this wonderful form of folk art.