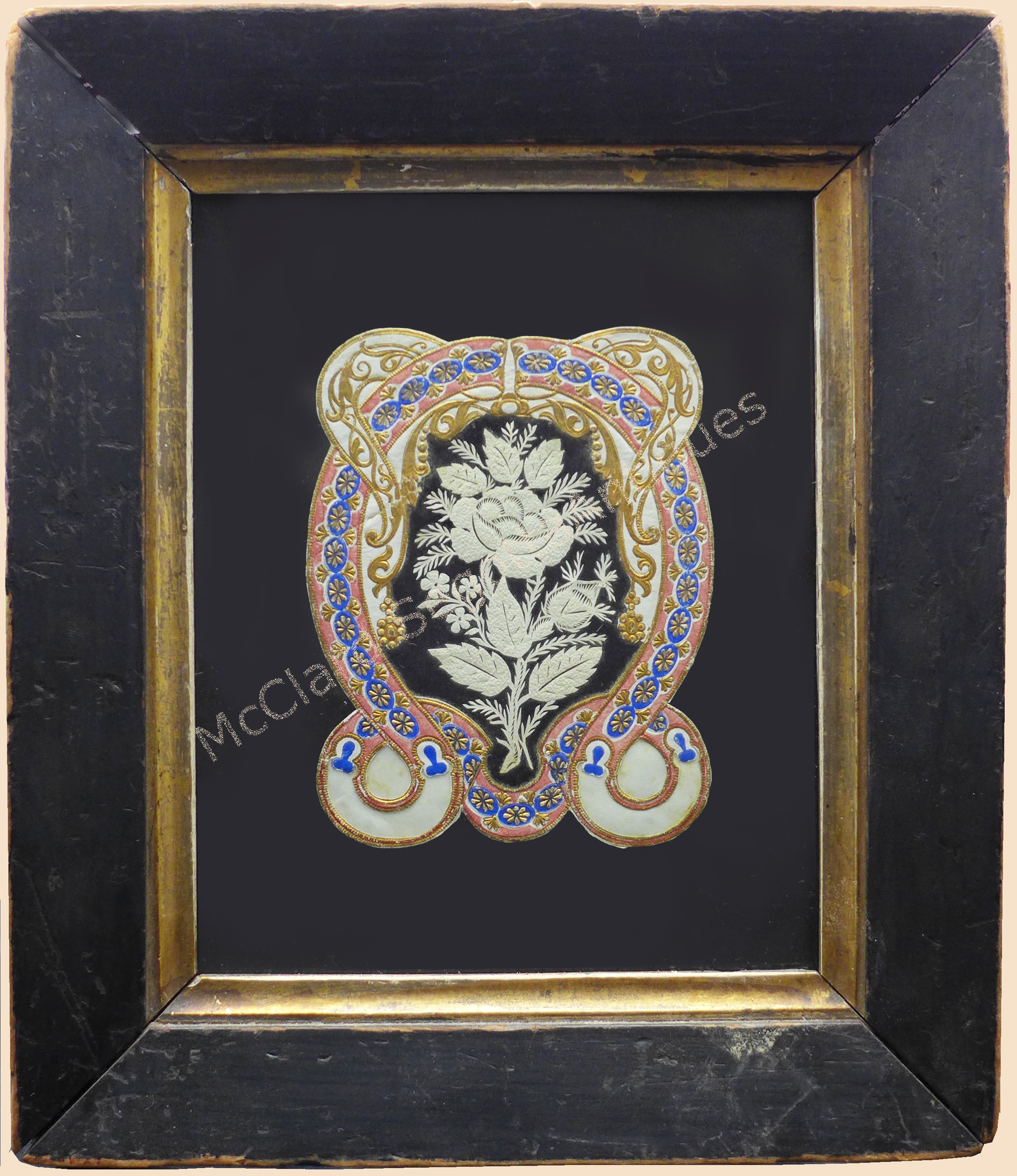 Martha Ann Honeywell was a child prodigy artist. While her silhouettes are more naïve, even a bit clumsy, than some of the collected 19th century silhouettists, part of the charm of Miss Honeywell's work is the triumph of human imagination, determination, and creativity. Miss Honeywell was born around 1787 in Lempster, New Hampshire with only the first joints of both arms, and one foot with only three toes. The first broadsides announcing her profession of profile cutting appear in 1806 and they continue until 1848. The signature on Miss Honeywell's cut & paste silhouettes proclaims either "Cut without hands by M.A. Honeywell" or "Cut with the Mouth by M. A. Honeywell".
Honeywell traveled along the Eastern shore board of America and to Europe with great fanfare cutting her silhouettes, Scherenschnitte paper cuttings, needlework and tiny writing. Granted that there was somewhat of a Barnum & Bailey atmosphere to her stops, it is noteworthy that she solely managed her own business affairs. She made personal appearances in which she cut silhouettes with scissors in her mouth while people ogled at her sitting atop a specially made table that put her on display to work her art. Miss Honeywell did quite well financially. It has been suggested that Honeywell's art was as much "visual art" in which her performance was the art as much as the finished product.
Although we know that Honeywell created several kinds of art, it is rare to find anything other than her silhouettes. Most of the non-silhouette pieces that exist have been gathered into museum collections and advanced Americana collections. We have seen Honeywell's Scherenschnitte of varied complexity but one deceptively difficult design to accomplish is this paper-cutting and pinprick of a small bouquet of flowers featuring an open rose, complete with a thorny steam, other flowers, and foliage of different shapes. Not only did she cut the outline of the beautiful rose but she cut away detail inside the flower with scissors and pricked the dominant pieces with a punch. We have no way of knowing whether she did the cutting or the paper-piercing first, but as someone who did cut and pierced designs, Peggy knows it is very difficult to pierce close to this kind of thin detail cutting without blowing through the paper. And while it looks like there might be several pieces of paper in the cutting, a close inspection reveals that the majority of the design is cut from a single piece of paper (one leaf may be laid atop the central stem). This is real artistry folks! This nosegay design may have been a design that she cut between shows and offered for visitors to buy before or after performances for we see variations of it in different pieces. Most buyers seem to have taken home their prize purchases from Honeywell's performance and put them in scrapbooks. We have seen the cuttings placed inside a sawtooth paper border and also on an embossed paper, commonly called Valentine paper. As a result of the different ways in which this design was presented, we find it likely that Miss Honeywell, herself, placed this cutting on the shiny black paper and then adorned it with the colorful Dresden tape.
The cutting resides in a period black painted frame that measures 8 ¾" x 10" with a sight area of 4 ½" x 5 ¾." The artwork is mounted onto acid-free black paper. The frame is a bit gappy in the upper edges but is quite stable. Please also see the Honeywell silhouette we are offering in a separate listing. This is a super rare opportunity to add both a Honeywell Scherenschnitte and silhouette to your collection. Circa 2nd or 3rd quarter of the 19th century.
#6864 $850
Please see the Silhouettist Bios page for more information about M.A. Honeywell.
Please also see Scherenschnitte, The Art of Papercutting for more information on this wonderful form of folk art.
Please also see the Honeywell silhouette currently in offered on the Silhouettes page.