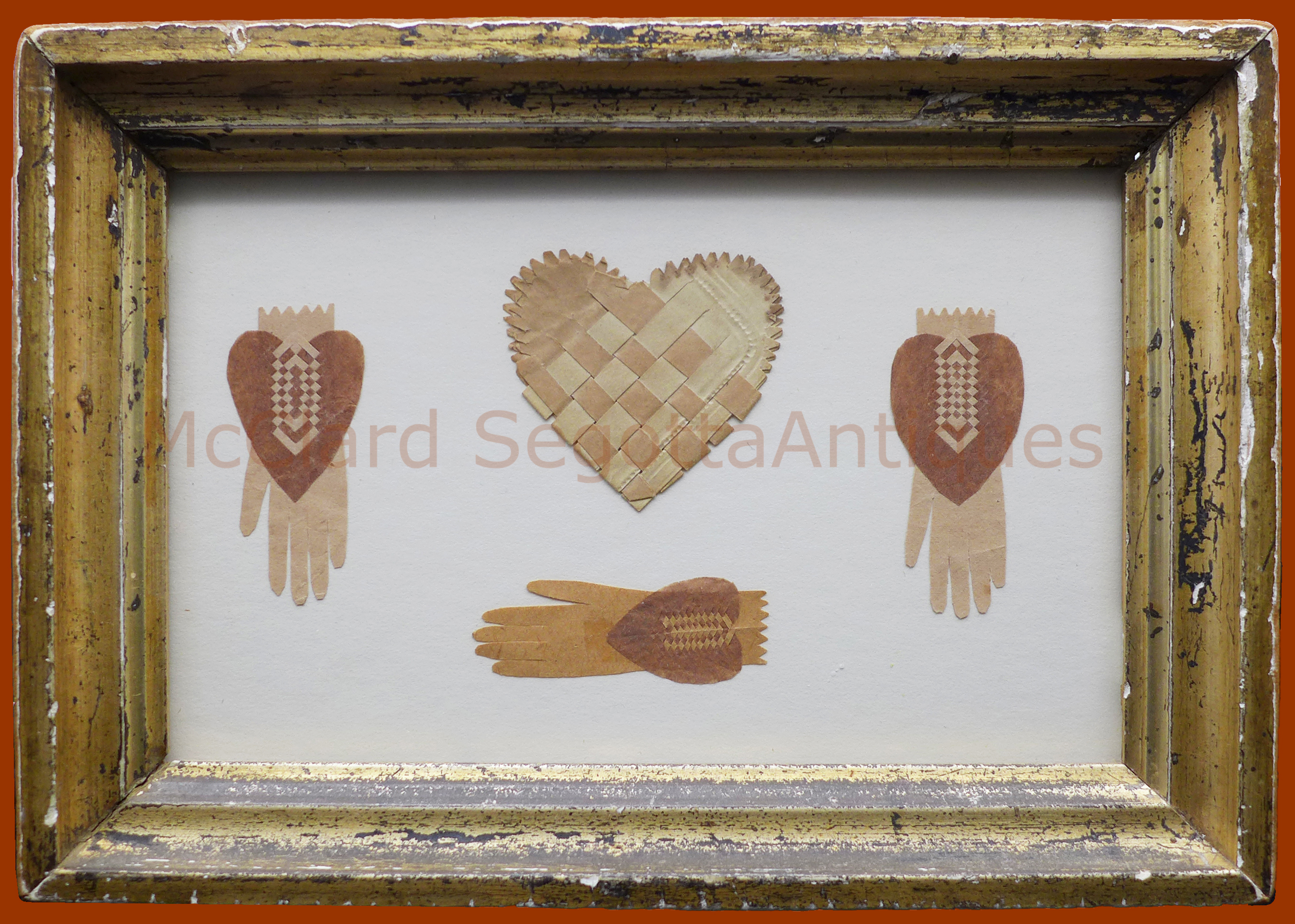 This is an absolutely darling piece – great proportions and composition, and skillful rendition of the classic heart in hand and woven hearts motif! 19th century citizens were quite demonstrative with friendships and love. They presented friends of both sexes with tokens of friendship such as small paintings, poems, cut and woven hearts and hands, pressed flowers, braided locks of hair. The double lobed heart has been the symbol of love since antiquity, showing up in Cro-Magnon pictograms and early Egyptian paintings. European immigrants brought the heart as the symbol of romantic love to America where they added two other symbols, the heart and hand and the heart in hand which both symbolized the heart's guidance of the hand's actions. These diminutive wove paper hearts in hands were surely made and given to a special friend or suiter.
This is the perfect accent piece to complete that special look mounted on the wall or displayed on a table with an easel. The centerpiece is an eggshell and mauve colored woven, folded and cut paper heart with pinked edges. The eggshell paper is embossed which shows in the upper right lobe. The three surrounding hearts-in-hand feature delicately woven chestnut-colored hearts and eggshell-colored hands. The center heart-in-hand has the finest paper weaving, and the hand is more of a rosy brown color than eggshell like the others. This, with the fabulously aged gilt frame of the period, creates a unique look to complement or be the center point of your newest vignette. Framed size is 8-5/8" by 6 1/8". The tokens are circa 1890, the frame circa 1840, and all were likely arranged together in modern times.
#7110 Sale Pending
Please see our Tokens of Love & Friendship page for more information.