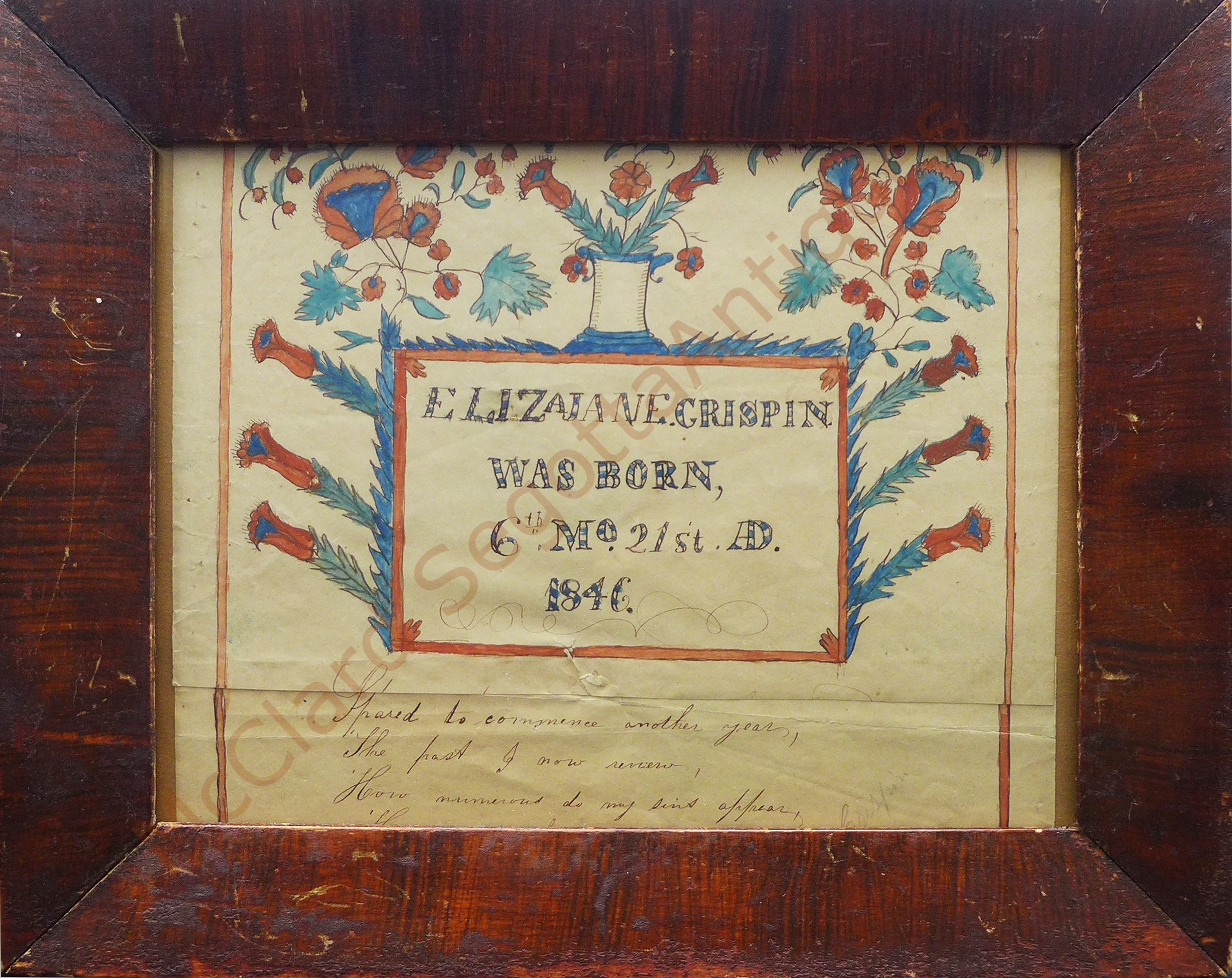 This wonderful watercolor birth certificate (or Taufschein), in the fraktur style of the Pennsylvania German, tells the story of the birth of Eliza Jane Crispin and includes an extra document that must have been handwritten by Eliza Jane. We find the stories behind these wonderful frakturs to be so remarkably interesting and it is fascinating to see and hold a piece of history that documents Eliza Jane's birth before the Civil War. This piece of history has great colors that have lasted all these years and the calligraphy is folky. There is also a handwritten list of people that passed in 1894 and a small, incomplete watercolor on the reverse. We would like to think both are by Eliza Jane's hand and the list includes her 13-year-old daughter, Ada F.
The fraktur reads "ELIZAJANE CRISPIN WAS BORN, 6th MO. 21st. AD. 1846." A sheet has been appended to the certificate at some time many years ago. The sheet has "Crispin" penciled in on it to apparently associate it with the certificate and reads as follows:

	Spared to commence another year,
	The past I now review,
	How numerous do my sins appear,
	How great thy mercies too

Eliza Jane was born to Lloyd Woodmansee Crispin (1817-1894) and Rebecca Walker (1826-1895) on June 21, 1846, in New Jersey and lived for some time in Pennsylvania. She married Benjamin Scott at the age of 20 and began moving further west. First, to the new state of Nevada where her daughters, Ada F. and Anna E., were born and then on to California where her son, Frank H., was born. She lived in California until her death in Inyo County on August 25, 1908.
Before Eliza Jane, the Crispins emigrated to the colonies in the late 17th century from England (London and Hull). Eliza Jane's great-great-great-grandfather, Silas Crispin, settled in Philadelphia where he died in 1711. The rest, as they say, is American history.
This folky, early fraktur birth certificate measures 5 1/4" by 8" and sits in a period frame measuring 8 1/2" by 10 3/4". As the photos show, both pages within the frame have been torn. Everything is as found, with no restorations.
#7111 $650
Discounted Price $300
Provenance: The Americana Collection of Bob Foley and the Estate of Nancy Sevatson.