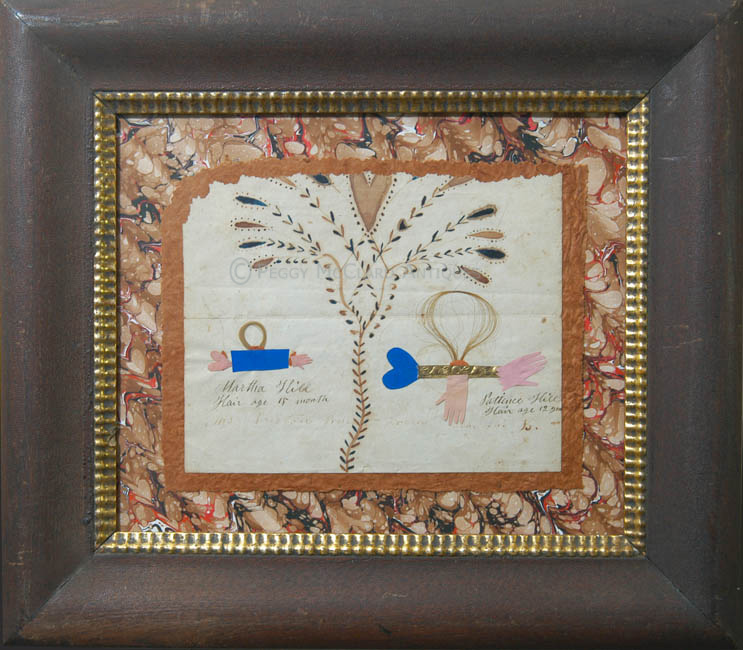 Beginning in the early decades of the 19th century, women and young ladies kept memory books and friendship albums which they filled with paper and fabric cuttings of hearts and hands embellished with woven or otherwise arranged hair of friends and family. Woven hearts and hands embellished with hair were traded as 19th century tokens of love and friendship. The double lobed heart has been the symbol of love since antiquity, showing up in Cro-Magnon pictograms and early Egyptian paintings. European immigrants brought the heart as the symbol of romantic love to America where they added two other symbols, the heart and hand and the heart in hand which both symbolized the heart's guidance of the hand's actions. This beautiful and sensitive image of love shows up in highly collectible Christmas, New Years, and Valentine greetings and declarations of love.
Because hair does not disintegrate if it is properly protected, American women made it a symbol of abiding love as well as deeply felt loss. Mothers kept locks of their children's hair and unmarried women often gave locks of their hair to suitors as tokens of love. Locks of sitter's hair were often added to miniature portraits. A popular nineteenth-century women's periodical described hair ". . . at once the most delicate and last of our materials. [It] survives us like love. It is so light, so gentle, so escaping from the idea of death, that, with a lock of hair belonging to a child or friend we may almost look up to heaven and compare notes with angelic nature, may almost say, I have a piece of thee here, not unworthy of thy being now."1
This extraordinary love token was taken from a memory album (prior to my acquisition). It features the hair of two children--Martha Hill, hair taken at 18 months, and Patience Hill, hair taken at 12 years. The hair is adorned with hand-cut hearts and hands. Patience's hair is also adorned with a bit of Dresden tape. Across the bottom of the page is a very faded inscription that reads "Mrs. Preston Present from M.M.B." [I'm not entirely sure about the three initials.] The page is spectacularly adorned in a very fraktur-like fashion with a watercolor tree topped by a heart. I have framed this beautiful piece of American folk art in a walnut frame with an unusual gold leaf ripple liner carved into the walnut. The frame has a wonderful dry original surface. The love token is lightly hinged with archival tape to a bit of handmade acid-free paper that has a rough top edge that mimics the rough top edge of the love token. This is all placed atop lovely paper that is hand-marbled in the same method that has been used since the 18th century. This type of marbled paper was favored by 19th century Americans. The frame measures 14 1/2" x 12 3/4". The love token, itself, measures 7 3/8" x about 5 7/8". Don't miss this glorious bit of folk art--love tokens this good just don't come up for sale anymore! Circa second quarter of the 19th century.
(#4248) Sold
References:
Eisenbarth, Erin E., "Made for Love: Selections from the Jane Katcher Collection of Americana", Spring 2007, Antiques & Fine Art. (online article at antiquesandfineart.com)
Lefko, Linda Carter, "'When this you see remember me' Tokens of Remembrance & Love", Fall 2006, The Decorator, publication of the Historical Society of Early American Decoration. (online article at lclefko.com)
Shaw, Robert. "United as this Heart You See: Memories of Friendship and Family", Expressions of Innocence and Eloquence Selections from the Jane Katcher Collection of Americana, Ed. Jane Katcher, David A. Schorsch, Ruth Wolfe. Marquand Books, 2006. 85-101.
Ockenga, Starr. On Women & Friendship A Collection of Victorian Keepsakes and Traditions. Stewart, Tabori & Chang, 1993. 107-117.
1Shaw, id. at 101 (quoting Leigh Hunt, Godey's Lady's Book (May 1855)).
Please see our Tokens of Love & Friendship page for more information.