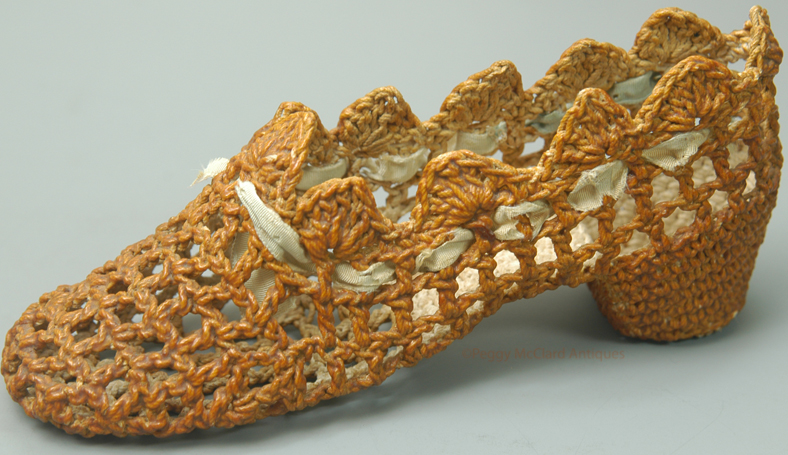 I love this folky macramé woman's shoe made of cotton string. It gives testament to what a little creativity can do with something as ordinary as string. It might be sailor-made as it is certainly something that a sailor might have made for a loved one while he passed away downtime during his weeks or months at sea. But it also might have been made on land by someone who just wanted to see if she/he could do it. The shoe even has a moderately high heel. I wonder how the heel was made…..is it many layers of knotted string….it feels like it may be. The shoe measures 8" in length. It has a coat of varnish on the outside that has yellowed….you can see that the string started out as white from the unvarnished interior of the shoe. A pale blue silk ribbon weaves around the shoe, just below the scalloped top. The ribbon has quite a bit of loss, attesting that the shoe has some age….although I can't opine on when it was made other than to say I believe it is at least 70 years old and probably a bit older. It is a really fun piece that will fit in with any folk art collection. I can really see it with a collection of 10th Anniversary tin items!
(#5382) $375
I've had a couple of people suggest that this shoe may be crocheted. I never crocheted but I did a lot of macramé sculpture when I was young. I felt like it was knotted but gave others the benefit of the doubt. However, my friend and fellow dealer Sheridan Loyd sent me photos of a pair of sailor knotted shoes that are too similar to mine to not be of the same genre. You can see Sheridan's pair on her website. Click Here for Sheridan's shoes. While you are there, be sure to look at her sailor-made knotted basket also.
This is definitely knotted, most likely made by a sailor with heavy fishing line.