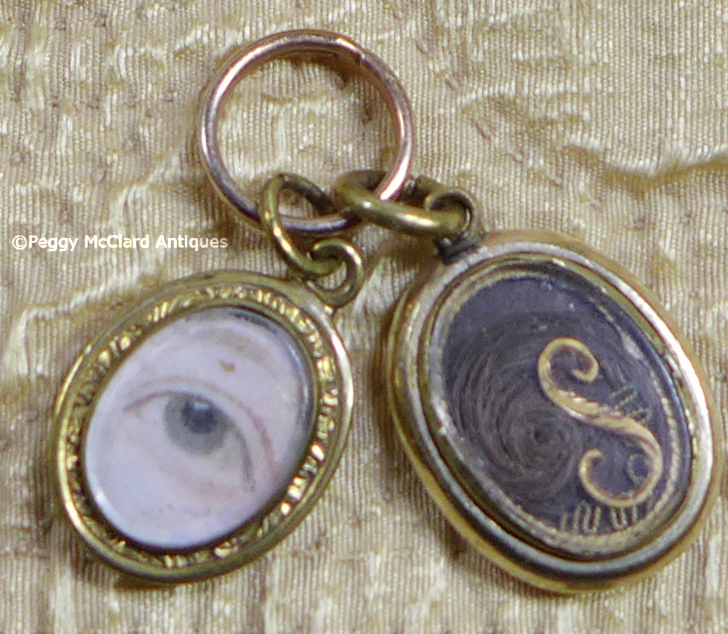 In honor of the exciting exhibit at Winterthur Museum "The Look of Love", I'm offering two rare and beautiful Lover's Eyes or eye miniatures.
I've collected these eye miniatures for several years and these are among the few that I've ever offered for sale. They are quite rare and extremely sought-after. Lover's eyes (sometimes called Georgian eyes) are descendants of jewelry depicting individual eyes during Roman times. The 18th century model probably started in France, but the short-lived trend (if one can call such a small number of paintings a "trend") for lover's eye portrait miniatures that we seek out today started in 1785 when the Prince of Wales (later King George IV) commissioned portrait miniaturist Richard Cosway to paint his eye which he delivered to the woman he was trying to woo. Catholic Maria Fitzherbert had rejected the Prince's determined advances to the point that she had moved to France to escape him. Her move only seemed to make the Prince more determined to win her love. He sent the Cosway portrait of his eye to her with a letter which stated "at ye, same time and eye, if you have not totally forgotten ye, whole countenance, I think ye, likeness will strike you."1
Queen Victoria revived the trend of eye miniatures soon after her coronation in 1837. She had eye miniatures painted of all of her children, friends and relatives and some which she used for presentation pieces. Most 18th and 19th century eye miniatures were British. American artists painted very, very few of them.
Lover's eye miniatures symbolize a forbidden love. They are very small so that they could be worn in secret, either a brooch pinned to a secret place, such the inner fabric of a man's lapel, or as a pendant that could be worn on a lady's long chain and tucked into her sash or belt. An eye might have been set into a ring that could be worn turned to the inner part of the hand. A few were set into the tops of small utilitarian boxes such as would hold toothpicks or a lady's face patches. The majority of lover's eyes are of women, indicating that a woman most often gifted these eyes to her gentleman friend, possibly to suggest that she was watching over him during his daily activities.
I have never seen an eye miniature quite like this one before. It is made of 2 separate tiny pendants, held together with a bail that allows them to be hung together either from a chain or a chatelaine. I suspect that the piece may have hung from a lady's long chain for her watch which would have been tucked into her belt and thus hidden from all but her eyes. Since we cannot see any of the sitter's hairstyle, we cannot be sure whether the eye belongs to a man or woman. My best guess is that it is male. The surround of the pendant frame is chased goldwork (it looks like gold although I am not able to test metals). The companion pendant bears a swirl of brown hair surrounded by gold is worked to almost look like a flat rope. Inside the receptacle with the hair is a gold filigree twisted wire and a gold letter "S". The tiny pair of pendants measure a mere 5/8" x 1/2" (16mm x 13mm) each (not including the bail which holds them together). The backs of each pendant are decorated with gold engraving, engine turning and enamel. They are exquisite and so unusual. As you can see in the photos, the pair of pendants are in very good condition. The eye seems to have a bit of paint loss under the eyebrow and a couple of light stains or super tiny areas of loss at about 9 o'clock and 4 o'clock. The gold filigree wire and the gold monogram have come loose under the glass. There a couple of tiny spots of missing enamel on the backs of both. But when you realize how tiny these pieces are and that you are looking at greatly magnified images of them, you realize that the apologies are so tiny you need a loupe to see them. This pair is rare enough that it will hold its own in even the most advanced collection. It would also be a perfect way to start a collection of these wonders. Circa 2nd quarter of 19th century. Be sure to view the other eye miniature that I'm listing today.
(#5384) Sold
Georgian Eyes are often faked. I invite you to read my blog posting which outlines some things to look for when determining authentic from fake eye miniatures. http://silhouettesandfolkart.wordpress.com/category/georgian-eye-miniatures/
References:
Boettcher, Graham C., Ph.D., The Look of Love: Eye Miniatures From the Skier Collection, (exhibition catalog), Birmingham Museum of Art, 2012.
Dawes, Ginny Redington & Collings, Olivia, Georgian Jewellry 1714 - 1830, Antique Collectors' Club Ltd., Woodbridge, Suffolk, 2007. 147.
Gordon, Cathy, "Georgian, Victoria other", http://imageevent.com/bluboi/fine
1 Shushan, Elle, "The Artist's Eye", found in Boettcher at 17-18. Ms. Shushan credits the quote to Munson, James, Maria Fitzherbert: The Secret Wife of George IV, Carroll & Graff, New York, 2001. 66.