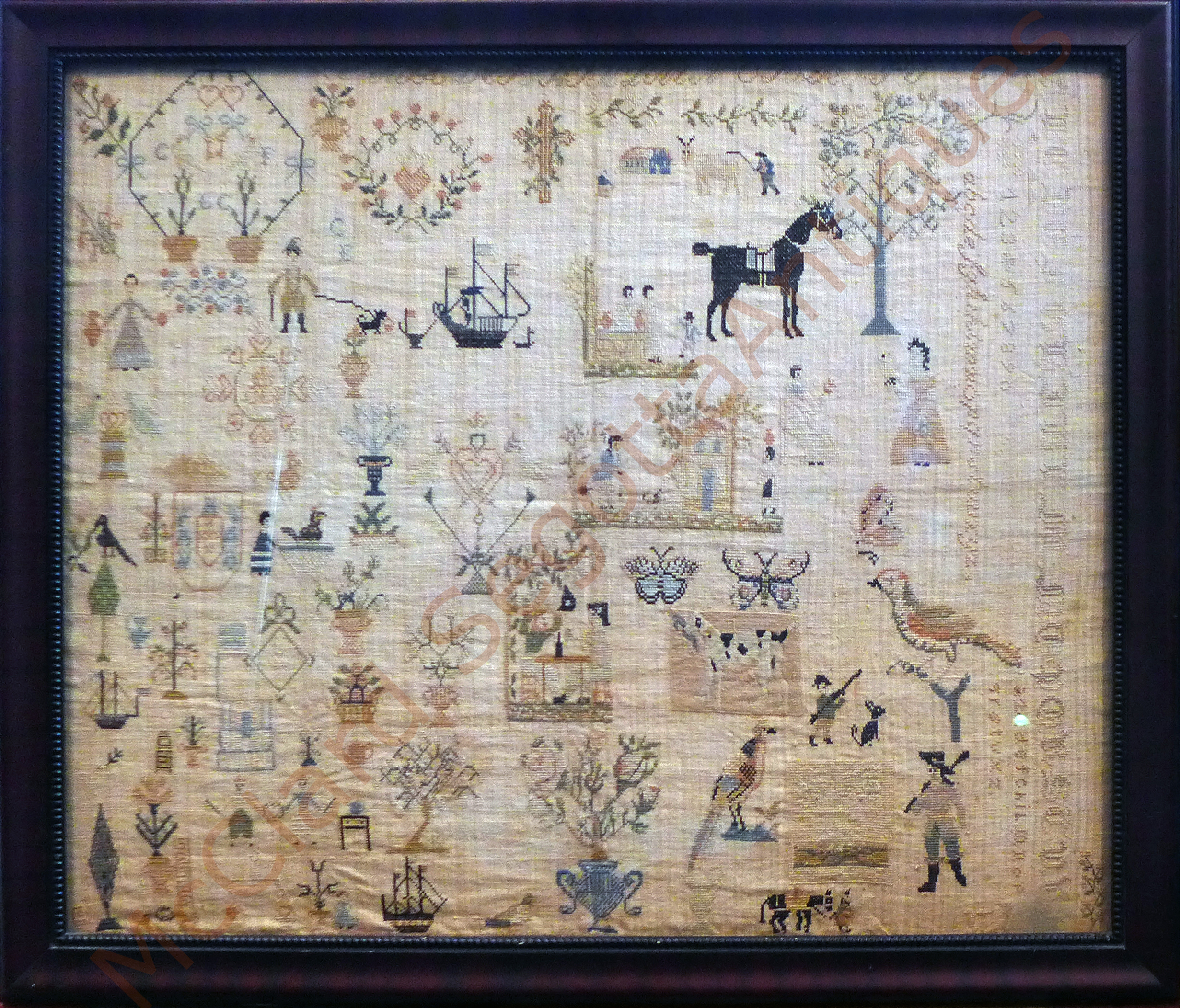 Pennsylvania spot samplers seem to fit the name "sampler" more than the carefully designed needlework that usually claims the title "sampler." The spot sampler can appear to be a jumble of small motifs and, often, we can't really assign meaning to all of the motifs. This large Pennsylvania German sampler is silk thread stitched in tiny stitches on a soft, flat woven natural-colored linen. The sampler includes four alphabets: one sewn in cursive capitals horizontally across the top; one sewn in capitals in gothic font vertically at the right edge; a row of Arabic numbers also vertical and just to the left of the Gothic letters; and a row of small letters, also sewn vertically and in cursive; and another of small letters in a printed type font. The four vertical rows are read by turning the sampler so they move to the top. It is interesting that none of the three alphabets include the letter "J" or "U". Samplers missing "J" and "U" tend to be 18th and early 19th century samplers. The reason the letters were often left out is because the early Latin alphabet did not include these letters. This sampler is likely from the first half of the 19th century.
This fun sampler contains several cartouche windows with initials, hearts, crowns, birds, flowers and such. The upper left corner cartouche includes two pairs of initials, two hearts over a pair of bows attached to two keys which hang between a pair birds and two potted plants. We speculate that this cartouche represents the seamstress-artist's parents. To the right of this "parental" cartouche is a smaller cartouche with a single crown and heart. Perhaps this symbolizes the artist. The cartouche does not include initials but "C.E." does appear between the parental and smaller cartouches. Also at the top edge of the sampler is a tiny woman, her head covered with a shawl, before a tiny house. Close but a tiny bit larger is a man herding a large horned or antlered beast. There are numerous people among the motifs, most in pairs or trios going about different aspects of life.
The motifs in this amazing sampler include a saddled horse, two schooners with flags, two smaller ships in distance, people attending to daily activities such as walking dog, a woman with pitcher and glass, a little house in distance, a boy with rifle and dog, a person leading a pack mule, two people at a tavern table with bottle, a man tipping his hat, a spotted cow, song birds, roosters, flowers in urns, butterflies, trees of life rising upward (symbolizing continued life) and some drooping downward (symbolizing death), several crowns, a holy cross, and initials. We cannot find a date. The sampler tells many stories and can be studied for hours! It resides in a modern frame that measures 26 1/2" x 22 1/4", with a sight size of 23 1/4" x 19 1/8". Condition of the sampler is very good with very few tiny losses of the linen ground and a few lost stitches. You must look very carefully to find the losses. The frame has a few scratches. It appears that the sampler was cleaned when it was remounted and framed.
#6784 $950