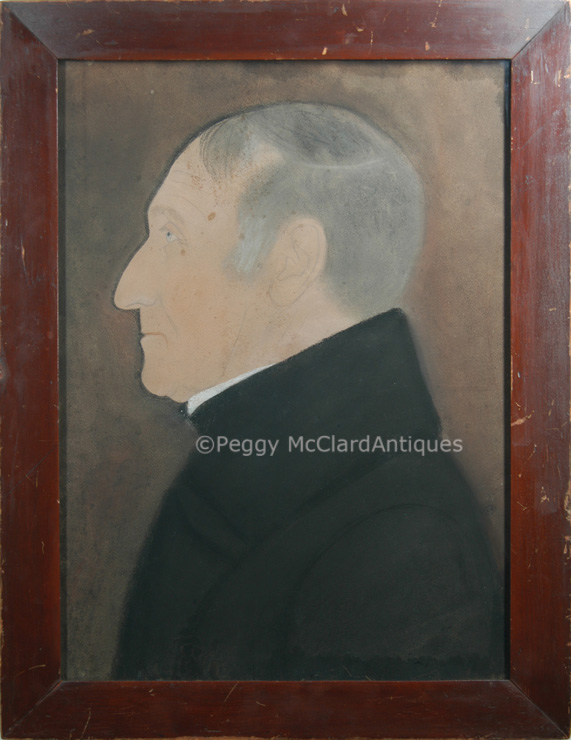 Ruth Henshaw Bascom was an artist who followed her own drummer. She developed her own style, drawing from current styles, but making the work all of her own. Her work was at once "a good likeness" and abstract. She is a great example of how 19th century folk art is tied to early 20th century Modern Art. Bascom stands out as an extraordinary early 19th century New England woman. She married at the fairly late age of 32 in 1804 to a man who died within a year of their marriage. A year later, she married again, this time to a minister to whom she was married until his death 35 years later. She faithfully kept diaries from the time she was 14 years old until she was 73 (2 years before her death). Her diaries left us with a very detailed view of the life of early 19th century New England women. Bascom worked to keep her husband's church running, handled their household affairs, visited the sick as well as her many relatives, and created more than 1000 profiles. The Bascoms loved travel and did much of it during their marriage. Ruth was not afraid to travel alone, which she did as she visited family and drew her wonderful full-size pastel portraits. Her work is extremely desirable and collected. She started her profiles by placing her sitter between a candle and her paper and drawing the outline of the silhouette. Unlike the silhouettists of her day, Ruth very rarely reduced the size of the drawn profile, but kept it life-size and filled it in with color. However, like many artists of her day (especially the few women artists working at that time), Ruth rarely signed her work.

This wonderful profile of a stately looking gentleman with grey hair (a bit more white at the temple), a black jacket with a deep collar and a high notch cut in the lapel. His white shirt collar gives a great contrast to bridge his pale complexion to his black jacket. Bascom set him against a brown background which helps make his face and hair really pop. She placed the light source behind him by giving him a darker outline from the top of his head forward. This further draws the eye of the viewer to his face.

This portrait is from a long-time collection and has been off the market for at least 60 years. The collectors lived in a house that Bascom previously lived in and collected all of her work that they could find. The portrait descended to the son of the collectors who remembers his parents buying this portrait in Fitzwilliam, New Hampshire, where Ruth lived with her husband for many years. The period red painted frame which measures 22" x 17". Sight size is 18 ½" x 13 ½". The paper has long ago been laid down onto early card (it is not acid-free). There are a few light brown spots on the man's face and head—looks like liver spots. There are a few repairs at the bottom edge where the paper had broken off (this is almost certainly the reason it was laid down). I had conservation spacers added so that the paper no long touches the glass.

This is a wonderful example of American folk art by a well-recognized artist.

(#5376) POR
References:

Avigad, Lois S., "Ruth Henshaw Bascom: A Youthful Viewpoint", The Clarion Vol. 12, No. 4 (Fall 1987) Museum of American Folk Art,, New York, 1987. 35-41.
Bascom, Ruth Henshaw, Summary of Papers 1789-1848, American Antiquarian Society Manuscript Collections, http://www.americanantiquarian.org/Findingaids/ruth_henshaw_bascom.pdf

Rumsford, Beatrix, American Folk Portraits Paintings and Drawings from the Abby Aldrich Rockefeller Folk Art Center, Boston: Little Brown, in association with Colonial Williamsburg Foundation (1981). 49-50.

Sloat, Caroline F., ed., Meet Your Neighbors: New England Portraits, Painters & Society 1790-1850, Old Sturbridge Village, distr. University of Massachusetts Press, 1992. 74, 81-82, 100, 111, 119.
Please see the Folk Portrait Artists page for more information about Ruth Henshaw Bascom .