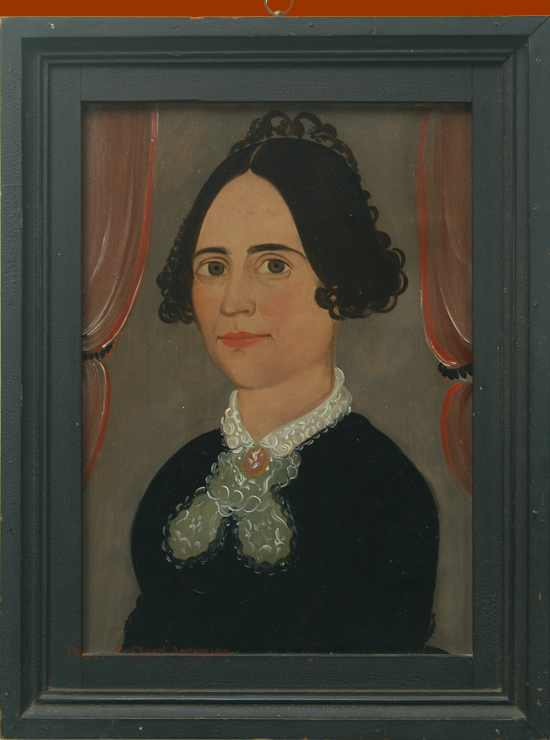 Stunning American folk portrait attributed to E.W. Blake of the Prior-Hamblen School of artists. Oil on paperboard, this pretty lady has fanciful touches such as the light paint strokes depicting her hair which has a lacy feel, just like her lace collar. Her curly hair crowns the top of her head like a tall hair comb. At first I thought it was a hair comb, but you can follow the brush strokes all the way down the outside edges of her hair. Since the paint is all the same color as her hair, I am willing to say it is her hair. The lovely lady has big grey or hazel eyes, nicely framed by dark eyebrows with some wisp at the inside corners of the brows. She has bright, well formed lips and rosy cheeks. She wears what may be a cameo brooch at her neck, adding still more to the "lacy" them of the portrait. Her dress is the typical draped bodice dark dress that was so popular in the 1840s. She sits before two half drapes which seem primarily almost translucent with a darker salmon color at the edge. The tie backs are corded black with red. This young woman is housed in a period stepped molded wood frame with old blue paint. The finish on the frame is really nice and dry. The painting is in excellent condition. The paperboard is nice and flat. There are a few tiny specks of something white (perhaps paint) which sits on top of the finish. I'm sure this could be removed by a good conservation artist. I prefer to leave it alone and I really didn't even notice the specks until I started really inspecting the painting for this listing. Framed size is 17 3/8" x 13 1/4". Circa 1845.
(#5092) POR
Please see the Folk Portrait Artists page for more information about Hamblin, Hartwell, Kennedy & Prior .
References:
Hickman, Madelia & Pratt, Wayne, "The 'Celebrated' William Matthew Prior (1806-1873)", Antiques & Fine Art Magazine, online article at www.antiquesandfineart.com.
Krashes, David, "Understanding the Prior-Hamblen School of Artists A Little Bit Better", Maine Antique Digest, July, 2011, attached pdf graciously presented courtesy of Maine Antique Digest.
Rumford, Beatrix T. American Folk Portraits Paintings and Drawings form the Abby Aldrich Rockefeller Folk Art Center. New York Graphic Society, 1981. 176-81.
Sears, Clara Endicott, Some American Primitives: A Study of New England Faces and Folk Portraits, Kennikat Press, Inc., Port Washington, N.Y., 1941. 31-50.