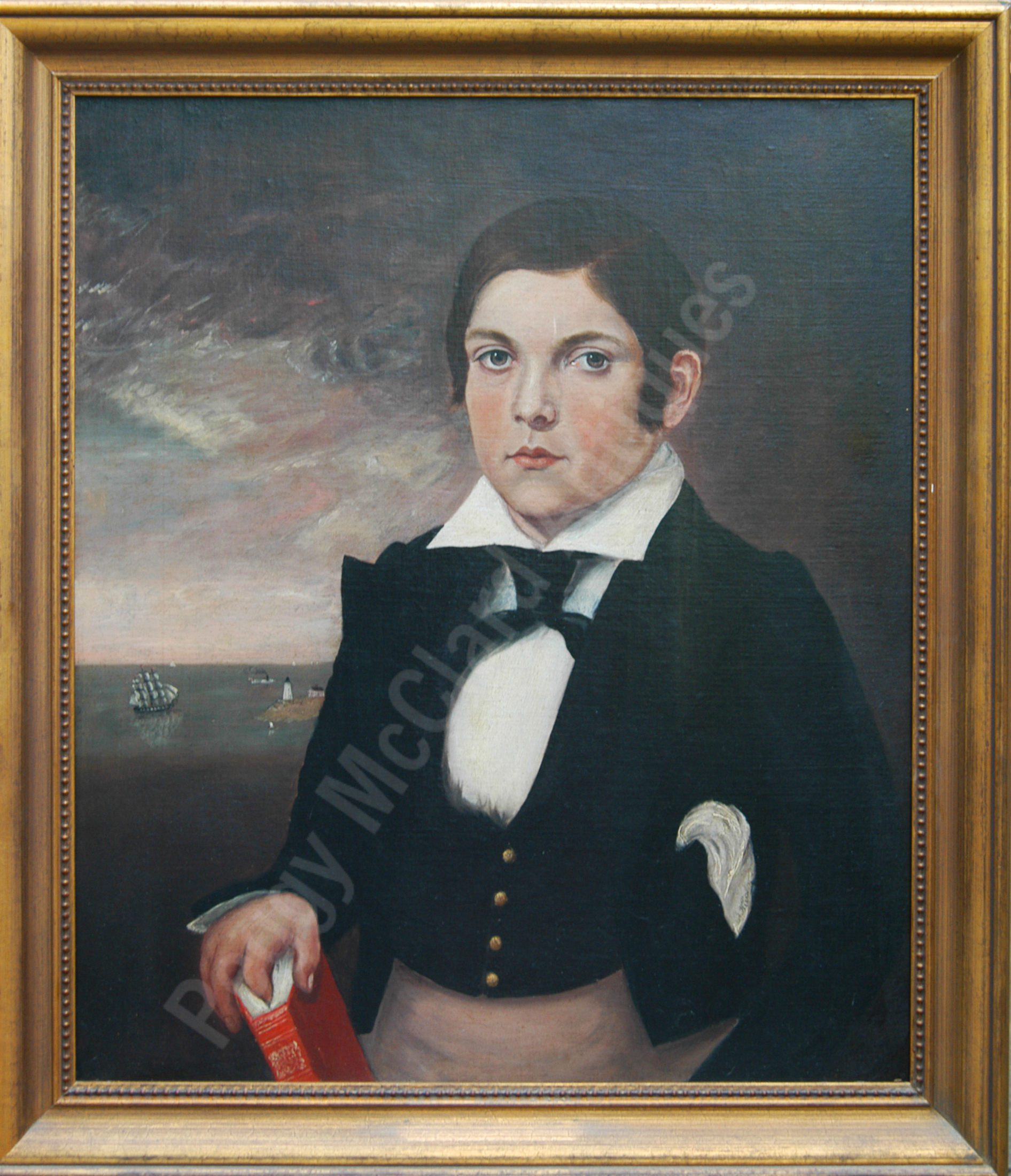 This young mariner is a real stunner! The boy of about 12 years old must have been leaving for sea to work his apprenticeship. He gazes coolly at the viewer with brooding brown eyes, ruddy checks and a cupid's bow mouth. His face is sensitively and beautifully painted. He wears a broad, turned down collar over a pleated front shirt. His stock is knotted at his neck with the ends of the tie spread out under his dark waistcoat which has embossed brass buttons. His jacket is short with wide lapels. From his coat pocket flows a white handkerchief on which the artist signed his/her name. The book in this young mariner's proper right hand shows he is educated. His education may have been continued on board by a schoolmaster hired for young apprentices. The probably pre-teen boy's hair appears to be long and pulled back to a ponytail with long locks in front of each ear. In the background we see a peninsula or island with a lighthouse on the tip of land. Next to the island sits a center chimney house which was most likely the home of the lighthouse keeper's family. Directly in front of the peninsula a careful inspection shows a very small skiff with sail unfurled and a man standing as he navigates. At sea are a large schooner which reflects beautifully on the water and a side wheeler with a large plume of black smoke. In the far distance are another large schooner and several boats that we cannot clearly identify. Dark clouds swirl across the upper and right side of the painting. But, directly over the discernable background, the sky is rose and blue at either sunrise or sunset.
I have enlisted much help to read the signature on the handkerchief but have not been able to find an artist listed for any of our many trial names for the correct period. I'm showing you several detailed photos of the signature, some with computer enhancements, and I'll take suggestions on what the name might be.
This stunning oil on canvas portrait was found in Cape Cod. It has been lined onto the original stretcher and has very minor retouch to the face (several very small spots) and a spot on the collar. The frame is modern yet very appropriate. If you'd like it reframed into a period frame, let's talk. Period frames of this size are quite expensive but I have 1 or 2 that would work. Framed size is 30 ¾" x 26 ¾". The stretcher measures 26" x 22".
This is a fantastic portrait that can be the eye-catching center of your collection. A collector of nautical items dream! Circa 1st quarter of the 19th century.
#5795 POR