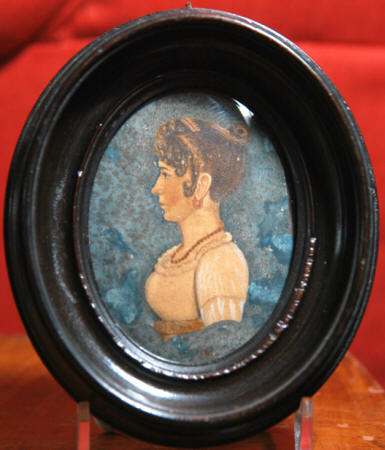 This is a ground-breaking watercolor portrait of a beautiful woman by William Rought. William Rought is known as a painter of silhouettes (on paper and reverse painted on glass) who worked between 1800-1833. This painting represents a medium in which Rought is previously unknown to have used! He beautifully marbled the background and placed it in his own hand-turned wooden frame (which measures 4 1/2" x 5 1/4") with curved glass.
Two Rought trade labels are known, a label such as the one on this profile, but printed in blue, and a small one printed in red. This trade label does not appear to be blue--unless the color has altered with age--it appears to be printed in black. Therefore, this lovely profile is a ground-breaker in that it represents a medium in which, until now, is unknown from Rought and with a label which is previously unrecorded. A real find!
There is some waterstaining to the background but it works in well with the blue marbling that it looks almost as if part of the original background.
(#3258) $995