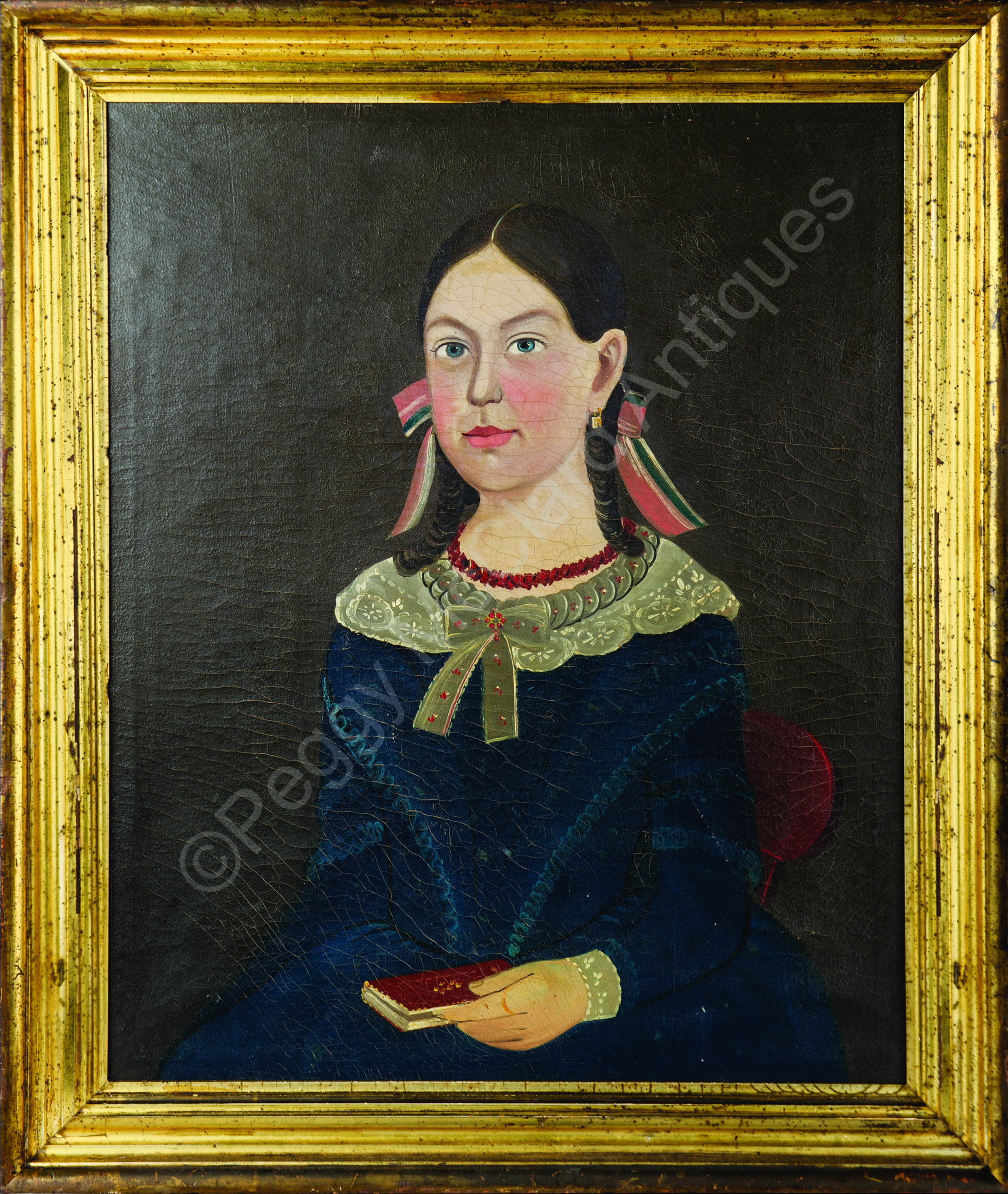 This is a superb oil on canvas folk portrait attributed to Sturtevant Hamblin (or Hamblen) of what is known as the Prior-Hamblin School of artists. Sturtevant Hamblin was William Matthew Prior's brother-in-law. The two artists and their families lived and worked together throughout much of the 1830s and 40s, both painting portraits and obviously learning from each other. As a note, the Hamblin family spelled their last name with an "e" until around 1801 when they seem to have started spelling it with an "i".
This young teenage girl wears with a vivid blue dress, a coral branch necklace, earrings, pink & blue hair ribbon and holding a red book. I love the way the two dominant colors (pink/red & blue) really involve the viewer. First, the blue draws you in to the canvas and your eyes go immediately from the blue dress up to the sitter's blue eyes. The pink draws you to her face with the pink rouging of her cheeks and lips, and the ribbons which frame her face. Then your eyes follow the red down to her necklace, embroidery in her lace, red book and the red chair which peeks out from behind. She wears simple good earrings (we only see one) and a gold band on her index finger.
This beautiful teenage girl is attributed to Sturtevant Hamblin. As expected of Hamblin, the girl's index finger is longest with each getting progressively shorter to the pinky. Also, in accordance with Hamblin's style, her fingers are separated by brown lines and the same brown defines her nails. Her upper lip is a slightly darker tone than the bottom lip and the lips are separated by a brown line. Her chin is defined by Hamblin's inverted arc just below her mouth. Because she sits at a slight angle away from the viewer, the painting does not appear as symmetrical as Hamblin's portraits of children looking straight ahead. This is really a well-composed folk portrait.
Provenance is shown with three partial labels on the stretcher showing that the portrait was displayed in Edith Halpert's Downtown Gallery and American Folk Art Gallery. Edith Halpert was instrumental in creating interest in folk art with important collectors, such as Abby Aldrich Rockefeller, who bought avidly from Halpert. It is as if anything that exhibited in Halpert's galleries had a stamp of approval. Halpert had a great eye and an understanding of the tie between Modern and Folk Art. There are folk art collectors today who collect pieces from Halpert's galleries and personal collection as a subset of their collections.
While the remnants of Halpert's labels lend evidence of a great provenance, I do wish the third from the left label was more complete. However, by reading what is left and tracking the exhibitions held in Halpert's Downtown Gallery, it appears that this portrait was exhibited between April 13 – May 1, 1937 in Children in American Folk Art, 1725-1865: Children's Art, Their Portraits, and Their Toys as number 65 in the exhibition.
The portrait, without frame is 22 ¼" x 27". She resides in a period, but not original, gilt frame measuring 26 ¼" x 31 ¼". There is all-over craquelure that has been relaxed and laid back to the canvas. I am including a blacklight image below.
#6427 Sold
Please see the Folk Portrait Artists page for more information about Sturtevant Hamblin and The Prior-Hamblen School.
References:
Hickman, Madelia & Pratt, Wayne, "The 'Celebrated' William Matthew Prior (1806-1873)", Antiques & Fine Art Magazine, online article at www.antiquesandfineart.com.
Krashes, David, "Understanding the Prior-Hamblen School of Artists A Little Bit Better", Maine Antique Digest, July, 2011, attached pdf graciously presented courtesy of Maine Antique Digest.
Rumford, Beatrix T. American Folk Portraits Paintings and Drawings form the Abby Aldrich Rockefeller Folk Art Center. New York Graphic Society, 1981. 176-81.
Sears, Clara Endicott, Some American Primitives: A Study of New England Faces and Folk Portraits, Kennikat Press, Inc., Port Washington, N.Y., 1941. 31-50.