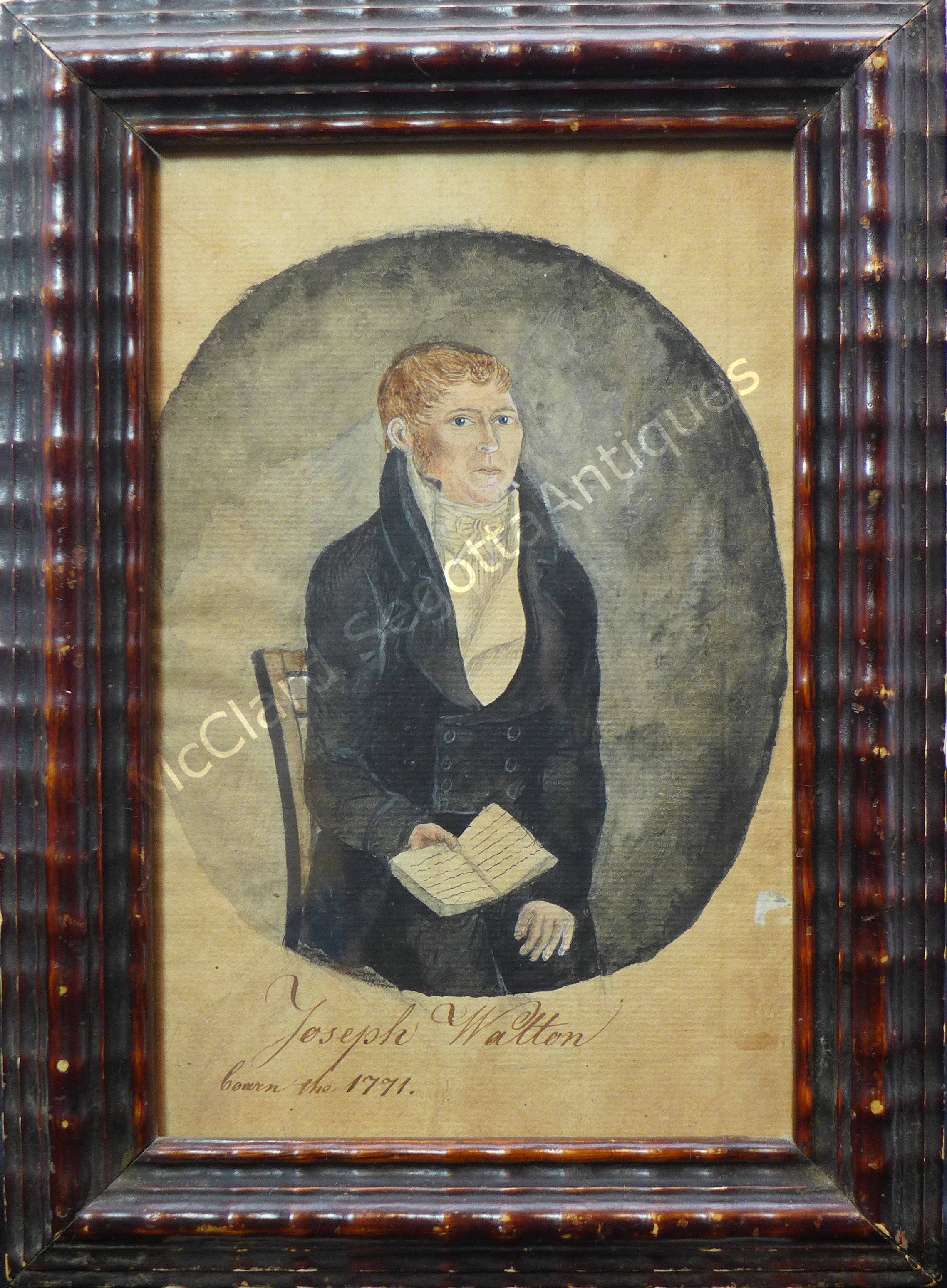 We love this small watercolor folk portrait on laid paper of Joseph Walton. It has that folky, quirky look that collectors love. It is painted on laid paper which had become quite scarce by 1800, but some itinerant artists continued to use it into the early years of the 19th century. Below the oval portal of the painting, is the inscription in iron gall ink, Joseph Walton / boa[or u]n the 1771. The unusual spelling of "born" and the use of the article "the" before the year threw Peggy for a loop when she first started researching Mr. Walton. Then she learned that he was born and lived his entire life in New Brunswick, Canada where residents primarily spoke Acadian French. First, people in the early 19th century, wrote phonetically and much of their writing was spelled incorrectly by today's standards. Looking at the context of the inscription, the first word of the second line is assumably born. Second, the use of "the" between born and 1771 is logical for the French-speaking inscriber because French uses an article before most nouns. So, we read the inscription as "John Walton born 1771." John died in 1859 and was buried in the Old Burial Ground at St. Andrews Church.
Genealogy research shows that Joseph Walton was born in 1771 in Sunbury, New Brunswick, Canada to Jesse and Hannah Walton. In 1798, Joseph married Sarah Hitchings in St. Andrews, New Brunswick, and together they had ten children. Joseph died in 1859 in St. Andrews, Charlotte, New Brunswick, Canada and is buried in the Old Burial Ground at St. Andrews Church. Sarah predeceased him by 2 years.
We date this portrait as circa 1815 in accordance with the clothing. That would make Joseph around 44 years old. He wears fashionable clothes, holds a book, showing he is educated and sits upon a wood, slat-back chair that may be grain-painted. The condition of the painting is wonderful with expected toning. We've included a picture of the reverse so you can see that the paint is nicely ghosted to the back—attesting for age. Joseph is in a wonderful American Dutch Ripple frame that measures 6 ¼" x 8 ¾".
#6262 $1500