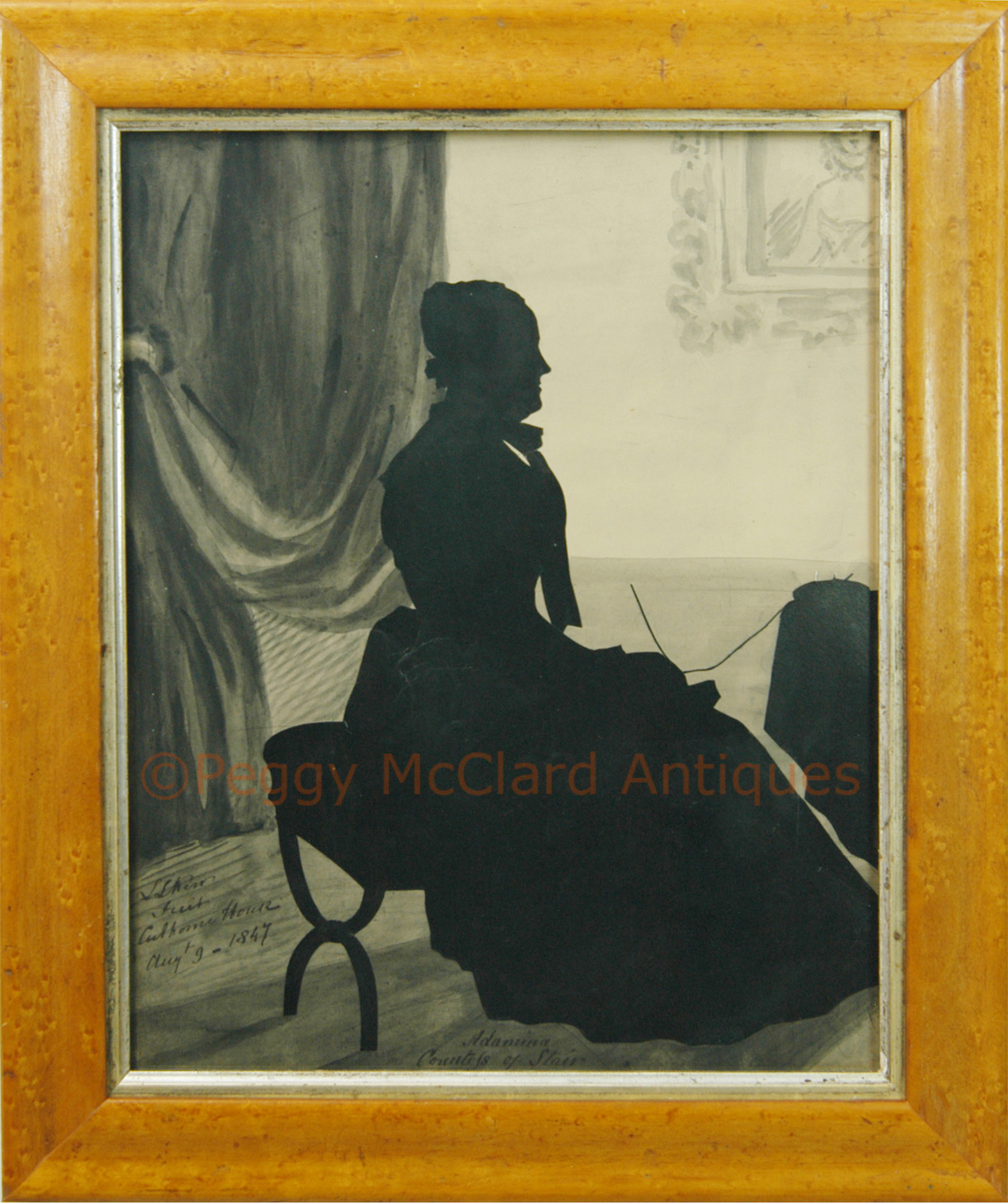 Lady Letitia Louisa Kerr is one of my favorite silhouettists. Her silhouettes are unique because of the great care she took with her watercolor backgrounds which really are a part of the composition instead of just a background on which to paste silhouettes. She never worked as a professional, instead cutting profiles of her aristocratic friends and family at house parties and recording their surroundings with great detail and skill. They are extremely scarce on the market and sought after by collectors.
Here, Lady Louisa has captured the profile of her friend, Adamina Duncan Dalrymple, Countess of Stair. Countess Adamina was the second wife of John Hamilton Dalrymple, 5th Earl of Stair. I have not found the birthdate of Adamina, daughter of Admiral Adam Duncan, 1st Viscount of Camperdown. Admiral Duncan was a decorated officer in Scotland and a Knight in the Order of St. Alexander Newski of Russia. Adamina was the first of two daughters by the Admiral's first wife (of unknown name). He later remarried and had more children. I have been unable to find whether Adamina was married before she became the second wife of Dalrymple in 1825. Adamina died in 1857, three years after her husband's death in 1857. Kerr took Adamina's profile in 1847 in Culhorn House which was the residence of the Earl of Stair until 1867. Only a few remnants of the house remain today, near Stranraer on the west coast of Scotland. Culhorn House began as a barrack for the dragoon regiment of Marshal Stair (I really am not sure that this is a proper statement today as I have taken it from a book published in 1843). Once taken as a residence, the Earls of Stair added to the house to make it a regal mansion. In 1843, it was on an estate of almost 100,000 acres. The Earl and Countess entertained many people in the Culhorn House, including Lady Louisa.
We see Adamina sitting on a X-based stool with upholstered before a half-drape which appears to cover a walkway instead of a window. On the wall hangs a portrait of a woman in 18th century dress in an ornately carved frame. Adamina appears to be knitting but it appears that one of her knitting needles has been lost from the profile. She wears a small indoor bonnet and a narrow fichu tied in a bow around her neck.
The artwork is signed in the lower left in Lady Louisa's beautiful script, "LL Kerr / Fecit / Culhome [sic] House / Augt 9 1847". In the lower center edge sitter is Kerr's identification of the sitter, "Adamina / Countess of Stair". I had the silhouette framed into a period maple frame with a gilt liner. Condition of the artwork is good with some small apologies as described here. I wanted as much of the piece as possible to show in the frame, so the sight is larger than it was in the last frame (which was inappropriate and not original) and a thin yellowed edge of the paper is visible on right side. The figure has a small amount of wrinkling at the back of Adamina's skirt and a bit in the stool legs. There is overall toning to the background card. Framed size is 15 ½" x 12 ¾". Size of the background card is 11 ¾" x 9 ½".
This is a wonderful rarity that will add an aristocratic air to your silhouette collection! Grab the Countess while you can!
#5556 $2500
References:
Heslop, Phil, "Culhorn House & Ice House." Online video clip. YouTube. YouTube, Sept. 7, 2013. April 19, 2016.
Loudon, J.C., F.L.S. H.S., The Gardener's Magazine, Longman, Brown, Green & Longmans, London, 1843. 253-54.
Please see the Silhouettist Bios page for more information about Lady Letitia Louisa Kerr.