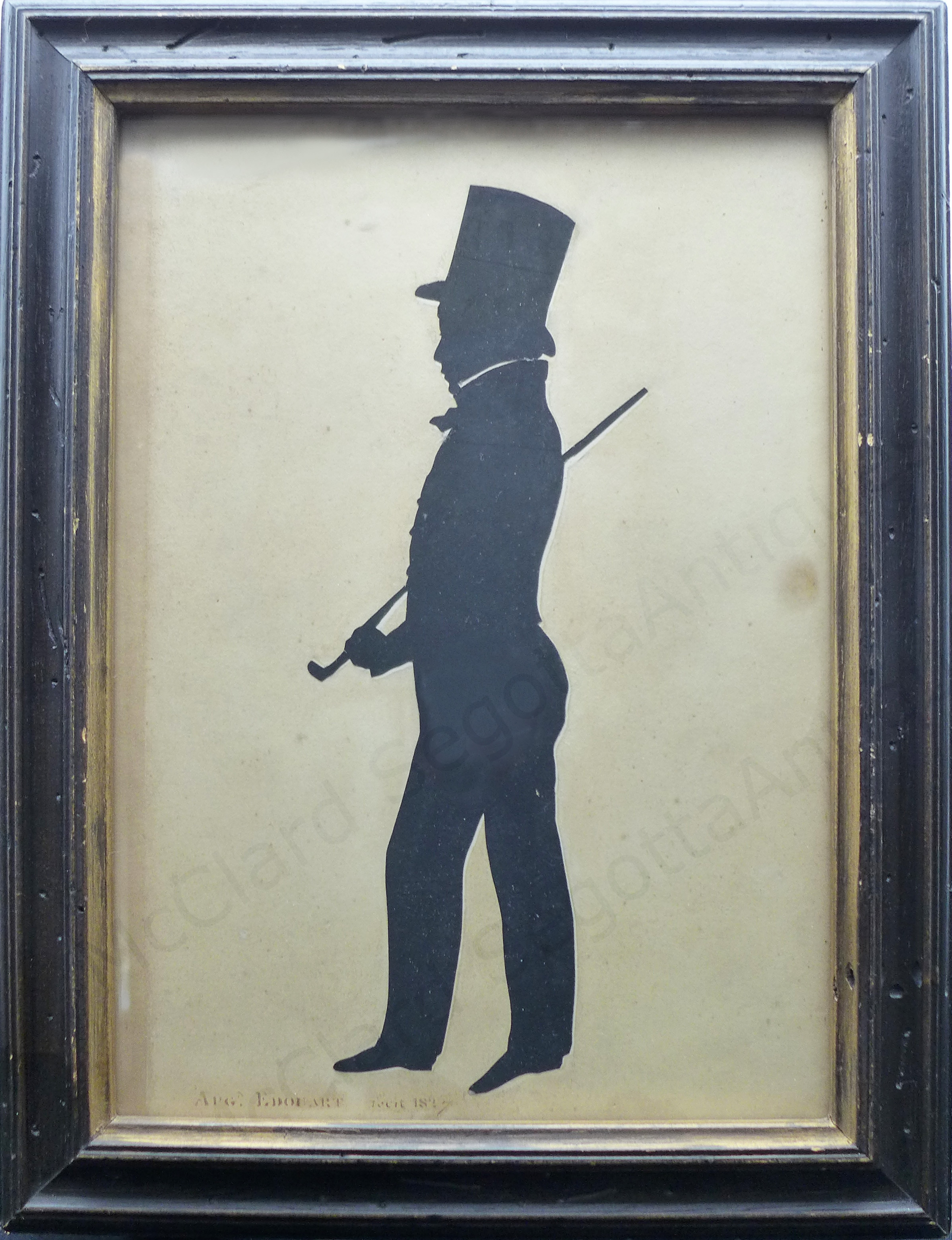 Master silhouettist Augustin Edouart's (1789-1861) silhouette of a young man or teenage boy with a top hat & cane. Signed with a stamp that he used for only one year (that we are aware of). This stamp is very rarely found. Edouart certainly anticipated using the stamp for years as he had it made with only 3 numerals of the year so he could write in the exact year. Apparently Edouart rethought the stamps use as then only ones we've seen are dated 1827. This figure was cut during the small window of time in which Edouart cut profiles in different sizes. By the end of 1827, Edouart had standardized sizes so that, except in groups where figures were sized so as to look normal in perspective with placement in a group, adult males were all around 7 1/2" to 8". This figure is 8.75" tall which is taller than Edouart would cut full-grown men later in his career.
It appears that the figure shifted a little decades after it was cut. You can see a lighter halo around the figure where the backing paper did not age the same as the always exposed paper. It also appears that the figure has a break where the cut-away collar meets the figure at the back of the neck. The toe of one shoe is turned up. It looks as if the paper might have had a light cleaning because the paper around the signature is darker—as if the conservator avoided cleaning the signature for fear of it lightening. Condition is considered in the price but remember this is a rarity. The price is very good for this rare Edouart.
Framed in a well-done reproduction of a Hogarth frame. Sight size 10" X 7"; framed 12 1/3" X 9 5/8".
#6457 $650
Provenance: Collection of the late Dr. Carroll Ball, Jackson, Mississippi.
Please see the Silhouettist Bios page for more information about Augustin Edouart.