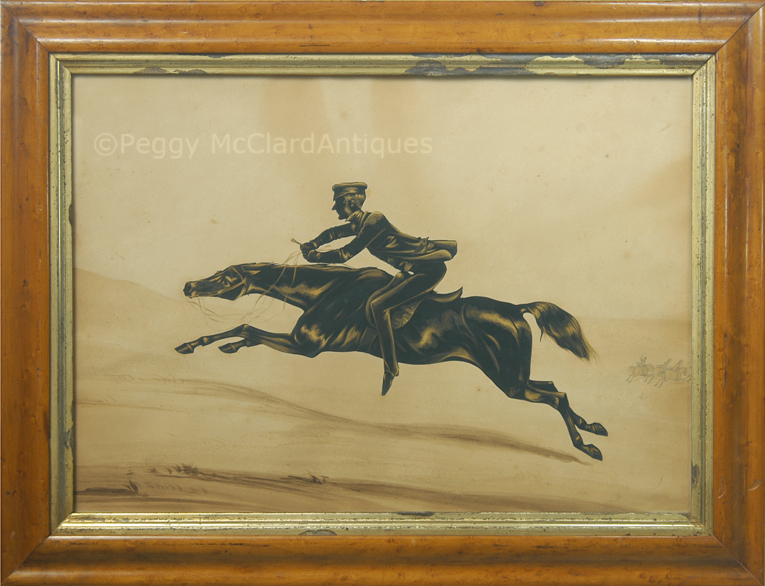 Some of you remember that I recently sold two equestrian silhouettes by Frith. In fact, one of them is featured in the recent Country Living Magazine article "What to Collect Now: Silhouettes".
This is another equestrian silhouette by one of the Frith brothers of the Royal Victoria Gallery. According to the analysis of Sue McKechnie in her book British Silhouette Artists and their Work: 1760-1860, this is the work of Fredrick Frith. This beautifully depicted horse and jockey is full of movement and shows that Frith had a good sense of humor. The sepia watercolor background is simple but if you draw your attention to the right edge at about 3:30, you will notice that the cut figure of horse and rider seem to be riding in the opposite direction of the rest of the horses in this race! Look closely at the embellishment of the horse's eye and you will see red around the pupil—perhaps he is tired of being run in the wrong direction by this jockey! The cutting and detailed embellishment are as striking as we expect from the Frith brothers. Horses in silhouette are very desirable and the quirkiness of this silhouette definitely adds to the desirability. It is signed "Frith 1846" in the lower right corner. The signature and date are faded but still legible. There is uneven browning to the background and some small, light spots throughout. Housed in a period (not original) maple veneer frame that measures 15 ¾" x 20 ¾".
(#5412) $
Provenance: The Sykes Collection I have not found any solid evidence as to this particular Sykes Collection. However, it may be the collection of the late Sir Richard Sykes. Sotheby's sold the silver collection of Sir Sykes in 1979, shortly after his assassination. The silver collection was large enough to warrant a separate catalog and auction devoted to the collection. With a large collection such as this, it is likely that the collection contained quality antique items other than silver, such as the fine equestrian silhouettes that I eventually acquired. However, it is not certain that the silhouettes came from the same Sykes Collection as the silver and I would greatly appreciate if anyone can share more concrete information about the collection. Sir Richard Sykes (1921 – 22 March 1979) was the British Ambassador to the Netherlands, who was killed by the IRA in The Hague in 1979. Footman Karel Straub was also killed, both being shot in the head as they left the ambassador's residence for the short trip to the embassy.
Please see the Silhouettist Bios page for more information about Royal Victoria Gallery & the Frith Brothers.