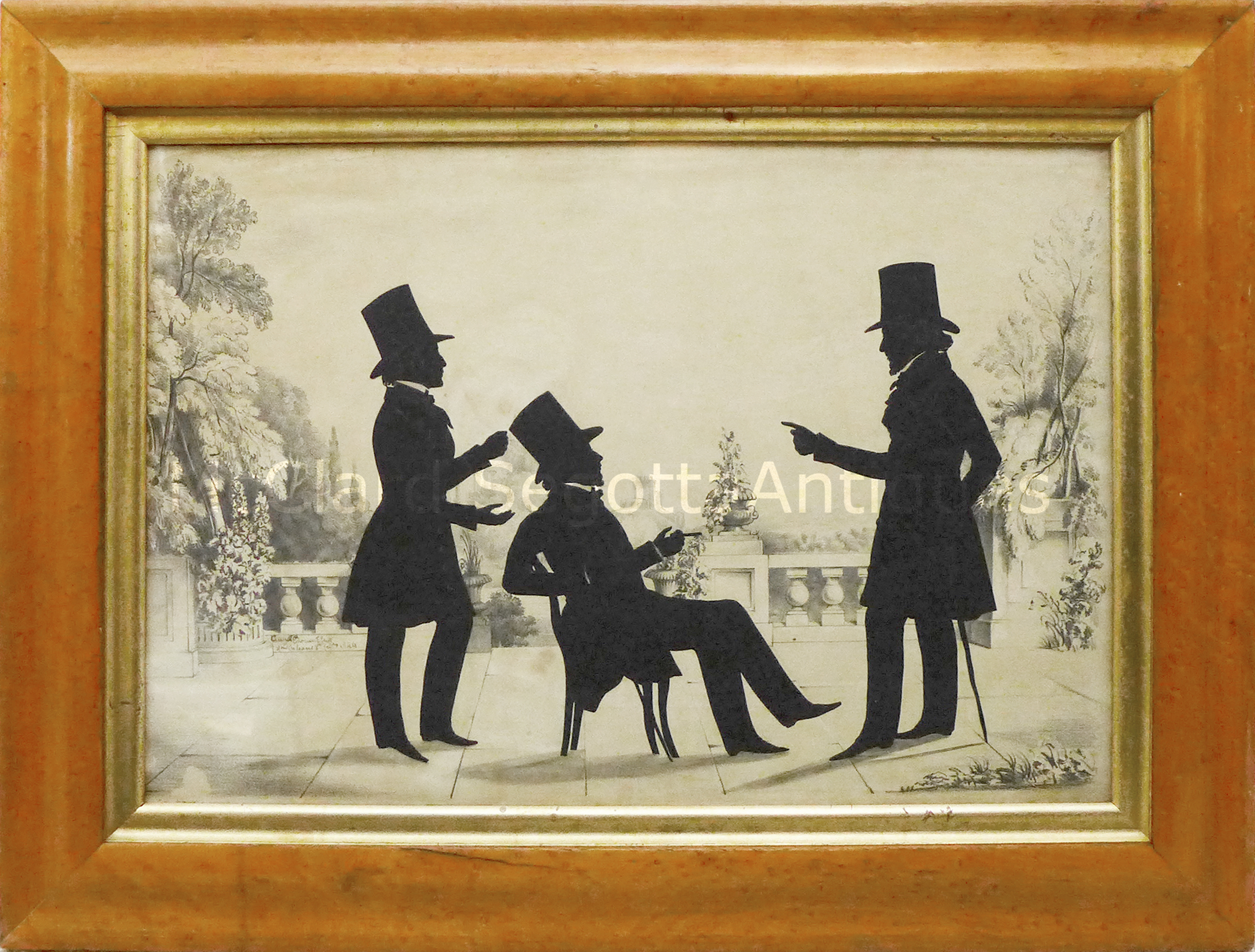 Undoubtedly, Edouart cut some of the best silhouettes available. This is an exceptional group piece that exudes movement as the group of gentlemen engage in lively conversation. Edouart sketched details of their clothing and hair with the light chalk lines that he began using in 1842. He placed the figures on one of the lithograph backgrounds that he had printed for this purpose. It appears that he brought this particular litho with him when he moved from Great Britain to the US in 1839--we see a castle in the far background. Signed in the lower left, Augst Edouart fecit/New Orleans febry 1844. Edouart spent very little time in the South, making this a very treasured signature. Framed in a period maple frame measuring 17" x 22 3/8".

The sitters are identified on the back as A.W. Dunbar (Archibald Dunbar), Captain Isaac Jackson and Fred K. W. Lovett (should be Frederick W. Lovett). Here is what genealogy research revealed:

We originally thought Mr. Dunbar might be either Archibald (born 1798 in MS-died 1850 in LA) or his brother Alexander Dunbar (1806-1852). However, Alexander's his tombstone has his name as Alex C. Dunbar. If the information on the back of the silhouette is correct, the middle initial "C" omits Alex from contention, so the sitter is most likely Archibald, for whom we found no middle name or initial.

The Dunbar brothers were the sons of William Dunbar & Dinah Clark. William was born in Scotland and immigrated to the US where he moved to Philadelphia in 1771. He obtained a land grant near Baton Rouge (then called Fort New Richmond). He and partner Jack Ross established a plantation near Natchez, Mississippi called "The Forest" cultivating indigo and cotton. When Ross died in 1800 and William Dunbar bought out his interest. William married Dinah Clark in 1785 and they had 9 children, including the Archibald and Alexander. Archibald died in Jefferson Parish, Louisiana and is buried in Adams County, Mississippi in what must have been the Dunbar family cemetery.

Interestingly, the other two gentlemen became related to each other by marriage eight years after this silhouette was taken. Captain Isaac Jackson was the father-in-law of Fredrick W. Lovett.

Isaac Jackson was born October 4, 1783 in Middleborough, Plymouth County, Massachusetts, USA. His parents were John Jackson & Sarah Green. He died September 4, 1869 (aged 85) in Weymouth, Norfolk County, Massachusetts. His wife Sara Jackson is buried with him and died in 1866. The 1860 US census lists him as a lumbar merchant, living with his wife, Sara and adult children Sarah T. Jackson (age 48), Ellen Jackson (age 36), John T. Jackson (age 35), and Anna Jackson (age 32). Going back ten years, the 1850 census lists Jackson as a lumber dealer and the family members are those listed above plus Arabella, sometimes listed as Isabella--as the census was two years before her marriage to Frederick Lovett.

Frederick William Lovett was born about 1816 in Beverly, Mass. His parents were Augustus I Hannah Lovett. Lovett married Arabella Jackson March 30,1852 in Boston. Lovett listed his occupation as "Sea Captain". Arabella/Isabella listed her parents as Isaac & Sarah Jackson and her birthplace as Winthrop, Mass. Both listed their age as 36. Frederick died of cholera in July 1854, in Boston Harbor. (Note that ancestry says the death record shows he died in Amesbury, but the actual record says he died in Boston Harbor.) His obituary says he died on board his clipper ship, White Swallow, from Philadelphia, of cholera. "On board ship White Swallow, 3rd inst., on the passage from Philadelphia to Boston, Capt. F. W. Lovett, aged 38. He died of cholera, after an illness of 15 hours." The Brooklyn Daily Eagle, Brooklyn, New York, August 5, 1854, Sat, Page 4. Fred Lovett is buried at Forest Hills Cemetery and Crematory, Jamaica Plain, Suffolk County, Massachusetts. Buried with him is wife, Arabella Jackson Lovett. Her parents are listed on Find A Grave as Isaac & Sarah (Thomas) Jackson who are buried at the same cemetery as their daughter and son-in-law. Arabella is listed as having two sisters and two brothers.

This is a really exceptional and rarely found Southern-cut conversation silhouette by a Master silhouettist.

#6860 $4750

Reference:

Jackson, Mrs. F. Nevil, Ancestors in Silhouette by August Edouart, The Bodley Head, London; John Lane Co., New York. 1921. All three sitters listed in Appendix at 202, 210, 213.

Please see the Silhouettist Bios page for more information about Augustin Edouart.